Is Thomas Bryant the best freshman big man in college basketball?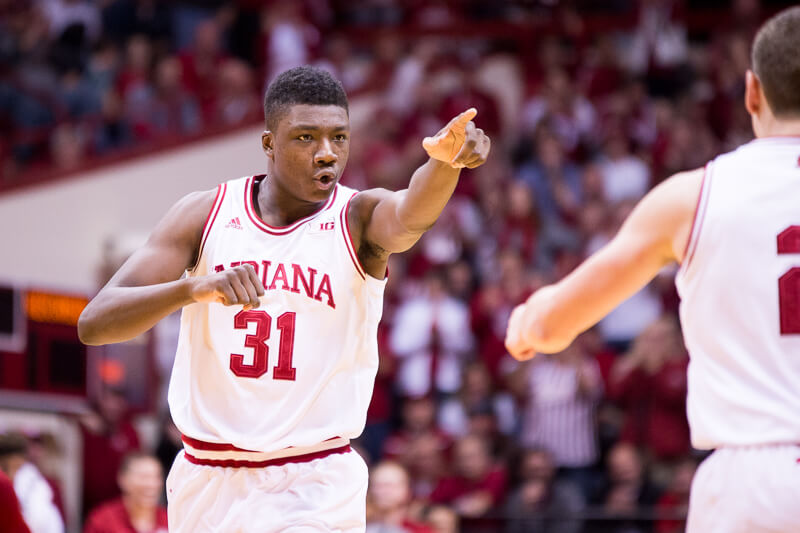 Recruiting rankings and award watch lists make for great discussion topics leading up to the start of the season. But once the ball tips, they go out the window quickly.
Lower ranked players outperform their rankings each year and others who are viewed as can't miss five-stars fail to live up to the hype. Thomas Bryant of Indiana came to Bloomington as a McDonald's All-American, but was given significantly less billing than some of his freshman counterparts going into the season.
Through 19 games, Bryant has been one of the best freshman big men in the country and is a major reason the Hoosiers are on an 11-game winning streak going into Saturday's game against Northwestern at Assembly Hall.
There's obviously plenty of season left to play, but there's a case to be made that as of today Bryant is playing as well, if not better, than every other big man ranked ahead of him in the final 247Composite rankings for the class of 2015 as well as every big man on the Tisdale Award preseason watch list.
Those players, who were either ranked ahead of Bryant in the final 247Composite rankings or made the Tisdale Watch list, include Kentucky's Skal Labissiere, Cheick Diallo of Kansas, Maryland's Diamond Stone, UNLV's Stephen Zimmerman, Marquette's Henry Ellenson, Cal's Ivan Rabb, Purdue's Caleb Swanigan and Duke's Chase Jeter.
We combed through the numbers for all of these guys and right now, Bryant compares very favorably with pretty much any of his peers. First, a look at per 40 numbers for all eight guys: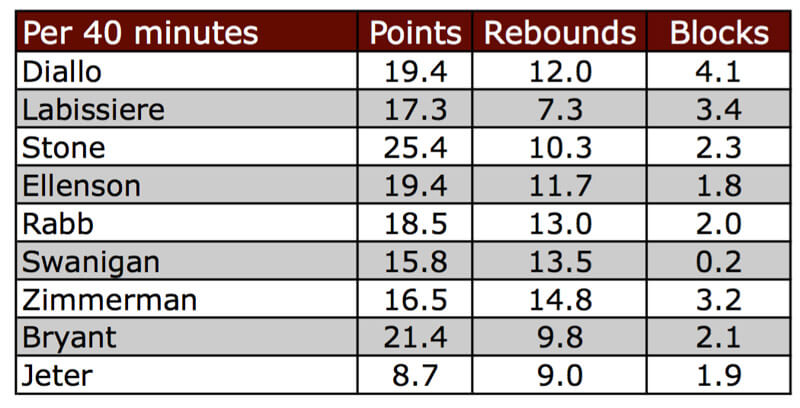 Nothing here necessarily jumps off the page in favor of Bryant, but per 40 minutes, he's the second best scorer behind Stone. Rebounding is clearly an area that needs work, but the numbers for Bryant there are slightly on the rise in conference play.
Where Bryant really begins to make his mark is when you dig into more advanced statistics. Here's a look at some KenPom numbers for each player:

A couple of things here that stand out: Bryant is setting the pace among freshman bigs in terms of offensive rating and 2-point field goal percentage. In fact, he has the highest 2-point field goal percentage of any player in the country. He compares very favorable to his peers as an offensive rebounder and also holds his own as a shot blocker.
One other area that was worth investigating here is efficiency, specifically on post-up possessions for each of these guys. Using Synergy Sports data, here's how each player is performing: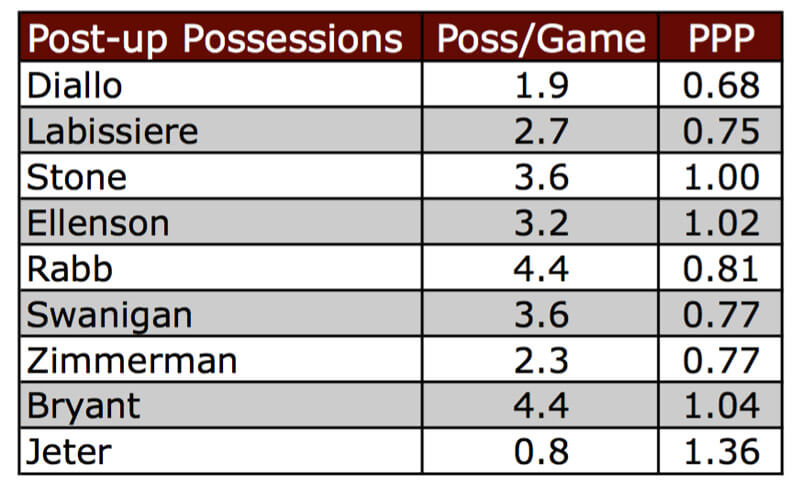 Apparently reports that Tom Crean can't properly utilize an elite big men were premature. Because as the numbers above show, not only is Thomas Bryant getting the most post-up possessions among the elite freshman bigs, he's using them more efficiently.
Now, this isn't an open and shut case by any means to declare Bryant as the best freshman big, but he's clearly right there in the mix as the numbers bear out. There's a clear argument to be made for Stone, who has been terrific for Maryland.
Beyond those two and Rabb, many of these guys have either not lived up to expectations so far or were overrated by the national analysts. Labissiere has been non-existent for Kentucky. Diallo's role is very limited at Kansas (as was Cliff Alexander's). Jeter is barely sniffing the floor at Duke on a team that desperately needs a big with Amile Jefferson out. Zimmerman and Ellenson are shooting less than 50 percent on 2s. Swanigan's insistence on playing the four rather than five looks like a mistake.
As much as Indiana's recent surge can be linked to Yogi Ferrell's play, it's clear that Bryant has been and continues to be underrated nationally. He's been the perfect, efficient compliment to one of the nation's most potent offenses.
Filed to: Thomas Bryant