Five takeaways from Indiana's win over Wisconsin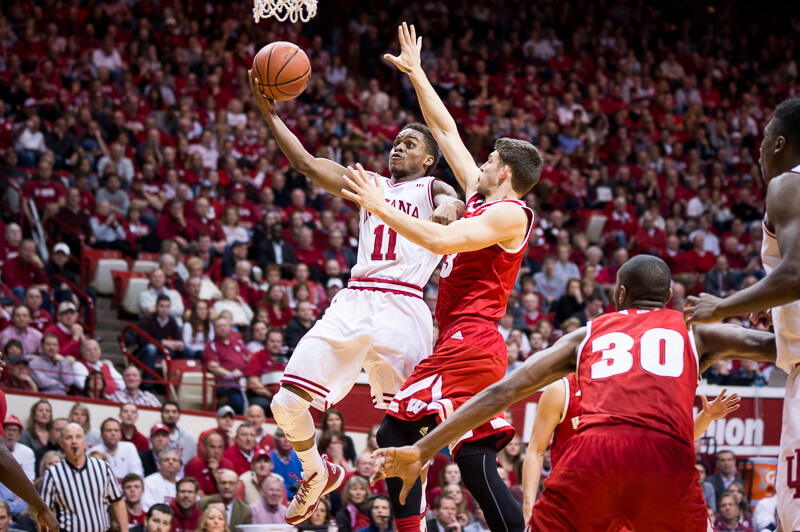 Indiana won its eighth straight game Tuesday night – a narrow 59-58 victory over Wisconsin at Assembly Hall – with the undefeated 1976 national championship team in attendance.
Here's a look at five takeaways from the win over the Badgers:
· Wisconsin set the pace, but Indiana's defense won out: Wisconsin was successful in its goal to play a halfcourt game with Indiana. Greg Gard knew he didn't want to get into a track meet, so the Badgers were deliberate and forced Indiana to run offense late into possessions. Turnovers were a regular occurrence. As a result, IU scored just .95 points per possession, their second lowest output of the season (UNLV at .94 is the lowest so far).
A month ago, Indiana wasn't well equipped to win a grind it out game, but that's exactly what happened on Tuesday. The Hoosiers knuckled down defensively, forced shot clock violations on multiple occasions and held Wisconsin to an effective field goal percentage of 45.6. That mark was lower than what Rutgers and Nebraska produced against Indiana in its first two Big Ten games.
"We knew this was going to be a grind-out game," Yogi Ferrell said postgame. "And the only way was to basically just buckle down on defense and just try and take away some of the key tendencies like (Bronson) Koenig and (Nigel) Hayes and what they wanted to do."
· Turnovers continue to limit Indiana's long term ceiling: Through three league games, Indiana is 3-0, but has a turnover percentage of 26.9. Purdue has the next highest turnover percentage at 23.2, but the Boilermakers have played just two Big Ten games.
This problem isn't limited to one or two players, it is one prevalent across the roster. And if it continues at this rate, it will end up costing Indiana a fair share of Big Ten games.
The Hoosiers are in the midst of a very favorable schedule to start conference play, but once the competition picks up in the back half of the schedule, turnover percentages over 20 aren't going to get it done very often. Against Wisconsin, Indiana turned it over on 31 percent of its possessions and still pulled out a win. The sooner Indiana gets a handle on this problem, the better.
· Yogi Ferrell took over down the stretch: Indiana's senior point guard did what you'd expect late in a close game. He made clutch plays, defended Koenig very well and knocked down crucial free throws to seal the victory.
Indiana's final eight points of the game came courtesy of Ferrell.
With 2:30 to play, he hit a jumper to extend the lead to five. He followed that up with another jumper with 38 seconds left to give Indiana a lead at 55-53. His final four points came from the free throw line, including a pair in the final seconds to ice the victory.
· Freshman forwards answer the defensive challenge: OG Anunoby's 11 points were certainly important, but his defensive contributions, along with those of Juwan Morgan, were also key.
With Collin Hartman battling foul trouble all evening, Anunoby and Morgan spent the majority of the game on Hayes. Their length and athleticism bothered the Badgers forward as he had trouble finishing at the rim and also had a few of his shots blocked by the duo.
"All I know is they work really hard, they're improving. Juwan is getting healthier, which certainly he was behind when you look at when he got hurt in Maui and how much time he missed, and then he came back and got hurt again," Tom Crean said. "They're smart, learning. They're winners. They've won. Those kids have won, so that's really, really important. We just want to make sure they keep improving. We've got a long way to go, and we've got a lot of games left."
· The slump for Troy Williams continues: The last three games for Indiana's junior forward have been his three worst of the season when you consider his offensive rating.
Williams finished last night with just two points on 1-of-4 shooting and two turnovers in 26 minutes. Over IU's first three Big Ten games, he has 13 turnovers.
Now that James Blackmon Jr. is out for the season, Indiana needs Williams, along with Robert Johnson and Nick Zeisloft, to help pick up some of the vacated production. It must start first for Williams on the offensive glass. He did have two offensive rebounds against Wisconsin, but given how much of a liability he's been as a ball handler this season, perhaps getting him more engaged on the boards first could springboard his offensive game. With just 20 points through three conference games, the Hoosiers need more from Williams in a hurry.
Filed to: Juwan Morgan, O.G. Anunoby, Troy Williams, Yogi Ferrell