The Inside the Hall Mailbag: December 15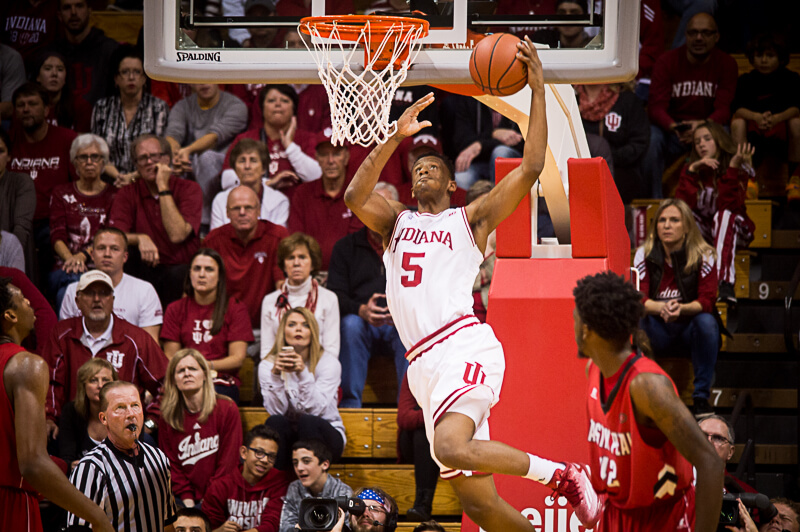 The Inside the Hall Mailbag is a collection of questions tweeted to us via Twitter (@insidethehall), via email, submitted on our premium forum and sent to us via our Facebook page. Submit your questions and we'll answer as many as we can.
Maedhros on the premium forum writes: Can you explain what benefit at all Indiana receives from playing the dregs of college basketball?
Guarantee games, as they're called, have become a staple of college basketball. The benefit for Indiana is it fills dates on the home schedule and doesn't require a return trip to the opponent's arena in a future season. The athletic department needs a certain amount of home dates each year and those who put together the schedule must fill the dates. To my knowledge, Jayd Grossman and Tom Crean are primarily responsible for scheduling while Fred Glass also has some involvement. So to answer your question, the benefit is that IU fills non-conference dates on its schedule.
The bigger question is: Are there too many cream puffs on IU's schedule? Probably so. The KenPom 300+ teams really bring the number down. IU's overall non-conference strength of schedule took a major hit because of the Maui losses and now the Hoosiers aren't going to have much of a resume in the non-conference. The problem, however, is that most quality opponents are going to want a return date to set up a series. The schools who are usually willing to play the guarantee games are just there for the check. – Alex Bozich
CampHoosier on the premium forum writes: At this point in the season, what are the factors that you have seen that will lead to a successful start to the Big Ten schedule? Conversely, what are the things you think are just not up to par and will hurt the team going forward?
There are several, starting with the fact that the Big Ten isn't as good as many thought it would be, so the opportunity for Indiana to win a lot of games in conference is definitely there. IU's Big Ten schedule is very favorable. They play Minnesota, Nebraska and Illinois twice. Two of their single play road games are Penn State and Rutgers, both of which are winnable. It's probably not a stretch to say that IU will be favored in five of its nine conference road games, which doesn't happen often.
It's also worth noting that IU is pretty damn good offensively. This is a top four offense in the country right now despite a major turnover problem through the first 11 games. Yes, the Hoosiers played poorly in Maui and at Duke, which left an awful taste in the mouth of fans. That was completely justified. But the season isn't over and I don't expect IU to just roll over and give up. There's still plenty to work on, of course, starting with the aforementioned turnovers and the defense.
As for what isn't up to par: Right now there's no evidence that IU can be a solid team away from Assembly Hall. The Hoosiers have played four games outside of Bloomington and are 1-3, with the lone win coming over St. John's. The next big test is Saturday in Indianapolis against Notre Dame, which is a crucial game for the resume and to also build some confidence going into the start of conference play. – Alex Bozich
Joe pop on the premium forum writes: How does IU's "cupcake" schedule stack up with other Big ten/big conference teams? Do we really play an easier schedule or is this an overreaction by fans?
Here are the current non-conference strength of schedules and records for Big Ten teams as of today, according to KenPom: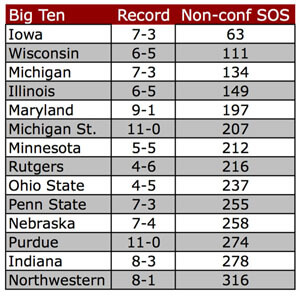 The league as a whole isn't exactly setting the world on fire and well, neither is IU. As mentioned earlier, the Maui loss to Wake Forest really hurt because it immediately put IU in a game with St. John's rather than Vanderbilt. What's done is done, though, and the Big Ten schedule will have enough "marquee" games to where the Hoosiers will be able to get into the tournament comfortably if they win enough of them. – Alex Bozich
GregorySpera on the premium forum writes: Several posters on the forum have suggested that WE are part of what's wrong with Indiana basketball. Do you think that the general attitude or disposition of Hoosier fans in any way hurts the program?
Are there fans who take things too far? Absolutely. But that's true everywhere, not just with IU fans. It's the nature of the world we live in with social media and communities like this one. There are always going to be trolls who make outlandish comments to try to draw attention to themselves or to bring others down. But overall, I believe people being able to make their voices heard is a good thing.
Ultimately, IU fans care about the program and want it to be successful. They've been more than patient. Given that this is year eight of Crean's tenure, fans are justified in being critical and upset that expectations aren't being met. When it crosses the line, I believe, is making things personal towards a player or a coach.
This is big time college basketball and in Bloomington, IU basketball is the show. It's going to be analyzed, covered and dissected as such. It's why a site like this even exists. To circle back on your original question: I would say IU fans are incredibly passionate about the program and the product and when standards aren't being met, they're going to be vocal. And to me, that's completely fine when it's done in a respectful manner. – Alex Bozich
Brett Shepley writes via email: I wondered your thoughts on the overall outlook of IU's offense. It seems that about 90 percent of the time we are just running a motion-freelance offense where the players are supposed to create scoring opportunities. Conversely, I don't see a whole lot of set offensive plays. Do you think Coach Crean wants the players to use their speed and shooting ability to create on their own rather than allowing offensive sets to provide scoring chances? Thanks for your time.
While it's true that IU's offense does have a lot of freedom and flexibility based on concepts and feel, the playbook is also expansive. If you talk to analysts, former players and those who know Crean best, they'll tell you as much.
Overall, it's hard to find many faults with IU's offense right now. The Hoosiers are ranked fourth nationally in adjusted offensive efficiency, second in effective field goal percentage, seventh in 3-point shooting and third in 2-point shooting. Those are elite numbers. The turnover percentage (284th nationally), as we frequently mention, is too high. And IU needs to do a better job drawing fouls and getting to the foul line.
I think the freedom and flexibility is great when you have the pieces that IU currently has. Two years ago, it wasn't as successful because the personnel didn't fit the scheme very well. Last season and this one so far, it works well because IU can space the floor and score in a variety of ways. – Alex Bozich
Filed to: Tom Crean