Five takeaways from Indiana's loss to UNLV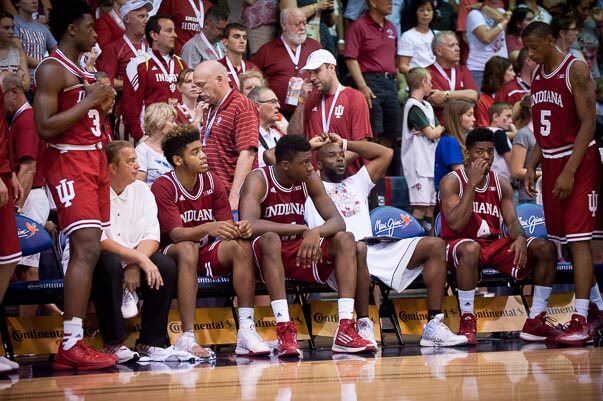 Indiana's trip to the Maui Jim Maui Invitational ended in major disappointment as the Hoosiers dropped the fifth place game to UNLV on Wednesday, 72-69.
Here's a look at five takeaways from the loss to the Runnin' Rebels:
· Indiana's season is already at a crossroads: Late in Indiana's loss to Wake Forest, I tweeted that it was only November, which insinuated that fans shouldn't worry too much if the Hoosiers weren't able to pull out a win.
However, it's already time to worry.
Early in the season or not, there are major red flags with Indiana basketball right now. The defense showed no improvement in Maui. The turnover situation thus far is worse than what we saw with the 2013-2014 team, which completely missed the postseason. And Tom Crean is bringing up the fact that IU dismissed several players – something that happened months ago – in his postgame remarks.
This team has the talent to win with three McDonald's All-Americans, multiple four-star recruits and experience. There is pressure to win and win big. Losing to middling teams like Wake Forest and UNLV was pretty much a worst case scenario for Indiana on this trip. Yes, it's November, but Indiana is already at a crossroads and if the Hoosiers don't change course soon, this season could get ugly fast.
· On the turnovers: Indiana totally negated any advantage it had offensively on Wednesday because it couldn't take care of the ball. The Hoosiers finished the afternoon with a turnover percentage of 28.7 and now rank 336th nationally (out of 351 teams) in that statistic.
A team with a senior point guard and two other perimeter players on a preseason list for major national award should be taking care of the ball and getting quality shots.
Indiana was the 60th best team in the country in turnover percentage in 2014-2015, but the regression through six games is defining this season through six games.
· On the defense: In yesterday's postgame press conference, Crean was asked about his team's defense in the context of what the TV announcers said during the Maui broadcasts. His complete response follows:
"Well, you're way ahead of me on the TV commentators. I've actually been preparing for games so I haven't seen or listened to any of the broadcast, so I'll make sure I do that. We have a lot of room for improvement defensively. No doubt about it. We're playing with three freshmen on the front line. We don't have the front line that we were projected to have. We don't have the front line that we thought we were going to have. So we've got to get that down. They've got to deal with the different coverages that are there and all that different type of stuff. There is no question we can get better at every aspect of the game."
Indiana may be playing with newcomers in its frontcourt, but it returns all of its perimeter pieces from last season's team. And none of those players seem committed to stopping the ball or dribble penetration with any consistency. Defense begins on the perimeter and when that breaks down, the frontcourt gets exposed.
· Starters return to the lineup: After being demoted to the bench to start the St. John's game, James Blackmon Jr. and Troy Williams returned to the starting lineup on Wednesday.
Blackmon Jr. scored 13 points, but had four turnovers and the worst plus/minus on the team at -9. Williams had nine points and six rebounds, but also had four turnovers. To make things worse, Yogi Ferrell also had four turnovers and missed three free throws.
It's tough to win when one of your best players doesn't perform well, but when multiple guys struggle, it only becomes more difficult. Indiana simply can't have its three most talented offensive players turn it over 12 times and expect to win.
· Indiana's non-conference resume will be lacking: Not only did the Hoosiers lose twice in Maui, landing in the consolation bracket cost them opportunities to build an NCAA tournament resume.
While it's possible that UNLV or Wake could surprise this season, the only certain tournament teams on the non-conference schedule right now appear to be Duke and Notre Dame. And if Indiana doesn't win one of those games, they'll be putting a tremendous amount of pressure on winning conference games.
On paper, the non-conference schedule appeared to be upgraded this season. Right now, however, it sits at 322nd in the country (per KenPom) and the missed opportunities in Maui are the primary reason why.
Filed to: 2015 Maui Invitational