Announcement primer: 2016 forward De'Ron Davis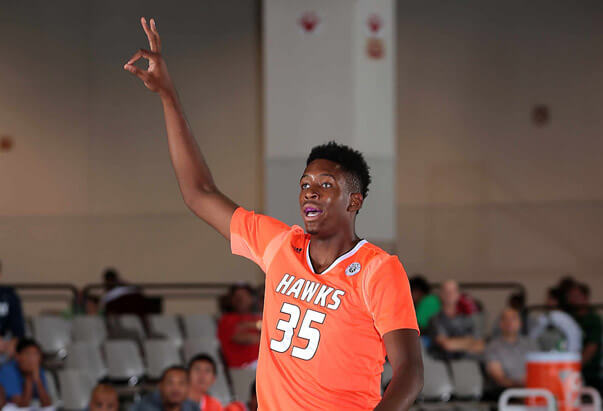 On Thursday, class of 2016 Overland (Colo.) forward De'Ron Davis will announce his college decision at his high school. The decision is expected to come at approximately 5:00 p.m. EST.
Here's our primer for the announcement with everything you need to know:
The essentials
Forward, 6-9, 220-pounds, Overland HS, Colorado Hawks
247Composite: 4-star (38); ESPN: 4-star (47); Rivals: 4-star (33); Scout: 4-star (48)
Offers: Arizona, Arkansas, Arizona State, Colorado, Connecticut, Indiana, Mississippi State, Notre Dame, Oklahoma State, Purdue, Texas, UCLA
Official visits: Indiana, Mississippi State
The primary contenders
Davis originally announced a top three of Arizona, Indiana and Texas on July 29, but opted to add three additional schools in August in Arkansas, Connecticut and Mississippi State. Interest in Arkansas, Connecticut and Texas dropped off and once Arizona took a power forward commitment in the class, he eliminated the Wildcats. That left his two top schools – Indiana and Mississippi State.
· The Indiana recruitment: The Hoosier staff has been aggressively recruiting Davis for more than three years now as he received his scholarship offer all the way back in 2012. That recruitment was originally led by Tom Crean and former associate head coach Steve McClain, who moved on this past spring to take the head coaching position at Illinois-Chicago. Assistant coach Chuck Martin has since played a pivotal role in pursuing Davis as he visited the forward a day before his official visit to Mississippi State. Indiana's approach with Davis has been to be first – they were the first school to offer him a scholarship, the first school to visit him for an in-home and the first school to host him for an official visit.
· The Mississippi State recruitment: The Bulldogs ramped up interest in Davis over the summer as Ben Howland took over the program, which was left in shambles by Rick Ray. Howland and assistant coach Ernie Zeigler have been the point men on the recruitment and made up significant ground when they impressed him on an in-home visit earlier in the fall. Davis subsequently took an official visit this past weekend to Starkville, where he attended an exhibition game at Humphrey Coliseum.
The timing
Davis scheduled his announcement for the second day of the early signing period, which runs from Nov. 11 through Nov. 18. That came as no surprise as his high school coach, Danny Fisher, has been consistent in his message that Davis planned to decide before the start of his final prep season.
The plan is for Davis to both announce his decision and also sign his National Letter of Intent on Thursday.
The fit
· At Indiana: Davis has been at the top of Indiana's class of 2016 recruiting board for quite some time as the Hoosiers prioritized him early and followed through until the end. According to his coach, the Hoosiers have pitched him on playing a major role in the front court and the possibility of playing alongside a McDonald's All-American like Thomas Bryant is something that intrigues Davis. He has an outstanding relationship with Crean and has spoken highly of the program for more than three years now.
· At Mississippi State: Davis, according to reports, was very impressed by his visit to Mississippi State as the Bulldogs. A recent story in The Clarion Ledger states that Mississippi State made up "serious ground" on that visit, which was his first trip to the campus. Mississippi State is assembling a solid 2016 recruiting class, which is ranked in the top 10 by some, but the program is very much in the early stages of a rebuilding process that could take a couple of years.
Davis highlights
How to follow the announcement
9News in Denver plans to cover the announcement on a live stream, which we've linked below. Additionally, we'll be covering the announcement via our Twitter account, also linked below:
In closing, please remember this is the college decision of a high school kid. Please adhere to the comment standards that have been set forth over the past seven years here on Inside the Hall regardless of the outcome.
Filed to: Deron Davis