Notebook: Defense a major focus as practice begins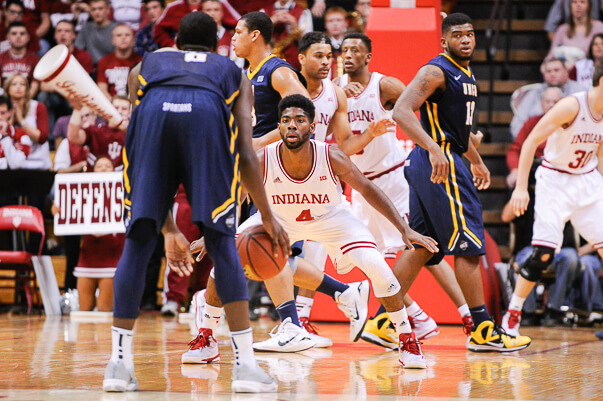 Indiana officially started its season early Friday morning with a practice at 6:30 a.m. and after weeks of individual workouts, the Hoosiers will finally get a chance to begin working together as a team for 20 hours a week.
It's an exciting time of year for Tom Crean, who spoke to the media on Thursday afternoon at Cook Hall about his team entering a season in which the Hoosiers should begin ranked in the top 15.
"We are in really good shape from where we sit right now on October 1," Crean said. "When it comes to our cardiovascular, when it comes to our fitness, when it comes to the way we've tried to build their bodies and the things that they've done in that situation, but you want to continue to stay on that pace."
Something Crean said will be different this season is his team's philosophy on rebounding.
Indiana finished last season ranked just 188th nationally in defensive rebounding percentage, but was in the top 40 nationally in offensive rebounding.
"We are going to change some structure of how we rebound," Crean explained. "We will send the guards even more in random situations to the glass, especially on the offensive end. They are going to have to adapt to that pretty quick. So we are going to have to make sure we are getting in a lot of good results out of the hustle stats. Score more off our defense, get more rebounds, and things like that."
With the loss of Emmitt Holt, who was dismissed from the program earlier this fall, the Hoosiers will again likely play some smaller lineups, which were a staple of last season. Becoming more creative on the glass, along with offseason gains in strength and conditioning, should benefit IU as well.
"Defensively, you have to create possessions by being a better defensive rebounding team and creating more turnovers," Crean said. "Some of those turnovers come off traps and some of them come off the fatigue you brought to the game, and creating enough fatigue throughout that the decision making process starts to drop. We don't want to be that team, because there were times last year that we were that team."
Crean said Michigan transfer Max Bielfeldt has stood out so far on the defensive end and mentioned his on-court awareness as a strength.
But the Hoosiers are going to need major improvements across the board from a team that ranked 214th nationally last season in adjusted defensive efficiency.
"The structure is the awareness," Crean said. "So the awareness is the biggest thing. The awareness of ball-you-man; the awareness of your head on a swivel; the awareness of your rotations. Some of it's technique of feet, so that would be the individual part of it, making sure our feet are aligned properly, covering space.
"But it's awareness and it's absolute desire. It really is. They'll understand it as we get into it. They may not understand it the first few weeks, but they'll start to understand it as we play the games. You've got to not only guard your position. You've got to not only be able to hold your own. You've got to be a team defender. You've got to be a great support defender. You've got to be a tremendous teammate on defense."
Blackmon Jr. ready for start of practice
James Blackmon Jr. is essentially back to full health, according to Crean, and just has to get back into the swing of things.
Blackmon Jr. underwent surgery in the offseason to repair a torn meniscus.
"James has been going full tilt but he missed a lot, but he's out there ready to go full go, but he still has a ways to go in building his body back up," Crean said. "He did a great job at getting stronger. He even did a great job at getting stronger when he was dealing with the injury."
Thus far, Blackmon Jr. still isn't back to being the shooter that knocked down 77 3-pointers as a freshman, but Crean isn't concerned about the sophomore in that regard.
"His shot has been not normal James Blackmon shooting at this point," Crean said. "I think that is a product of him being out as long as he was, but I don't have any concerns about that. He has come back with no fear. He has come back on the attack. It is really the mental part of playing through things and the decision making that needs to come through for him as we start getting into live day-to-day practice."
Blackmon, who averaged 15.7 points per game last season, will be looked to again as a go-to scorer. He was also the team's second leading rebounder at 5.3 a game.
But where Crean is really looking for improvement is on the defensive end, an area where Blackmon Jr. struggled at times in his first season.
"The biggest thing is going to be how (Blackmon) does on defense," Crean said. "He has an awareness, more and more, right now. It has been in shorter pockets of time. It hasn't been over game-to-game or day-to-day yet. I am hopeful he understands that will have a lot to do with his playing time this year. The decision making and the defense will have a lot to do with all of their playing time."
Freshmen acclimating quickly
While freshman McDonald's All-American Thomas Bryant arrives with the most accolades, Crean said both Juwan Morgan and O.G. Anunoby have also been impressive so far.
"They have made tremendous strides," Crean said. "I think Juwan went up 130 pounds in the squat area, at least 80 pounds in the bench area, and increased his vertical by three inches. O.G. had the second strongest legs on the team, made the biggest jump of the summer, and is also learning to play more away from the basket. Those two are really hard workers."
Bryant increased his vertical by nine inches as well.
Crean said Anunoby has reminded him of Victor Oladipo, Jordan Hulls and Will Sheehey with his willingness to stay in the gym and get better, high praise.
"Our young guys in the case of Thomas Bryant, Juwan Morgan and O.G. Anunoby, those guys have to be able to help us, especially with the loss of Emmitt (Holt)," Crean said.
Filed to: James Blackmon Jr., Juwan Morgan, Max Bielfeldt, O.G. Anunoby, Thomas Bryant, Tom Crean