Indiana "in the mix" for 2017 standout Jordan Tucker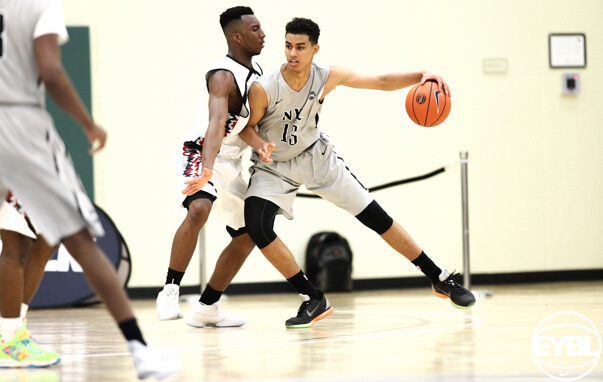 NORTH AUGUSTA, S.C. – A little more than a year ago when Indiana hired Bronx native Chuck Martin to fill the assistant coaching position vacated by Kenny Johnson, Martin's familiarity with the New York basketball scene was viewed as a positive.
"It certainly factors in, but I think it would factor in if there were a player in Bloomington that we were recruiting," Tom Crean said at Martin's introductory press conference. "Because I think if you can deal with people, geography matters because maybe you're more comfortable there, you have more contacts. You know the streets. You don't need a GPS or a map maybe. But the bottom line is where can you go in and develop real relationships and be a connecter."
A year later, Indiana is hoping that New York connection and Martin's ability to develop relationships may help get the program in the conversation for class of 2017 White Plains (NY) prospect Jordan Tucker.
Tucker, a 6-foot-8, 200 pound wing who plays for the New York Lightning, holds an Indiana offer and says the New York connection is something he appreciates.
"(Martin) knows where I'm from," Tucker told Inside the Hall during the Nike EYBL Finals at the Peach Jam. "He's from there so he knows what it's like to be a player out of New York."
Playing up a year in the Nike EYBL, Tucker has fared well over New York Lightning's first four games at the Peach Jam. He has scored in double figures in all but one of those games, including a 14-point, three-rebound performance in a 65-62 win over Elfrid Payton Elite.
The No. 35 player nationally according to 247Composite says the Nike EYBL experience has not only improved his physical game, but has boosted his confidence along the way.
"From the first game to now, I feel like I've learned how to mix it up a lot more," he said after scoring 14 points in an 82-71 loss to Each 1 Teach 1. "I've gone from being a shooter to being a scorer. I've been getting to the basket, working on the pull-up and the 3-point game, which is my specialty.
"I've learned that I can play with anybody. No matter what I'm ranked or who is ranked above me, I feel like I can play with anyone and I think I showed that today."
Despite that confidence, Tucker says he's not satisfied with his game as it stands and is always looking to improve. When asked for an area he'll be focusing on, Tucker mentioned several facets of the game.
"Defense," he said. "Been working on rebounding and defense a lot. I want to be able to defend every position on the floor – point guard, wing, even big guys.
"I'm also gonna be focusing on my motor. It has improved, but I want it to be consistent. I've got flashes of playing hard, but I want to play hard all the time. I think I've got what I need in my skill set, so defense is a focus and I'll take it from there. They sky's the limit for me."
Indiana offered Tucker a scholarship in early May and remains in contact with the four-star prospect.
"They've just been consistent in talking to me, just judging my interest with Indiana," he said. "They're in the mix with me."
Jacob Savage is a special contributor to Inside the Hall for this week's Nike EYBL Finals at the Peach Jam.
(Photo credit: Jon Lopez/Nike)
Filed to: 2015 Peach Jam, Jordan Tucker