Roundup: Indiana present in most early preseason top 25's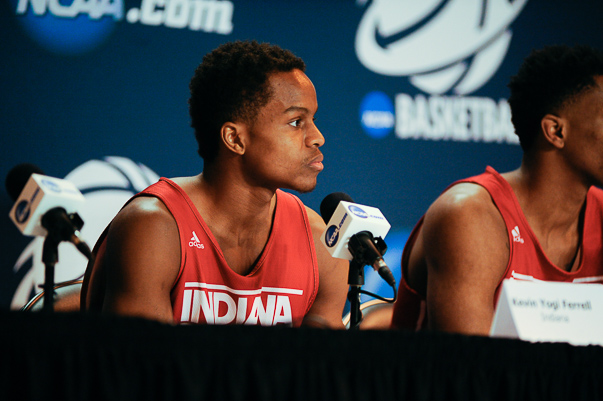 Following a 20-14 campaign that ended with a loss to Wichita State in the NCAA tournament, there are still plenty of questions to be answered in regards to Indiana's roster for next season.
The commitment of Thomas Bryant answered the question of whether Indiana will have a big man next season, but Yogi Ferrell and Troy Williams are still undecided on their futures despite being projected as late second round NBA draft picks by most.
That, however, hasn't stopped the national media from including the Hoosiers in several preseason top 25's for the 2015-2016 and we've rounded up those rankings below with a brief snippet from each:
ESPN.com's Eamonn Brennan: No. 16
Despite a late slide toward the bubble, Tom Crean's 2014-15 Indiana team — which was comprised almost entirely of guards — slightly overachieved overall. Help is on the way: Last week, four-star center Thomas Bryant announced his commitment to the Hoosiers, and suddenly the Hoosiers don't look quite so small. There is some question as to whether either junior point guard Yogi Ferrell and sophomore wing Troy Williams will be back next season, but neither are particularly prized by NBA scouts; either departure would be a mild surprise. If both are back, Indiana's starting lineup of Ferrell, James Blackmon, Robert Johnson, Williams and Bryant may well be the Big Ten's most talented. If either (or both) leave, the Hoosiers faithful should still feel optimistic.
Freshman Thomas Bryant, a 6'10" power forward from New York, will fill the interior void that will allow the Big Ten's best perimeter corps (spearheaded by 6-foot senior point guard Yogi Ferrell) to flourish.
Mike DeCourcy of The Sporting News: No. 14
Why we worry: The Hoosiers are still a body short in the paint, and it's not certain yet that point guard Yogi Ferrell will return as a senior.
Gary Parrish of CBS Sports: No. 12
Why the Hoosiers are ranked here: What was Indiana missing this season? A competent big man. What is Thomas Bryant? A competent big man. So the Hoosiers should have no issues making the NCAA Tournament again — provided Yogi Ferrell doesn't turn pro.
Despite all the Tom Crean jokes and unrest in Bloomington, Indiana has the potential to be awfully good in 2015-16. Assuming Yogi Ferrell and James Blackmon both decide to return, the Hoosiers will be bringing back virtually everyone from a tournament team that could score with anyone this past season. They're also bringing in one of the best big men in the class of 2015 in five-star center Thomas Bryant out of Huntington Prep.
Barring any surprising departures, the Hoosiers should bring back one of the most talented rosters of any Big Ten team, led by underrated guard Yogi Ferrell (16.3 ppg, 4.9 apg) and James Blackmon Jr., who should hit another level as a sophomore. Forward Troy Williams will also be back and is capable of averaging a double-double with more consistency. Undecided high-level recruit Thon Maker also is considering Indiana.
Filed to: 2015-2016 season preview