March Watch: Critical week for Indiana's tournament resume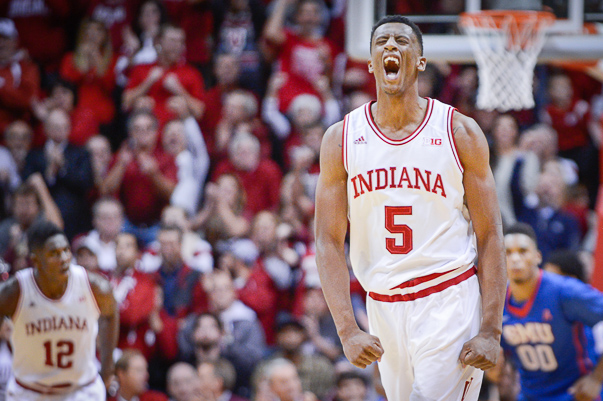 After just one game last week that resulted in a loss at Northwestern, Indiana enters a crucial final week of the regular season with a pair of home games against Iowa and Michigan State. The Hoosiers are 19-10 overall and hold a 9-7 record in Big Ten games, but have lost six of their last 10 games.
We're back this week with another edition of "March Watch," which will be a weekly feature up until Selection Sunday on March 15. We'll take a updated look at IU's current nitty gritty profile, bracket projections, the Big Ten's tournament prospects and more.
Overview
Indiana has built a solid tournament profile with several wins over teams currently projected to make the field including Butler, SMU, Ohio State and Maryland. IU also has a win over Illinois, which is right on the bubble line in most projections. However, the Hoosiers suffered a loss last week to Northwestern, which is ranked outside of the RPI top 100. With two conference games to go, both at Assembly Hall against teams who could make the tournament, Indiana needs at least one win to solidify its tournament resume.
Nitty Gritty Profile
· Record: 19-10 (9-7 Big Ten)
· RPI: 46
· SOS: 40 (via CBS)
· Home Record: 15-2
· Away Record: 3-6
· Neutral Court Record: 1-2
· vs. RPI Top 50: 5-6 (via ESPN)
· vs. RPI Top 51-100: 3-3 (via ESPN)
Current Projections
· ESPN Bracketology (Joe Lunardi): 10 seed in Midwest Region vs. San Diego State in Seattle
· CBS Sports (Jerry Palm): 7 seed in Midwest Region vs. Cincinnati in Louisville
· Assembly Call (Andy Bottoms): 7 seed in West Region vs. Cincinnati in Portland
· Crashing the Dance: No. 32 overall seed
· Bracket Matrix: Top No. 7 seed
Indiana fell two seed lines in ESPN's bracket, held at a No. 7 in CBS and at also held to a No. 7 in the Assembly Call projection. (Note: Andy Bottoms, who does the projections for Assembly Call, is the top rated bracketologist over the last three years per Bracket Matrix.) The seeding model on Crashing the Dance now has the Hoosiers with the sixth best overall profile among Big Ten teams behind Wisconsin, Maryland, Ohio State, Iowa and Michigan State, in that order.
Final record projections
With two regular season games remaining, KenPom.com projects Indiana to finish 20-11 overall with a 10-8 mark in the conference. The Only Colors, which had been projecting the Big Ten race all conference season, is now publishing the most likely seeding scenarios for the Big Ten tournament. The best Indiana can do at this point is the 4-seed and the lowest it can finish is eighth. Here are the likelihoods of each seed line: 4 (4.04%), 5 (26.99%), 6 (10.72%), 7 (53.02%) and 8 (3.98%). RPIForecast.com lists the following percentages on IU's final regular season record: 20-11 (49.30%), 21-10 (25.48%) and 19-12 (25.21%).
A look at the conference as a whole
As for the Big Ten at-large, the latest ESPN bracketology has the league as a seven-bid league with Illinois as one of the "first four out" and Purdue as one of the "last four in." Here's a brief look at other profiles across the league:
· Wisconsin (26-3, RPI 6): The Badgers lost at Maryland last week, but Gonzaga also dropped a game at BYU, which means the Badgers are still very much alive for a No. 1 seed. Most projections currently have Wisconsin as a No. 2, but if the Badgers win out and win the Big Ten tournament, they'll have a case for the top line.
· Maryland (24-5, RPI 9): Mark Turgeon's club is surging at the right time and with games at Rutgers and Nebraska remaining, there's a good chance the Terps go to Chicago next week on a seven-game winning streak. Maryland currently looks like a very solid 3-seed with an outside chance to move up to a 2.
· Michigan State (19-10, RPI 30): The Spartans dropped two games last week and with Purdue at home on Wednesday and a trip to Bloomington on Saturday, this week is critical. It's hard to imagine Michigan State not making the field, but with just a 3-6 mark against the RPI Top 50, there's a case to be made that Sparty is being overvalued in some of the projections.
· Ohio State (21-8, RPI 36): The Buckeyes are close to lock status at this point after a pair of home wins last week that put them over 20 wins and also gave them 10 wins in conference play. With D'Angelo Russell playing as well as anyone, this is a team that could be a tough out in March.
· Iowa (19-10, RPI 47): The Hawkeyes have won four in a row and have a pair of crucial games this week at Indiana and then Northwestern at Carver-Hawkeye to close out the regular season. A split solidifies Iowa's resume as an 8 or 9 seed and a sweep could shoot the Hawkeyes up a seed line.
· Purdue (19-10, RPI 59): Purdue is still technically on the bubble, but the Boilermakers have two prime chances to solidify the resume this week. On Wednesday, Purdue travels to Michigan State before hosting Illinois on Saturday to close out the regular season. A loss to the Spartans and a win by Illinois on Wednesday at home to Nebraska would give the teams identical 19-11 records and make Saturday's tilt in West Lafayette absolutely huge.
· Illinois (18-11, RPI 61): Illinois dropped three in a row before crushing Northwestern in Champaign on Wednesday and now the Illini host Nebraska and go to Purdue to close out the regular season. Regardless of what happens this week, Illinois is probably going to need a win in Chicago next week in the Big Ten tournament to feel confident on Selection Sunday.
2015 Tournament Sites
· First round: Dayton
· Second, third round: Charlotte, Columbus, Louisville, Jacksonville, Omaha, Pittsburgh, Portland, Seattle
· Regional: Cleveland, Houston, Los Angeles, Syracuse
· Final Four: Indianapolis
Filed to: NCAA Tournament