The Inside the Hall Mailbag: February 28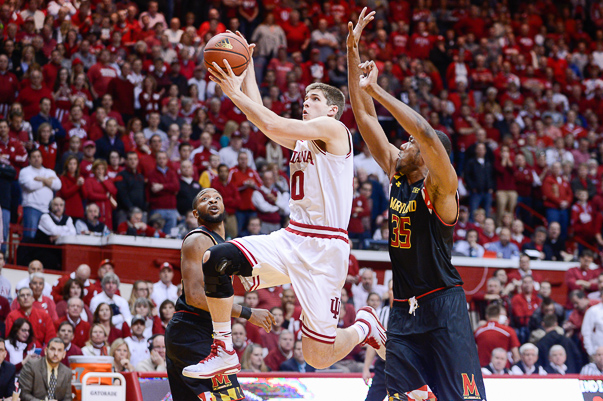 The Inside the Hall Mailbag is a collection of questions tweeted to us via Twitter (@insidethehall), via email, submitted on our premium forum and sent to us via our Facebook page. Submit your questions and we'll answer as many as we can.
bk39 on the premium forum writes: Collin Hartman, how important is he to this team defensively, and is he expected to return for Iowa?
Collin Hartman has been huge to this team, defensively. Especially in the absence of Hanner Mosquera-Perea, Hartman held whatever semblance of a defensive post presence the Hoosiers had left with his physicality in dealing with opposing big men in the halfcourt. He held 6-foot-11 Illinois big man Nnanna Egwu to zero points and just two rebounds — in Champaign. Against Maryland, he shut down 6-foot-11 Damonte Dodd from the start. Despite being 6-foot-7 and undersized when he is used at the five, he really has done a solid job at not allowing himself to be dominated inside with good technique, quickness and simply being unafraid. And the numbers speak for themselves — the Hoosiers were 6-4 with him in the starting lineup, and while he doesn't necessarily stand out in the stat sheet, he has accounted for 31.5 percent of Indiana's blocks in Big Ten play.
As far as his playing status is concerned for Tuesday's game, we should find out more on Monday — whether it be via Tom Crean's Big Ten coaches conference call appearance, his pregame press conference or his radio show. But he has said that Hartman is day-to-day with that leg injury, and having this weekend to recover should help, as well. – Jordan Littman
@robosalt on Twitter writes: Why does IU switch from man to zone mid-possession? Never seen it before.
The purpose seems to be to confuse the opposition with different looks, but the numbers this season tell the story: It hasn't been effective. Indiana is 236th nationally in adjusted defensive efficiency. The only "major" conference team that is worse defensively is DePaul. That's it. Northwestern is the second worst Big Ten defense nationally and the Wildcats are ranked 136th, so there is a significant gap between the rest of the league and Indiana.
At this point of the season, it's safe to say that you are who you are offensively and defensively, so I'm not sure anything is going to change. Last season was derailed by turnovers and right now, when Indiana loses, its elite offense is being overshadowed by a mediocre defense. – Alex Bozich
Zachary Farmer on Facebook writes: Are these the scenarios that would play out record wise in your opinion? 21-10 (NCAA), 20-11 (NCAA), 19-12 (NIT). I know it's not including the Big Ten tournament but lets say for sake of argument they lose the first game like last year.
If Indiana loses its next three games, I don't see the Hoosiers making the NCAA tournament. That would mean a 1-5 mark over the final six games with the only win being Rutgers. That's not worthy of making the tournament.
As far as the other scenarios, I think to feel completely safe, Indiana needs to at least beat Iowa or Michigan State and then win a game in Chicago. Anything less than that is going to make Selection Sunday interesting and with the inevitability of some at-large bids being stolen due to upsets in conference tournaments, that's not a position the Hoosiers want to be in. – Alex Bozich
hoosierfan1 on the premium forum writes: Do you think getting into the dance this year and winning one round (or maybe none) would be better for this team, looking ahead to next year, than playing in the NIT with a realistic chance to go deep?
Yes, I think making it to the NCAA tournament and making an early exit would still outweigh a deep NIT run this year. If the Hoosiers make the NCAA tournament this year, it's measured progress from last season. It's where the Hoosiers are supposed to be year in and year out, and even with an early exit the Hoosiers have many positives to build on — especially after having no significant post presence this season.
But getting into the NIT simply would count as a collapse from when the Hoosiers were 15-4 coming off that 89-70 Maryland win in late January. And as far as the team's confidence is concerned, making a deep run in the NIT should be outweighed by the fact that they would have been so close to that NCAA tournament bid, only for them to not get there. The fact is, with the way the Hoosiers played for the first half of the season — and a bit past that, too — they were at NCAA tournament quality. They still are likely to land in that 68-team field, which they have worked to get into all season, but even with an early exit there would be more positives than not being selected and making a run in an inferior 32-team NIT tournament. – Jordan Littman
schoosier on the premium forum writes: Are the all-conference teams selected right after the regular season or after the conference post season event?
Those teams will be announced once the regular season is complete, typically on that Monday or Tuesday before the Big Ten tournament. – Alex Bozich
lawguyNA on the premium forum writes: Predictions on how many Big 10 teams make the Big Dance?
Right now, I would say seven. Wisconsin and Maryland are locks, then I think five of these six will get in: Ohio State, Michigan State, Iowa, Indiana, Purdue and Illinois. As of today, Illinois is probably the shakiest of the group, so I'd lean towards the Illini not making it in, but this final week of the regular season coming up is going to be huge for all six of those teams. – Alex Bozich
NervousWreck on the premium forum writes: Do you feel the general consensus of the fanbase right now is an overreaction? Meaning, isn't Indiana right where they were projected to be at this point in the season (middle of the pack, fighting for an NCAA Tournament slot) – or even exceeding those expectations? The 5-1 start didn't help, right?
I wouldn't characterize it as an overreaction, no. I think Indiana's start to the season raised expectations and now that the Hoosiers are faltering over the last month or so, there's legitimate concern that is justified. I think most fans are realistic and the tough loss at Maryland proved that when most of the postgame commentary was positive and complimentary of how Indiana played. But a loss like Northwestern really raised some concerns and I think when fans see a team that was playing well enough to get a six or seven seed in the tournament falling down in all of the projections, there is going to be disappointment. Indiana fans are incredibly engaged and passionate and they want to see the program do well. When things aren't going well, most fans are not going to sugarcoat their disappointment. – Alex Bozich
ChicagoHoosier35 on the premium forum writes: Has any talked progressed about the Big Ten getting protected rivalries in basketball or simply what are the chances of it happening? And is there any chance IU and Purdue schedule an out of conference game for the years they only play once?
I think the coaches would be in favor of it publicly, but I think there are also some concerns privately about keeping things competitive from a balanced schedule perspective. For example, Michigan has two fairly significant rivalries in the league in Michigan State and Ohio State. Do the Wolverines really want to play those teams twice every season when other teams could be playing a team like Rutgers or Penn State twice?
The schedule right now is already flawed simply because the league has grown and there's no way to create a balanced slate when there are eight single plays each season for every team. Throwing in other caveats like protected rivalries could make it even more problematic.
As for the idea of the out of conference game, I don't see that happening, either. Both programs already have a fairly set plan of what they like to do in non-conference and with the exempt tournaments, Gavitt Games and the ACC-Big Ten Challenge, I don't see either program wanting to commit to something like that. – Alex Bozich
TomJameson on the premium forum writes: I have a question about the student section attendance at the home games. I've heard several times this year how bad it's been comparatively to previous years and I'd like to know if you think it's true, and if so then why?
It's been worse this season, but I'm not sure it's an Indiana problem. There are countless examples of student attendance problems around the country. Duke, which has been ranked in the top five all season, is having issues. I could toss out several more links on the subject. A quick Google search throws out plenty of examples.
Personally, my opinion is that Indiana may need to switch things up with how it executes student seating. The seats in the balcony aren't appealing if you have the alternative of watching the game on a nice high def screen from the couch. It's not an issue of selling the seats as Indiana again sold out student tickets this season, but there's no doubt that some students are only attending the games where they either have GA seating or seats in the south end bleachers. Perhaps some incentives to reward showing up early to games or attending other athletic events on campus to secure better seats with more regularity could work.
Also: As a society, technology has really changed our day-to-day lives so much. People are constantly on their phones, computers and tablets. The way information is consumed has totally changed. Investing three hours going to a game for young people isn't the same draw that it once was.
There's a lot of factors at play so I'm not sure I can tackle this completely here, but to answer your question as succinctly as possible: Yes, I think there's something to it. No, I don't think it's necessarily a problem unique to Indiana. – Alex Bozich
GregorySpera on the premium forum writes: Ryan's 'Film Session: Northwestern' highlights many of Indiana's "defensive lapses" in that game. He blames the coaching strategy of switching defenses in mid possession, "head-scratching decisions" by players and a general lack of effort. Our defense started out bad and has actually gotten worse as the season has progressed, dropping all the way to 236th nationally in AdjD, right behind Jacksonville State and Elon. Horrible defense is still costing us games at the end of the season. My question is: Why do you think this has not been corrected?
I wish I could answer this, but I'm not at practice so I only see the games and what the coaches and players say before and after the games. I think all of the points that Ryan brought up in film session are valid. Everyone has to be accountable for the issues from the coaching staff down to the players. When Troy Williams says "there was no defense" following the 16th conference game, that's not a good thing. But as you said, this isn't a new problem. It's been going on all season. – Alex Bozich
cdub76 on the premium forum writes: There is a long break between games…any word on the coaching staff watching recruits?
Tom Crean was at New Albany on Friday night to watch Bloomington North take on the Bulldogs. His son plays for Bloomington North, but the Bulldogs have one of the state's top freshmen in Romeo Langford, who has visited a couple of times this season. Steve McClain watched Lawrence North (Kevin Easley) take on Hamilton Southeastern (Zach Gunn) last night. Both players have IU offers. If there's anything else to report over the coming days, we'll pass it along. – Alex Bozich
Filed to: Twitter Mailbag