Five takeaways from Indiana's loss to Purdue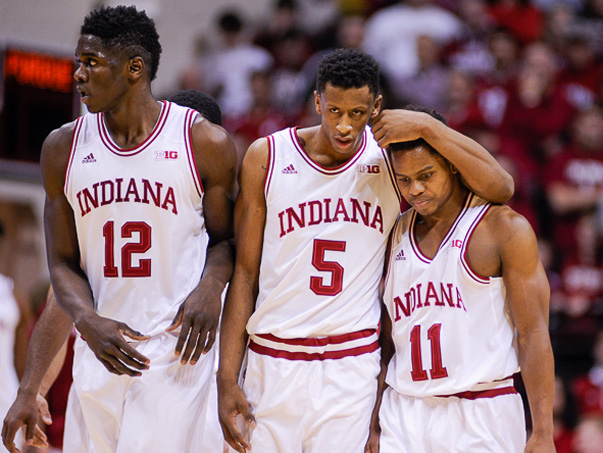 Indiana fell to 18-9 overall and 8-6 on Thursday night with a disappointing 67-63 loss to Purdue at Assembly Hall. It was the third straight win for the Boilermakers over the Hoosiers.
Here's a look at five takeaways from Purdue's win over Indiana:
· Purdue locked Indiana down on the perimeter: For the second time this season, Indiana struggled to find open perimeter looks against Purdue. With A.J. Hammons and Isaac Haas protecting the rim, the Hoosiers again struggled to create open looks from the perimeter by driving and dishing the ball as Purdue's defenders don't have to provide help at the rim.
The result was just a 5-of-16 shooting performance from 3 and when combined with the first game in West Lafayette, Indiana managed to hit just 9-of-35 shots from behind the arc in two games against the Boilermakers. Purdue's defense, which came into the game as the second best in the conference from an efficiency standpoint, deserves credit.
"It does make it hard for us to go down there and try to finish it around the rim when they have two seven footers because they're basically just closing out on everybody," Yogi Ferrell explained postgame.
· Rebounding was the real difference: While a better shooting performance would have gone a long way in Indiana reversing its fortunes from the loss in West Lafayette, rebounding, or lack thereof, sealed the fate of the Hoosiers.
Purdue came into Thursday's game with an offensive rebounding percentage of 35.1 in conference games, the third highest mark in the league. The Boilermakers took things to another level by grabbing 50 percent of their missed shots and finishing with 14 second chance points. Haas was the big difference maker on the offensive glass as he grabbed six Boilermaker misses.
Defensive rebounding, a weakness for Indiana early in the season, is something that had quietly blossomed into a strength in league play as the Hoosiers came in ranked fifth in the conference in defensive rebounding percentage.
"When you're dealing with the front line the way you are with them, you've got to do a better job of limiting it to one shot," Tom Crean said. "That's why when we've had success, we've out rebounded people."
· A.J. Hammons was unstoppable: An enigma for most of his first two seasons in West Lafayette, junior A.J. Hammons has developed into a consistent performer in his third season. As a result, his game has taken off. Talent has never been an issue for Hammons, who is 7-foot and is a gifted shot blocker and finisher at the rim when he catches it deep in the post.
But finding ways to keep Hammons engaged and motivated had been an issue in his first two seasons. That's no longer the case as Hammons is playing the best basketball of his career for Purdue. He was dominant last night as he made eight of his nine field goal attempts, four of five free throws and also had four blocked shots.
"Hammons was huge for us, and Haas gets 12 points and nine rebounds in 12 minutes," Purdue coach Matt Painter said. "Without question, that is the best game they have played together this season."
· Indiana got little from its bench: Hanner Mosquera-Perea's return to the starting lineup meant a move back to the bench for Collin Hartman, a role in which the sophomore from Indianapolis had excelled in nearly all season. But Hartman and the Indiana bench would factor in little to the outcome on Thursday with just a total of two points on 1-of-5 shooting.
The Boilermakers, meanwhile, had 17 bench points, led by the performance of Haas, who hit all six of his free throws.
· The rivalry finally delivered a close game: After nine straight games between Indiana and Purdue that were decided by 10 or more points, Thursday delivered drama that had been lacking dating back to 2010. Purdue dominated the series early in Tom Crean's tenure, then IU won four straight by an average of almost 20 and the Boilermakers had won the last two entering last night handily.
The streak of blowouts ended as Purdue led throughout most of the second half, briefly gave up the lead in the final minutes and then closed it out on a pair of free throws by A.J. Hammons.
"They are really good. Not too many people are going to win here, if any more people," Painter said. "We are very fortunate. We know how tough it is. I felt like we played them at the right time. I felt like it was perfect that they hit 18 3's against Minnesota because you don't normally have that type of back-to-back game. So that's what I told our guys. The timing was just right for us."
Filed to: Purdue Boilermakers