March Watch: Will seven Big Ten teams go dancing?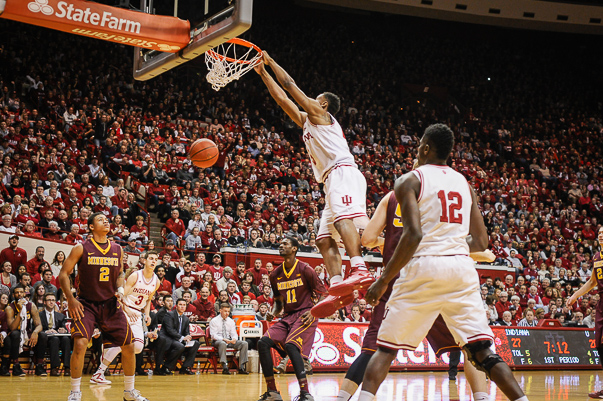 After splitting a pair of games last week, Indiana remains in very good position to return to the NCAA tournament after missing the postseason altogether last season. The Hoosiers enter Thursday's game at Assembly Hall with Purdue with an 18-8 mark overall and an 8-5 record in Big Ten games.
We're back this week with another edition of "March Watch," which will be a weekly feature up until Selection Sunday on March 15. We'll take a look at IU's current nitty gritty profile, bracket projections and the potential of the Big Ten receiving seven NCAA bids and more.
Overview
Indiana continues to boast a strong tournament profile with four wins over teams currently viewed as solid bets to make the tournament in Butler, SMU, Ohio State and Maryland. IU also has a win over Illinois, which is right on the bubble line in most projections. With five conference games to go, including three at Assembly Hall, opportunities remain for Indiana to further strengthen its resume.
Nitty Gritty Profile
· Record: 18-8 (8-5 Big Ten)
· RPI: 29
· SOS: 25 (via CBS)
· Home Record: 15-1
· Away Record: 2-5
· Neutral Court Record: 1-2
· vs. RPI Top 50: 6-6 (via ESPN)
· vs. RPI Top 51-100: 3-2 (via ESPN)
Current Projections
· ESPN Bracketology (Joe Lunardi): 7 seed in East Region vs. Colorado State in Pittsburgh
· CBS Sports (Jerry Palm): 5 seed in South Region vs. Murray State in Portland
· Assembly Call (Andy Bottoms): 7 seed in West Region vs. LSU in Portland
· Crashing the Dance: No. 25 overall seed
· Bracket Matrix: 7 seed
Not much has changed in the last week as Indiana is solidly in the field in every projection we're tracking. The seeding model on Crashing the Dance currently has the Hoosiers with the third best overall profile among Big Ten teams behind Wisconsin and Maryland.
Final record projections
KenPom.com continues to project Indiana to finish 21-10 overall with an 11-7 mark in the conference. The Only Colors, which has been projecting the Big Ten race all conference season, gives Indiana a 97.3 percent chance to finish with 10 or more conference wins and a 84.9 percent chance to win 11 or more Big Ten games. That model also shows Indiana at 57.1 percent for a top four conference finish, which would earn a bye to Friday in the Big Ten tournament. RPIForecast.com now lists the three most likely final regular season records for IU as: 21-10, 22-9 and 20-11, as shown below: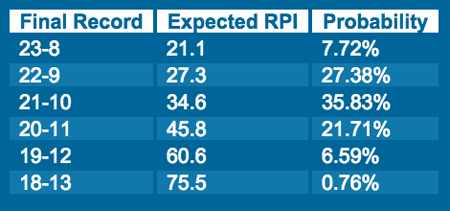 A look at the conference as a whole
As for the Big Ten at-large, the latest ESPN bracketology has the league as a seven-bid league with an eighth team, Purdue, as one of the first four teams out. Right now, you can probably only put Wisconsin and Maryland as the teams that are "locks" to make it. Here's a brief look at other profiles across the league:
· Wisconsin (23-2, RPI 6): The Badgers continue to roll along without Traevon Jackson and with the regular season Big Ten crown as a near certainty, all that's left to answer is whether a No. 1 seed is in the cards.
· Maryland (21-5, RPI 10): Neither win was pretty (vs. Indiana, at Penn State), but Maryland took care of business last week and jumped up seven spots in the RPI as a result. The Terps are in solid position to grab a No. 4 seed (or higher) if they can beat Nebraska twice, Michigan at home and Rutgers on the road in the coming weeks.
· Ohio State (19-7, RPI 35): The Buckeyes aren't quite in the lock territory for a NCAA bid because of an awful non-conference schedule, but a favorable schedule the rest of the way (at Michigan, vs. Nebraska, vs. Purdue, at Penn State, vs. Wisconsin) should yield the wins necessary to place them solidly in the field.
· Michigan State (17-8, RPI 36): The Spartans got a pair of wins last week and as a result, made a major jump in the RPI. However, the remaining schedule is brutal with road trips to Michigan, Illinois, Wisconsin and Indiana still to go and home games with Minnesota and Purdue that won't be easy, either. As of today, Michigan State is in the field, but missteps the rest of the way could lead the selection committee to look more closely at the profile and a loss to a team like Texas Southern could be damaging.
· Illinois (17-9, RPI 43): Illinois pulled out a game it absolutely needed to have at home against Michigan last week and was then throttled at Wisconsin, so the Illini remain right on the cut line in most projections. Road trips to Iowa and Purdue, two teams who are also fighting for bids, still loom as does a pivotal home game this Sunday against Michigan State. In all likelihood, Illinois is going to need to win a game or two in Chicago at the Big Ten tournament to feel safe on Selection Sunday.
· Iowa (15-10, RPI 55): The Hawkeyes had easily the worst week of any Big Ten team with a home loss to Minnesota and then an overtime loss to Northwestern in Evanston. Iowa still has road trips to Nebraska, Indiana and Penn State to go as well as a home game with Illinois and the margin for error is slim for a team that appears to be headed in the wrong direction.
· Purdue (17-9, RPI 66): It's been a tale of two seasons in West Lafayette as the Boilermakers have been very good in the Big Ten but are still being hurt in the computers by terrible losses to Gardner-Webb and North Florida. Purdue still has plenty of more opportunities to claim wins that would go a long way in pushing them into the tournament (at IU, at Ohio State and at Michigan State), but it's hard to see eight Big Ten teams in the field and right now, Purdue is right near the cut line.
2015 Tournament Sites
· First round: Dayton
· Second, third round: Charlotte, Columbus, Louisville, Jacksonville, Omaha, Pittsburgh, Portland, Seattle
· Regional: Cleveland, Houston, Los Angeles, Syracuse
· Final Four: Indianapolis
Filed to: NCAA Tournament