Five takeaways from Indiana's win over Minnesota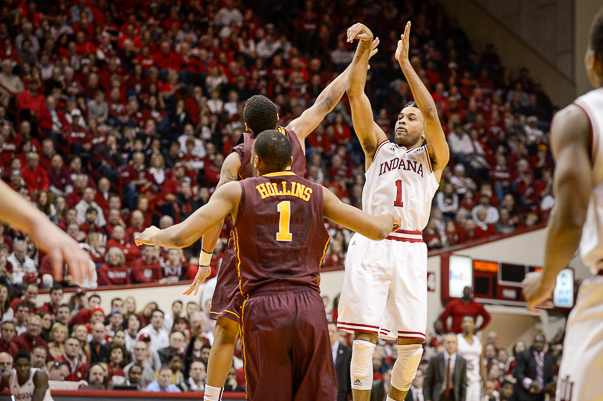 Indiana moved to 18-8 overall and 8-5 in Big Ten play with a 90-71 beatdown of Minnesota on Sunday night at Assembly Hall.
Here's a look at five takeaways from the win over the Golden Gophers:
· A record-setting shooting performance: The Hoosiers have been one of the nation's best 3-point shooting teams all season, but Sunday night's performance set a new high mark for the program. Indiana hit 18 of its 32 attempts from distance against the Gophers which broke the single-game record previously set at 17.
James Blackmon Jr. hit six 3s, but nearly all of IU's shooters got into the act as Robert Johnson hit five, Nick Zeisloft, Collin Hartman and Troy Williams each hit two and Yogi Ferrell hit one.
"The ball just has to move," Tom Crean said of the performance. "That's what it is more than anything else. A lot of that 3-point shooting, that's just what we do. It's not like they were set play calls for a 3. It's about the movement."
· IU's freshman guards bounce back: Both Blackmon Jr. and Johnson struggled with their shooting in IU's 68-66 loss on Wednesday at Maryland, but the duo put that performance in the rearview mirror from the onset on Sunday.
Blackmon Jr. poured in a game-high 24 points and also grabbed seven rebounds while Johnson scored 19 points and dished out four assists.
Crean said he held Blackmon Jr. after shoot around for 10 minutes to work on "complete speed and attack" and to "get it into his mind that everything is fine when you're on the attack." The message was well received as Blackmon Jr. went for 20 or more points for the ninth time this season.
"I think it was a mindset thing," Blackmon Jr. said. "We knew we were going to get good shots. We just wanted to get everyone involved and run the offense. I think we did a good job of that."
· Indiana owned the glass: Minnesota holds a definitive size advantage over Indiana on the frontline with 6-foot-10 Maurice Walker, 6-foot-9 Joey King and 6-foot-9 Charles Buggs in the starting lineup, but it was the Hoosiers, not the Gophers, who dominated the rebounding battle.
Indiana rebounded 47.6 percent of its missed shots in the win and Minnesota grabbed just 16.7 percent of its misses. The 10 offensive rebounds the Hoosiers grabbed turned into 11 points. Walker and King combined for one rebound in 59 minutes.
A key to Indiana's success this season, despite its lack of a true post presence, has been holding its own on the glass.
"That's just something we're going to have to continue to do every game," Johnson said. "A lot of times we're playing a line that's smaller than other teams. It's something we have to do to stay in the game."
· Ferrell's career assist night: Although he extended his streak of consecutive games with a 3-pointer made to 57, a mark that leads the country, Yogi Ferrell had an off shooting night.
The junior point guard hit just 3 of his 11 shot attempts, but dished out a career-high 11 assists. Ferrell assisted on eight of Indiana's 18 3-pointers.
"He's very, very serious about his improvement," Crean explained. "We practiced on Friday, got done at 6:00, 6:15. The night goes. All of the sudden at 9:20 I'm coming in from downstairs, he's walking out of the locker room to head onto the court on a Friday night.
"That's the kind of dedication he has. He is working every day to become a complete player. He's getting closer to it every day."
· Turnovers don't slow offense: Minnesota came into Bloomington on a three-game winning streak in large part because of smothering ball pressure over that stretch. The Golden Gophers are in the top five nationally at forcing turnovers and Indiana looked shaky offensively early with three turnovers in less than three minutes.
The Hoosiers would never completely rid themselves of their turnover issues in the contest as they finished with a turnover percentage of 27.4, which is more than 10 percent higher than their season average.
But Minnesota was unable to capitalize on IU's 18 turnovers, scoring just 16 points off those mishaps. And when Indiana beat the pressure, it made the Golden Gophers pay from all over the court. The Hoosiers hit 63.6 percent of their 2s and 56.3 percent of their 3s on their way to 1.37 points per possession.
Filed to: James Blackmon Jr., Robert Johnson, Troy Williams, Yogi Ferrell