Five takeaways from Indiana's loss to Purdue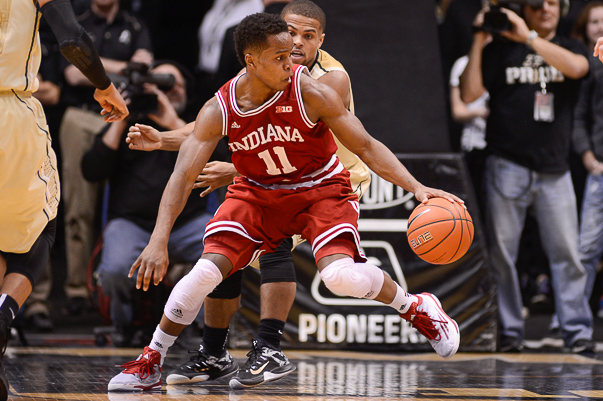 WEST LAFAYETTE, Ind. – Indiana fell to 15-6 overall and 5-3 in Big Ten play on Wednesday night with a 83-67 blowout loss at the hands of Purdue in Mackey Arena.
Here's a look at five takeaways from the loss to the Boilermakers:
· Purdue did what it wanted on both ends: Much of the talk leading up to the game had to do with matchups and which team would be able to take advantage of its strength. Indiana's high octane offense was going to have to make perimeter shots to win and Purdue's chances for success hinged on dominating in the paint.
The Boilermakers not only dominated the game offensively in the paint, but they also dominated the paint defensively. Purdue had 46 points in the paint against an IU offense that had no answer for its size and junior A.J. Hammons had a career-high eight blocks to shut down the paint on the other end. From the game's opening moments when Purdue raced to a 17-6 lead, the result was never in doubt.
"We were not good enough in the paint," Tom Crean said. "Our best post defender was 6-foot-3. We just didn't guard the paint well enough tonight. And our aggressiveness on offense didn't turn into what it should have been, which is much simpler basketball."
· Indiana's perimeter game fails to get going: When the Hoosiers are at their best offensively, the success comes as a result of ball movement, spacing and an ability to make shots from the perimeter.
But with solid rim protection to rely on, Purdue's perimeter guys were able to overplay near the arc which forced Indiana to either drive to the rim or take contested shots. The Hoosiers knocked down just four of their 19 shots from distance with Yogi Ferrell going just 1-of-5 and James Blackmon Jr. hitting just 1-of-6.
Collin Hartman, who had 27 points in IU's previous two games, took just three shots and was not a factor in terms of drawing Purdue's big men away from the rim.
"As simple as this sounds, we didn't make the pass one dribble sooner," Crean said. "One reason we've been shooting such a high percentage is because we just simplify it. We didn't do a good enough job of playing through the guys who need to touch the ball more, like Collin Hartman."
· A little more on the defense: With Hanner Mosquera-Perea not due back until the middle of February, Indiana doesn't have an easy solution defensively on the interior. The Hoosiers had already been struggling to defend with Mosquera-Perea in the lineup, but his absence has taken a major toll on IU's 2-point defense.
In five games without their starting big man, IU has allowed the following 2-point field goal percentages: Penn State (64.3), Illinois (50), Maryland (51.5), Ohio State (73.7) and Purdue (71.9).
Ferrell characterized IU's defensive effort as "soft."
"We think it's going to be easier than it is," he said. "Especially the guys who have never played here before or in the Big Ten. Now we're just learning the hard way."
· Blackmon Jr. struggling on the road: For the second straight game, James Blackmon Jr. had a tough shooting performance.
Against Ohio State on Sunday , Blackmon Jr. hit just 4-of-12 shots and on Wednesday, he finished with 13 points, but needed 13 shots and six free throw attempts to do so. He was also benched to start the second half in favor of Stanford Robinson, who was IU's best post defender in the first half.
As a result, Ferrell again carried a heavier load and didn't have much of a chance to facilitate, which isn't a healthy development for an offense that seems to be at its best when he's facilitating first and looking to score second.
· Rivalry continues to produce lopsided results, but still means plenty: The atmosphere in Mackey Arena was nothing short of electric, but for the ninth straight time, an IU-Purdue game was decided by a double-digit margin.
Still, even with the lopsided wins in recent years, this is still a game that means a lot to both sides. Various former IU players, including A.J. Guyton, Derek Elston and Jordan Hulls, sent out tweets during the game and in Purdue's postgame press conference, Bryson Scott summed up the importance of getting a win from the Boilermaker perspective.
"Because they're Indiana," he said with a smile. "You've got to win against Indiana."
Filed to: James Blackmon Jr., Purdue Boilermakers, Yogi Ferrell