What to Expect: Nebraska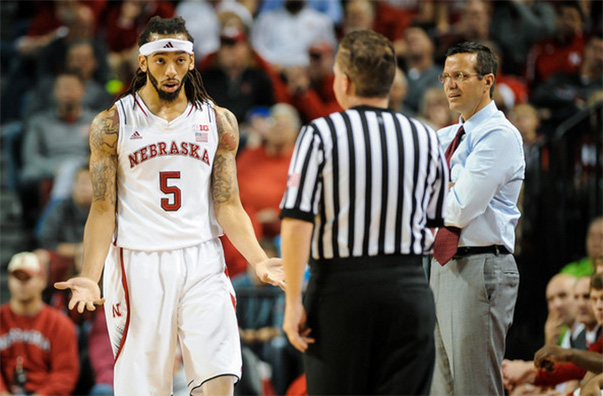 Indiana opens the Big Ten portion of its schedule on Wednesday in Lincoln at Pinnacle Bank Arena against the Nebraska Cornhuskers.
The game will be broadcast at 5:30 p.m. ET on BTN with Kevin Kugler and Shon Morris on the call:
Tabbed as a trendy pick by many to finish in the top five or six of the league in the preseason after a run to last season's NCAA tournament, life has been different for Nebraska with expectations.
The Cornhuskers have started 8-4 with losses to Rhode Island, Creighton, Incarnate Word and Hawaii. The only top 100 KenPom win Nebraska had in the non-conference season was by one in double overtime over Cincinnati in Lincoln.
Indiana, meanwhile, has slightly outperformed expectations through its first 13 games. The Hoosiers have a trio of top 100 KenPom wins (SMU, Pittsburgh, Butler) and in their most recent game, took Georgetown to overtime at Madison Square Garden.
But the fact that this young Indiana team hasn't played a true road game adds major intrigue to this Big Ten opener as Nebraska finished last Big Ten season with an 8-1 mark at home in league play. This is perhaps the best time for a team to visit Pinnacle Bank Arena as students are out on break and the Huskers haven't played particularly well this season, but life on the road in the Big Ten is never easy.
A LOOK AT THE HUSKERS
Nebraska is the Big Ten's most offensively challenged team through its first 12 games as the Huskers rank just 246th nationally in adjusted offensive efficiency according to KenPom.com. Indiana's defense has been bad (190th in adjusted defensive efficiency), but Nebraska's offense has been even worse.
The offense starts with junior Terran Petteway, a preseason first team All-Big Ten selection. The 6-foot-6 guard is using 32.7 percent of possessions when on the floor, but is making just 32.5 percent of his 3s and 49 percent of his 2s. His 19.2 points per game lead the team. Those numbers aren't actually too far off from where he landed last season, but a decline in efficiency from the supporting cast has placed even more pressure on Petteway to produce.
Junior forward Shavon Shields is the team's most efficient offensive player. His effective field goal percentage (51.9) leads the team and he's second in scoring at 17.2 per contest. Turnovers have been a problem for Shields (21.4 TO%), but he's getting to the line a ton (61.1 percent free throw rate) and knocking down his attempts (87.5 percent).
After Petteway and Shields, Tim Miles is struggling to find other capable scorers. Junior Walter Pitchford has fallen off significantly after a very solid sophomore season. Here's a look at Pitchford's efficiency numbers through 12 games this season compared to how he finished last season:

Any improvement from Pitchford, who is playing close to 28 minutes per game, will be a major boost to Nebraska's offensive profile.
Junior Benny Parker has supplanted sophomore Tai Webster at point guard in the starting lineup. Parker is turnover prone (24.4 TO%), but has made 8 of his 17 attempts from behind the 3-point arc and has a team-high 23 steals. Webster's turnover percentage (29) is even worse and he's hit just 16.7 percent of his 30 attempts from 3.
Over the last two games, Miles has only played seven guys as senior forward David Rivers (10.6 OR%) rounds out the starting lineup and freshman guard Tarin Smith comes off the bench. With Leslee Smith still sidelined due to an offseason ACL injury and Moses Abraham still working back from a broken metacarpal, the Huskers aren't the team in the frontcourt that they may be later in the conference season.
TEMPO-FREE PREVIEW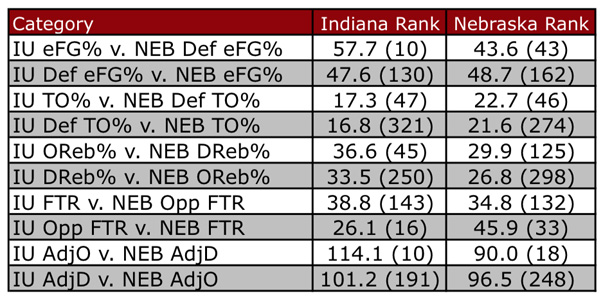 This is perhaps the most intriguing contrast we've seen between IU and a top 100 opponent this season to-date. As mentioned before, Nebraska's offense is actually worse than IU's defense and there are plenty of other numbers that suggest this is a game the Hoosiers could take if they play well.
Nebraska's defense is very good, but Indiana hasn't had a problem scoring on top 20 defenses this season (see Louisville and Butler games). The Huskers are also turning it over at an alarmingly high rate (21.6 turnover percentage) and rank just 298th nationally in offensive rebounding percentage. The Hoosiers have been susceptible on the glass, but have been better in recent weeks and keeping Nebraska from second-chance points is a good way to keep a poor offense from getting easy points.
When Nebraska does find success offensively, it's usually because the Huskers are getting to the foul line. The Huskers rank 33rd nationally in free throw rate, but Indiana ranks 16th nationally in opponent free throw rate. The key to success for IU entering the Butler game was rebounding and in this one, the free throw line may ultimately decide the outcome.
As for where Nebraska is getting its production offensively, here's a look via Shot Analytics: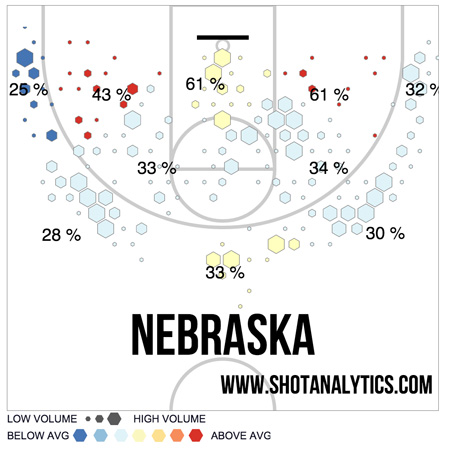 WHAT IT COMES DOWN TO
The Vegas line opened with Nebraska as a 4-point favorite and has moved slightly in Indiana's favor down to 3.5. Pomeroy only favors the Huskers by 1 with a 52 percent chance of a Nebraska win while Sagarin actually likes Indiana by 2.5.
The unknown here is how Indiana's young players will respond to their first true road game. Last year's team built up several halftime leads on the road in Big Ten play, only to have them evaporate quickly as the crowd got back into the game. This was true in last year's game at Pinnacle Bank Arena as the Hoosiers led 32-19 at halftime and lost, 60-55.
That said, this is probably just about the best time to play Nebraska, particularly on the road. The students are on winter break and the Huskers lost their first three conference games last season and first five the season before. If Indiana produces anywhere near its season averages on offense and just plays an average defensive game against a poor offensive team, this is a game IU is perfectly capable of stealing on the road.
(Photo credit: Eric Francis/Getty Images)
Filed to: Nebraska Cornhuskers