Holt rises to the challenge in IU's win over Pitt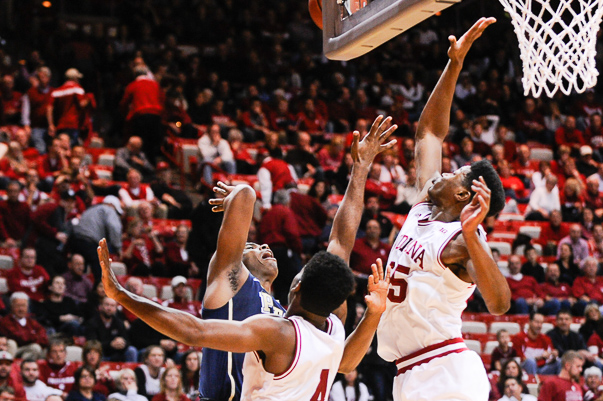 Indiana desperately needed a post presence on Tuesday night against Pittsburgh.
They found it in freshman Emmitt Holt.
In a game in which the Hoosiers were once again outsized and outrebounded, they managed to defeat the Panthers by a 81-69 score in the Big Ten/ACC Challenge. Holt, playing in just his third game of his college career, led the Hoosiers with 15 points — including a 6-of-6 line from the field.
All of those shots were made in the paint.
"I guess it came out of the blue," Holt said following the game. "We're working hard every day in practice. (This is) just something that came about."
Against the Panthers, Holt seized his opportunities in the paint. Two of his layups came off offensive rebounds and he drew another two fouls off layup attempts as well. He also was effective on the defensive end, utilizing his 7-foot-1 wingspan to alter shots.
He finished with two blocks, five rebounds and zero fouls.
Even Indiana coach Tom Crean was surprised at Holt's performance after the fact.
"We have not seen Emmitt quite like that," Crean said. "That's a pretty good Emmitt right there. We've seen him hustle like that. Emmitt is gaining confidence. I think that's a huge thing.
"He just didn't have the game experience."
As a last-minute addition to the 2014 class, Holt did not have the chance to play in the Hoosiers' five-game Montreal exhibition trip. At that point, he still was planning on attending Vermont Academy this fall.
Holt had always wanted to play at a high-major school like Indiana but did not get the offers he had hoped for through his four years of high school. He made the decision to attend prep school for an opportunity that arrived before he even started school.
The Hoosiers observed Holt, 18, while he played on the EYBL circuit for Albany City Rocks (N.Y.), in which he averaged 11.6 points, 7.1 rebounds and 2.1 blocks per game. The interest continued to rise over the summer as the Hoosiers had an extra scholarship available.
Holt committed to Indiana just five days before the fall semester started.
"I was trying to get to a big school like this going to prep school," Holt said. "So why not go now?"
But Holt, despite showing early improvement in practice, was put through adversity early.
Early in the morning on Nov. 1, Holt hit teammate Devin Davis while driving on 17th Street and was cited for driving with a BAC of above .02. Indiana's coaches did not let Holt out of their sight for the following 48 hours.
As much as Davis needed support in the hospital, Crean has said, Holt needed emotional support, too. He received it from an all-important source, too — Davis's family.
"The first thing was they forgave me," Holt said. "That was the biggest thing for me because I hurt their child. They supported me along the way. They knew I felt bad for what I did. It changed my life forever."
Holt was suspended for the Hoosiers' first four games (including two exhibitions) and made his first appearance in five minutes of action against Lamar. He still is short on game experience, Crean said.
But with Davis watching on from behind the team's bench in Assembly Hall on Tuesday, Holt led the way for the Hoosiers against the Panthers.
"He came in and he was excited and we made it clear right away this guy is here to compete," Crean said. "He's not here to be anybody's understudy.
"Was he ready for it right away? No, not on the court or off the court. But he's learning. Hopefully he'll continue to do that."
Filed to: Emmitt Holt