Roster turnover aids Hoosiers on and off the court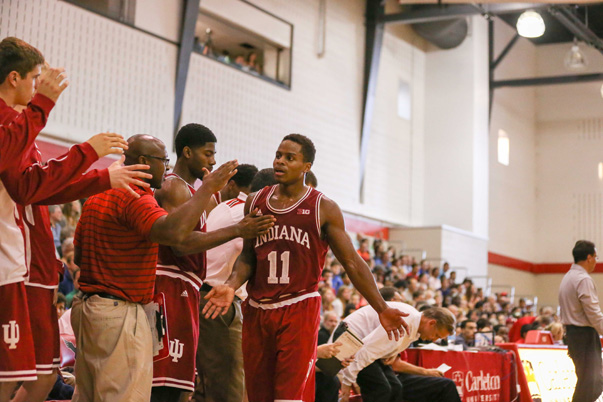 After losing a lottery pick, a senior who scored more than 1,000 career points and several players via transfer, Indiana is going to look much different this winter.
And given that 60 percent of the roster is new and the Hoosiers are without a true post presence, much of the team's offense is going to originate on the perimeter.
But change isn't always a bad thing and in IU's case, the roster turnover should allow Crean to avoid situations like last season when he was forced to put guys on the floor who couldn't shoot or score with any consistency.
"Very few times do people (in the Big Ten) put players on the court that can't make shots or aren't bringing something to the table," Crean said yesterday at Big Ten media day in Rosemont, Illinois. "There's very few places to hide a guy."
With guys like Austin Etherington, Evan Gordon and Jeremy Hollowell being replaced by James Blackmon Jr., Nick Zeisloft and Robert Johnson, the Hoosiers shouldn't run into many scenarios where they won't have a capable and confident shooter on the floor to go along with Yogi Ferrell, a first team all-Big Ten selection in the preseason.
Blackmon Jr. and Johnson can both shoot and handle the ball, while Zeisloft showed a confident stroke in IU's August trip to Montreal along with a strong basketball IQ.
Those three newcomers should allow Indiana to produce much better floor spacing than a season ago when Etherington, Gordon and Hollowell combined to make just 13 three-pointers in 18 conference games.
It should also benefit sophomore Stanford Robinson, who attacked the basket relentlessly as a freshman and got to the line as well as any Hoosier. With shooters on the perimeter, any dead ends Robinson hits on his way to the basket could lead to kick outs for open shots.
"With the type of shooters we have, it's going to be a big-time help spacing wise," Johnson said after Monday's practice. "It's going to open the court up and make us real hard to guard because you've got to guard a lot of guys that can shoot and put the ball on the floor."
Ferrell, who compared playing with IU's newcomers to his days at Park Tudor when he was surrounded by shooters and even his freshman season with Jordan Hulls, hopes the changes lead to better camaraderie on the floor, something that wasn't always present last season.
"Some games (last season) the connection was there, some games it wasn't," he explained at Big Ten media day. "This season, we've got to have that connection every game."
The connection, of course, starts off the court and seems to be off to a more promising start than it was a season ago when Ferrell, along with Will Sheehey, were in Russia for almost a month in the summer with USA Basketball while the rest of the roster remained in Bloomington.
"We couldn't even be with the team (last summer) and try to get accustomed to the guys that just came in," Ferrell said. "So this summer I got to spend the whole summer with them and I think we've definitely used that to our advantage."
This past summer also included the foreign trip to Canada that allowed for 10 practices and five exhibition games. Ferrell also on Thursday said that the upperclassmen are living together on campus this season, a change from previous years when they lived off campus.
The early result seems to be a group that is enjoying being around each other more than last year's both on and off the court.
"I kind of feel like this year's team likes each other a lot more," Ferrell said yesterday. "I don't know why, maybe it's that we're all kind of the same age. That could be the thing. We can all kind of relate to each other and when we get out there, we just have fun and want to play with each other. That's the main thing."
Filed to: James Blackmon Jr., Nick Zeisloft, Robert Johnson, Stanford Robinson, Yogi Ferrell