2016 big man Nick Rakocevic talks Indiana offer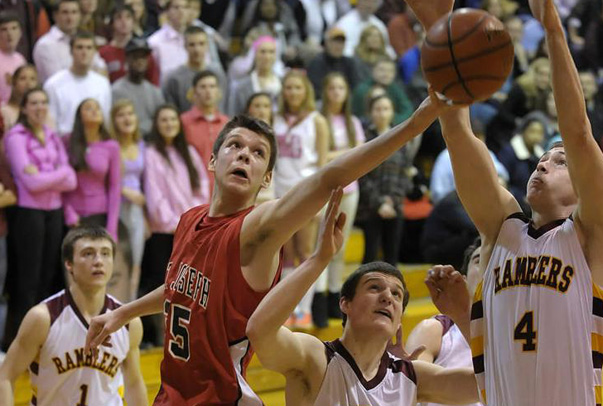 Class of 2016 St. Joseph (Ill.) big man Nick Rakocevic made his first trip to Bloomington on Thursday and left with a scholarship offer from Indiana, his third Big Ten offer to date.
The 6-foot-10 Rakocevic, who already had offers from Illinois and Wisconsin, made the unofficial visit with his mom and came away impressed with IU coach Tom Crean.
"I love that as soon as I met him he told me family was the most important thing," Rakocevic told Inside the Hall. "When I heard that I was really impressed. I also like the fact that he is straight up with you. He isn't going tell you what you want to hear."
The IU recruiting effort of Rakocevic, led by associate head coach Tim Buckley, has been ongoing for several months now. His first trip to Bloomington offered him the chance to get a feel for the campus and facilities.
"He took us to see the school and the campus," he said. "Then he showed us the gym and I met some of the players. The coaches said they like my game and I can improve on some other things but there are a lot of things they like.
"I was really happy, and proud of myself (when they offered). I looked at my mom and just smiled and took it in that Indiana just offered."
In addition to the three Big Ten schools, Creighton, Miami (FL) and Northern Illinois have also offered a scholarship to Rakocevic. His recruitment has expanded in recent months as schools like Duke, Florida, Iowa and Oregon have also entered the mix.
Despite his size, Rakocevic isn't your traditional back to the basket big man. Last weekend in Fort Wayne at the Hensley Memorial Run-N-Slam at Fort Wayne with his Mac Irvin fire team, he said he also hopes to be able to play on the perimeter.
"I'm trying to be like a small forward, like KD (Kevin Durant) style," Rakocevic said. "I definitely think I need to get stronger. To be a small forward, I think I need to improve a little bit on my midrange shot and definitely my ball handling."
Indiana is expected to have a frontcourt player selected in the NBA draft lottery in Noah Vonleh, following Cody Zeller who went No. 4 overall last June to the Charlotte Bobcats. Zeller's development in Bloomington was something Rakocevic had a chance to speak with Crean about on his visit.
"We talked a lot about Cody and his development," he said. "I really enjoyed spending time with coach Crean."
(Photo credit: Tracy Allen for Sun-Times media)
Filed to: Nick Rakocevic