6-foot-9 Tim Priller becomes fifth member of Indiana's 2014 recruiting class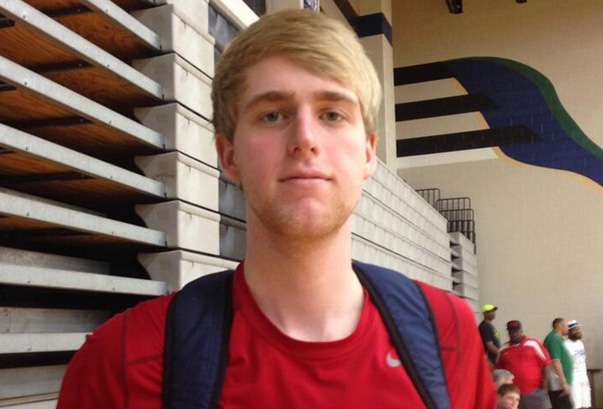 Indiana picked up its fifth commitment of the 2014 recruiting class Saturday evening, as 6-foot-9, 200-pound Richland (Texas) forward Tim Priller announced his commitment to the Hoosiers via his Twitter account.
According to his high school coach, Richard Bacon, Indiana became involved in Priller's recruitment just after this year's Final Four, when associate head coach Tim Buckley saw Priller play. After being under-recruited during the fall recruiting period, he chose to stay unsigned rather than committing to a mid-major college.
This past week, Indiana coach Tom Crean and assistant Steve McClain went to Texas and saw Priller, as well, and extended a scholarship offer.
Priller chose Indiana over interest from TCU, Arkansas, Miami, Texas Tech, Drexel, Illinois, Colgate, UT-Arlington and Illinois-Chicago, according to Bacon.
But when the Hoosiers extended their offer, "it was hard for me to get Tim to think about anybody else." Priller, a stretch-four, was born in Dyer, Indiana. Even without visiting Bloomington, it was a done deal from the start, according to Bacon.
"When Indiana started showing interest, he flat out told me, 'Coach, if Indiana offers me, I'm going to take that right now,'" Bacon said. "I was like, OK."
Bacon also described Priller as someone who "can score from any place on the floor." He shot 51 percent on 3-pointers and had the second-most attempts on his team. He shot 48 percent from the floor, overall. He was their best free throw shooter, shooting 78 percent from the line and was also their technical-foul shooter. And on top of that, he was also the target for Richland's game-ending plays.
"But he's got to get a little stronger, and he knows that," Bacon said. "Like I told coach Crean, they're going to appreciate more, and the fans of Indiana are going to appreciate him more and more the more they see the kid. The more they're around him, the more they'll say 'Wow, I didn't know he could make that shot,' or 'Wow, I didn't know he could do this.'
"He's been doing this for quite a while."
At 6-foot-9, Priller is seven inches taller than he was his freshman year of high school, and Bacon said he would not be surprised if he grew more. He will also be playing in Dallas this upcoming Thursday for the DFW East/West All-Star Game.
Priller now joins James Blackmon Jr., Robert Johnson, Max Hoetzel and Jeremiah April as members of Indiana's 2014 recruiting class.
(Photo credit: TexasHoopsGASO on Twitter)
Filed to: Tim Priller