Trevor Thompson's father breaks down process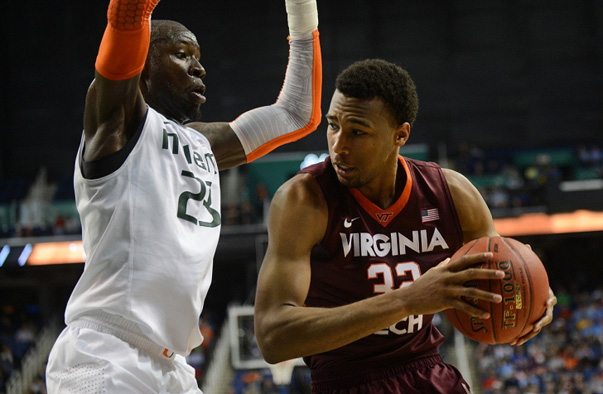 As one of the top available transfers still on the board this spring, Indianapolis native Trevor Thompson is a priority for three Big Ten schools, including Indiana.
The Virginia Tech transfer averaged five points and 4.7 rebounds per game as a freshman and at close to 7-feet and 220 pounds, he's viewed as a player who can make an impact beginning in the 2015-2016 season.
His father, Ryan, a former MLB outfielder who was drafted by the Toronto Blue Jays and spent time with the Mets, Indians, Astros, Yankees, Marlins and Brewers, told Inside the Hall recently that a variety of factors went into his son's decision to leave Blacksburg and pursue a new opportunity.
Among the factors mentioned were inconsistent playing time and being too far from home. Virginia Tech finished 9-22 and fired James Johnson at the end of the season, which made the decision to leave an even easier one.
"I want his college experience to be fun and enjoyable and I just didn't sense that was happening for him," he said. "And that's an issue. It became really, really frustrating for the kid. I really wanted him to have fun and he didn't."
After receiving interest from numerous high major schools, Thompson is now focused on Indiana, Purdue and Ohio State.
All three schools are expected to receive visits, beginning with the Buckeyes this coming weekend when the NCAA dead period for recruiting ends. Indiana is second on the schedule for a visit, followed by Purdue.
"I told Tom Crean, Matt Painter and Thad Matta, it's going to come down to how convincing they are as head coaches in getting Trevor to believe that this is the right system that he needs to play in," Thompson said. "At the end of the day, it's going to be the head coach that has an integral part in that process."
Thompson, who graduated from Ben Davis in 2012 before doing a postgraduate season at St. John's Northwestern Military Academy in Wisconsin, was rated the No. 189 recruit in the 247Composite in the 2013 class. He was recruited by Purdue originally, but the Boilermakers never offered a scholarship. Indiana and Ohio State were not involved in his recruitment the first time around.
Besides the relationship with the head coach, Ryan Thompson also mentioned academics — Trevor wants to major in communications — and how he fits in with potential teammates as two other major factors.
Thompson knows current IU freshmen Collin Hartman and Devin Davis, who both played in the Eric Gordon All-Stars AAU program. He also knows incoming IU freshman James Blackmon Jr., who he's spoken to "a few times," according to Ryan Thompson.
"It's going to come down to the head coach and the guys in that locker room," Thompson said. "Trevor's not a party kid. Trevor doesn't have tattoos, he doesn't have earrings, he's not that type of kid."
Indiana's pitch to the family to this point has been about making Thompson a better player and ultimately helping him reach a dream of playing in the NBA.
"IU thinks Trevor can be a great college player and a great NBA player," his father said. "They feel that they can get him to the next level. I know if he stays healthy and he's in the right program, there's no doubt he's an NBA basketball player.
"He can play a little bit. And he's getting nothing but better. I want him to understand that he's got a lot of hard work ahead of him, but he's got to be in the right situation."
(Photo credit: HokieSports.com)
Filed to: Trevor Thompson