After 32 games, Indiana's turnover issue remains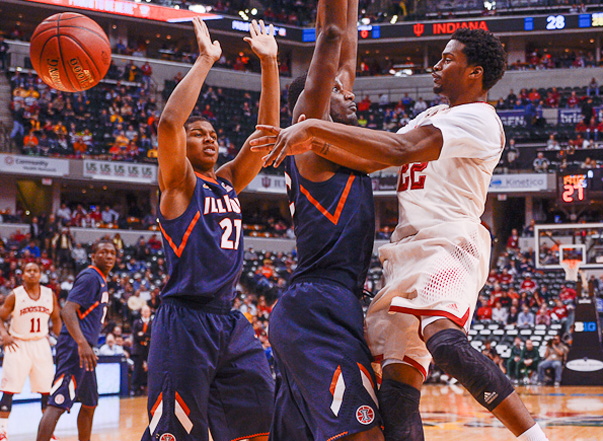 INDIANAPOLIS — There have been plenty of recurring issues for the Indiana Hoosiers in the 2013-2014 season. Scoring slumps, second-half collapses, the list goes on.
But on Thursday in their Big Ten tournament opener, another recurring issue reared its ugly head: turnovers.
In their 64-54 loss to Illinois, the Hoosiers turned the ball over 16 times — on 25.9 percent of their possessions. Through 32 games this season, the Hoosiers have turned the ball over on 21.8 percent of their possessions.
No Indiana squad has had a worse turnover percentage since the 2009-2010 team that finished 10-22. And after the Illinois loss, many of the Hoosiers weighed in on why it has remained an issue throughout this season.
"It was just awareness on the court," redshirt sophomore Austin Etherington said. "Some of the times the turnovers we had, we had the right intentions and we were making the right play, just sometimes you were over-dribbling or over-thinking a play.
"I wouldn't say it's something like skills-wise, that's the reason why we had turnovers — with a young team it's hard to really get used to everything. But I mean it is the end of the year and you don't consider them freshmen anymore. It's something that you just have to be more aware of on the court."
From the first game of the season, when IU turned the ball over on 22 percent of its possessions against Chicago State, it was apparent that turnovers would be a part of the 2013-2014 season.
Multiple Hoosiers admitted on Thursday the chemistry needed to not turn the ball over early in the season simply wasn't there. They had never played together, after all.
And the cause of turnovers, they said, was a simple lack of awareness of where each other are on the court. A lack of communication.
"We just didn't take care of the ball like we should have," senior Evan Gordon said. "There were a lot of over-drives and miscues on back-doors, so we just didn't take care of the ball like we should have — overall."
As the season went on and Indiana's chemistry improved — it did, players said on Thursday — the turnovers did diminish. For five of six games from Feb. 15 to March 5, the Hoosiers turned the ball over at a rate less than its season average.
"But then they just got back to where they were," freshman Noah Vonleh said.
In the second half, especially, against Michigan, the Hoosiers' turnovers caused a Wolverines run. Against Illinois on Thursday it was an issue throughout. The same one that has contributed to 15 of the Hoosiers' losses this season (in its 60-55 loss at Nebraska, the Hoosiers, in fact, turned the ball over on 31.5 percent of its possessions, a season-high).
"I think we have communication when we're playing really well, scoring and defending really well," sophomore Yogi Ferrell said. "But you know, when the other team kind of makes a run or we're not hitting shots, guys get quiet.
"We've got to keep communicating whether we're up 20 or down 20. It's how it has to be."
32 games have elapsed this season, and not much has changed. The Hoosiers' past two outings have produced turnover percentages higher than its season average. Tom Crean said on his weekly radio show this Monday that his team lacks "good decision-makers." But the one question that has everyone searching for answers: How do the Hoosiers stop turning the ball over?
And the answer, players, said, comes in practice. That, they said, is the one way they will learn from not making the same mistakes they have made all season.
"I just felt like the turnovers came from over-drives or uncertainty," freshman Stan Robinson said. "I felt like sometimes when we could have shot it we wanted to pass it and when we should have passed it we wanted to it. It's just things we can learn in practice with reps against the defense and things like that."
"It's been a recurring issue," freshman Troy Williams added. "It all starts in practice, so that's the most we can do."
Filed to: Austin Etherington, Evan Gordon, Noah Vonleh, Stanford Robinson, Troy Williams, Yogi Ferrell