Bubble Watch: Is IU back in the discussion?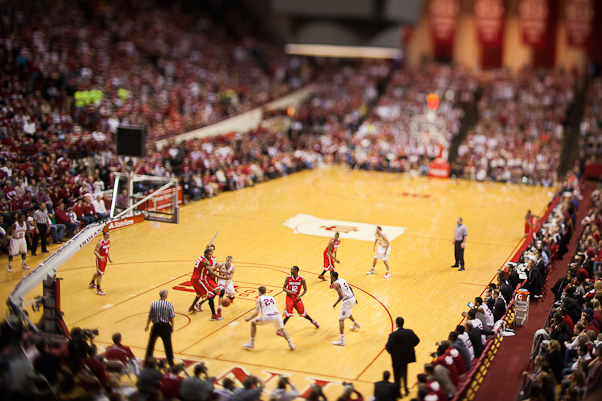 After a month hiatus, "Bubble Watch" is back following a pair of IU wins over ranked teams last week and a revival of NCAA tournament hopes for the Hoosiers.
The return of Bubble Watch takes a look at IU's current nitty gritty profile, what the Hoosiers might need to do to reach the tournament for a third straight season and other Big Ten teams currently on the bubble.
Overview
It's been an up and down season in Bloomington as Indiana has home wins over four ranked teams, but also has home losses to Northwestern and Penn State and just three wins away from Assembly Hall. With two conference games and the Big Ten tournament to go, there's an opportunity for Indiana to play its way into the big dance.
Nitty Gritty Profile
· Record: 17-12 (7-9 Big Ten)
· RPI: 79
· SOS: 56
· Home Record: 14-3
· Away Record: 2-7
· Neutral Court Record: 1-2
· vs. RPI Top 50: 4-6
· vs. RPI Top 51-100: 2-2
Current Projections
· ESPN Bracketology (Joe Lunardi): Not among "first four out or next four out," but listed as "also considered"
· CBS Sports (Jerry Palm): Not among "first four out or next four out"
· Crashing the Dance: Tenth team out
Not surprisingly, none of the three projections we're currently tracking have Indiana in the tournament, but the Hoosiers have definitely moved up with last week's wins over Iowa and Ohio State.
Wednesday's game with Nebraska is huge because the Cornhuskers are also battling for a bid and it's a chance to inch closer to 20 wins, which is where IU needs to get to warrant serious consideration. It's essentially a must-win for the Hoosiers if they plan to have a chance to make the field without winning the Big Ten tournament.
Saturday's game at Michigan, which IU has beaten three straight times, is also a major opportunity because the Hoosiers don't have a marquee win away from Assembly Hall.
The various scenarios are obviously impossible to break down given how many teams are involved, but if IU splits its final two games and goes to Indianapolis at 18-13 and 8-10 in the conference, the Hoosiers will likely need to win two and possibly three games to make the field.
A look at the Big Ten
As for the Big Ten, at-large, most of the projections have it as a five-bid league with room to grow.
Right now, Michigan, Wisconsin, Iowa, Michigan State and Ohio State are "locks" to make the field with Minnesota, Nebraska and Indiana (in that order, currently) still in the discussion.
In looking at the potential for the Golden Gophers or Cornhuskers to dance, Minnesota currently has the edge because it's played a tougher schedule (No. 3 nationally) overall. With that said, Nebraska will finish at least .500 in the conference and still has two opportunities to move up the board this week while Minnesota only has a home game remaining with Penn State. The best the Golden Gophers can finish the regular season is 18-12 and 8-10 in the Big Ten.
2014 Tournament Sites
· First round: Dayton
· Second, third round: Buffalo, Milwaukee, Orlando, Raleigh, San Antonio, San Diego, Spokane, St. Louis
· Regional: Anaheim, Indianapolis, Memphis, New York
· Final Four: Dallas
Filed to: NCAA Tournament