Five takeaways from Indiana's win over Ohio State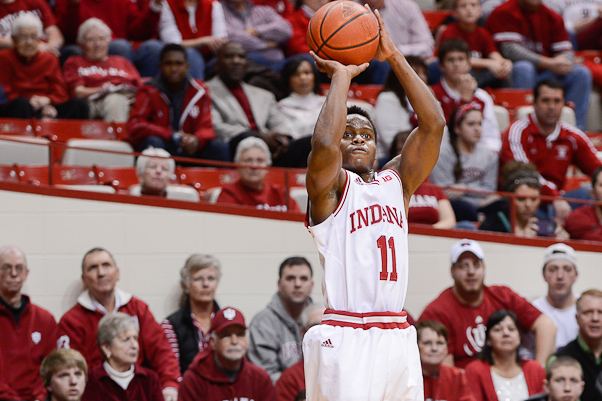 Indiana beat another top 25 opponent on Sunday afternoon, No. 22 Ohio State, 72-64 in Assembly Hall. The win moved the Hoosiers to 17-12 overall and 7-9 in the Big Ten.
Here's a look at five takeaways from the win over the Buckeyes:
· Without Vonleh, Ferrell and Sheehey carry the Hoosiers: When the news dropped just minutes before IU and Ohio State tipped at 4 p.m. on Sunday that the Hoosiers would be without Noah Vonleh, optimism for success against the Big Ten's best defense was waning. Indiana was left without a post presence to start the game as Jeremy Hollowell started in place of Vonleh and the Buckeyes jumped out to a 20-12 lead.
Enter Yogi Ferrell and Will Sheehey. The duo combined for 12 of Indiana's 16 unanswered points, capped by two free throws and a 3-pointer by Ferrell to make it 28-20. The Hoosiers would never relinquish the lead the rest of the way. Ferrell finished with a game-high 20 points and Sheehey added 19. IU's two leaders were responsible for six of the team's seven 3-pointers and for shutting down Aaron Craft, who finished 2-of-11 from the field.
"Yogi and Will led this team at a high level," Tom Crean said afterward.
Indeed they did.
· Mosquera-Perea delivers his best game in IU uniform: The impact of sophomore Hanner Mosquera-Perea has been minimal up to this point in his career, but on Sunday, he helped fill in for Vonleh with his best game yet as a Hoosier.
In 15 minutes, the Colombia native finished with eight points, five rebounds, three blocks and a steal. He was excellent in the screen and roll and consistently caught the ball, a simple fundamental that he's struggled with over his first two seasons.
"Hanner did a really good job of being in movement," Crean said. "He got better as the game went on, gained his confidence as the game went on. It was great to see his teammates were so happy for him. I think the fact that he was able to continue to play even after he struggled maybe a little bit and really get better inside of it kind of epitomized the game."
· Free throws a major difference: One of the major talking points in "What to Expect" was free throws and their importance for both teams. Ohio State entered the contest third in the conference in opponent free throw rate (FTA/FGA) and Indiana was fourth.
Indiana hit 17 of its 21 free throw attempts and finished with a free throw rate of 42 percent, which is 12 percent higher than Ohio State had been allowing coming into the game. The Buckeyes did a decent job at getting to the line (39 percent), but hit just 14 of their 23 attempts. Given that the Hoosiers had a higher turnover percentage than Ohio State and a lower offensive rebounding percentage, it's fair to say that free throws were a major factor in the outcome going IU's way.
· An unsung hero in big games: Evan Gordon hasn't received the headlines for IU's wins over ranked teams, but he's played his best in IU's wins over Wisconsin, Michigan, Iowa and Ohio State at Assembly Hall.
On Sunday, Gordon finished with nine points in 19 minutes and against the aforementioned ranked opponents, he's averaging 9.3 points, three rebounds and 2.8 assists in 23 minutes per game. He's also 11-of-13 from the free throw line in those four contests.
Gordon doesn't appear fazed by the big moment and last night was no exception as he added three assists, three steals and two rebounds to his nine points.
· Ohio State's offense was woeful: The Buckeyes have struggled offensively all season, but last night had to be difficult for fans in Columbus to watch. Ohio State scored one field goal outside of the paint and missed all 11 of its 3-point attempts. It was the first time Ohio State didn't make a 3-pointer in a game since Jan. 10, 2004, a span of 367 games.
Despite all of that, the Buckeyes emerge from the loss with the nation's No. 2 defense overall and the top defense in Big Ten play. Will that be enough for another NCAA tournament run? Not if the same defense that showed in Bloomington shows up during the first weekend of the big dance.
"We lost our juice on the defensive end," Ohio State coach Thad Matta explained. "We had held them to only 12 points with eight minutes to go in the second half when Yogi Ferrell hit a three, that's when I knew we were in trouble. Even when we weren't particular scoring well, we never got our defense to where it needed to be."
Filed to: Evan Gordon, Ohio State Buckeyes, Will Sheehey, Yogi Ferrell