The Inside the Hall Mailbag: February 6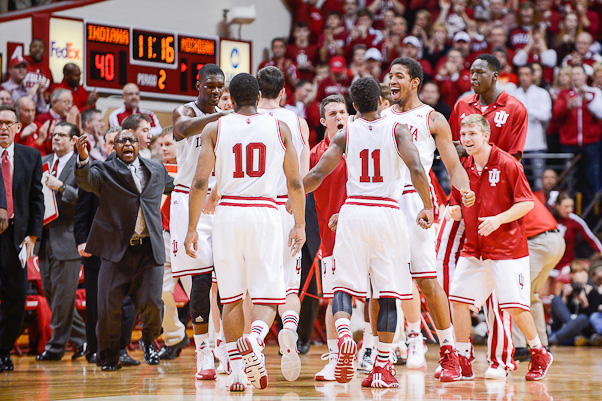 The Inside the Hall Mailbag is a collection of questions tweeted to us via Twitter (@insidethehall), submitted on our premium forum and sent to us via our Facebook page. Submit your questions and we'll answer as many as we can.
JRFarrell on the premium forum writes: It is widely known IU's non-conference schedule was weak this year. And even if they are a bubble team by season's-end this will reflect poorly on them and surely reduce their chances at an at-large bid. I understand IU will play Louisville next year in NY, but have there been any talks about doing a 4-team series similar to the Champions Classic played earlier this year? (IU, Louisville, Kentucky, and OSU OR Cincinnati would be great and make sense regionally in the heart of basketball country).
While it's true that IU's strength of schedule wasn't good in the non-conference (KenPom ranks it 327th nationally), I'm also not sure a more ambitious schedule would have helped the Hoosiers. IU finished that part of its schedule with a 10-3 mark. With a young team, I'm not sure playing two or three more games that could have been potential losses would have been a good thing long term. If IU was, say 12-10 right now instead of 14-8, would its chances of an at-large bid be better? I would say no. With the strength of the Big Ten, IU's chances to get to the NCAA tournament are largely going to be determine by its conference record and who the Hoosiers beat in league play. The bubble is soft this year and if the Hoosiers can get to nine Big Ten wins, they will certainly have an argument to be included.
As for the second part of the question, IU is already locked into the Crossroads Classic which rotates between Butler and Notre Dame as well as the Big Ten-ACC Challenge. The Louisville game as part of the Jimmy V Classic will obviously be a nice boost for next season, but I don't think there's going to be another four-team event starting up unless the Crossroads Classic ends. A major part of non-conference scheduling is getting in a certain number of home dates, so that has to be taken into consideration as well. — Alex Bozich
RoscoD73 on the premium forum writes: What is your reaction to the Indiana crowd booing a specific lineup Coach (Tom) Crean had in last game? Would you agree with what Coach Crean said about it?
I'm typically of the belief that fans can express themselves as they wish, as long as they're not being profane or unnecessarily cruel. In this situation, there was obviously some frustration being shown and as Michigan went on a 6-0 run, Crean called timeout and changed the lineup. IU won the game ultimately, so I'm not sure it's a big deal moving forward and it's not something that's happened before, so I also don't view it as a lingering issue.
As for the comments Crean had on it, for those who missed it, here's what he said on his radio show earlier this week: "I learned a long time ago, if you coach long enough, you're gonna see a little bit of everything. The bottom line is, we have to rest players. I don't have any concern on that. … We've got to continue to build depth, and the only way you build depth is to get guys to be consistent. And when moves don't work out, you know what? I'd boo me too then."
I think that's a pretty good perspective on the situation, but ultimately what fans sometimes forget is that Crean (or any coach in a major job for that matter) has way more invested in the team's success than anyone else. Some moves work and others don't and that's just the way that it goes, but ultimately, he's just trying to win. With this team, there's far less margin for error than the last two years, so there's going to be more scrutiny if something doesn't go well. — Alex Bozich
Kwang on the premium forum writes: What do you think IU's chances at an NCAA tourney appearance are and how bad would an NIT berth be?
Right now, IU is squarely on the bubble so they've got a solid chance to make the tournament if they can string together some wins and get to .500 or better in the conference. This upcoming three-game stretch of at Minnesota, Penn State at home and at Purdue should give us a much better idea of whether or not IU will be able to get that done.
Obviously, the goal is to make the NCAA tournament, but if it doesn't happen, you try to take the experience from the extra practice and games in the NIT and get better for next year. As unpopular as it may have been to some when I wrote it, I've viewed this as a transition season for IU after what the program lost and I think you have to judge it overall on improvement being made as the year moves along. — Alex Bozich
Duane Kastner on Facebook writes: Is there a reason we don't see more of Hanner (Mosquera-Perea) or maybe having Hanner and Noah (Vonleh) in the game at the same time for a few minutes here and there? We seem to be content to play small and with those two in the game, I think we have an advantage over a lot of teams. Not to mention it would free up Noah to roam a little more on both ends of the floor.
I don't think Mosquera-Perea has made a compelling case for more minutes based on his performance in Big Ten games. He's a better player than he was as a freshman, but his turnover numbers are poor and his field goal percentage (41.7) isn't efficient for a post player.
I know the natural reaction when things aren't going well is to argue that someone on the bench should be playing more, but in this case, I just don't see it. We're not in practice every day and don't see what goes on there, but I'm certain that if Mosquera-Perea was performing well enough to play more often, it would be happening. — Alex Bozich
@CheesyCheesy2 on Twitter writes: How would Maurice Creek and/or Remy Abell have contributed to this season if they would have stayed? Different W-L record?
Both would have been rotation guys certainly and may have started some games as well, but it's impossible to say since it's all hypothetical. What I can say is that Creek unfortunately couldn't stay healthy at IU, so it was a stretch to believe that he was going to be able to do so had he stayed another season. He was at IU four years, graduated and moved on by his own choice. I think it's great that he's been able to play well at George Washington.
As for Abell, while his overall shooting percentages were strong as a sophomore, his in-conference numbers were poor. His field goal percentage was 32.4 percent in Big Ten games and he made two 3-pointers. I'm not sure he would have made a notable difference, especially when you consider the emergence of Stanford Robinson. — Alex Bozich
Filed to: Twitter Mailbag