Five takeaways from Indiana's loss to Michigan State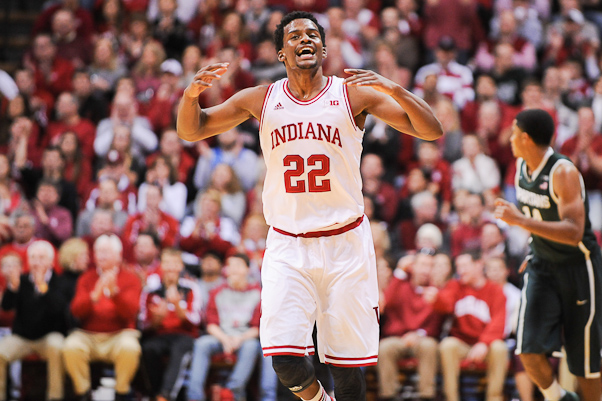 Indiana dropped its first home game of the season and its second straight to start Big Ten play on Saturday in a 73-56 loss to No. 5 Michigan State.
Here's a look at five takeaways from IU's loss to the Spartans:
· Robinson's rise continues: While freshmen Devin Davis and Troy Williams have stagnated in terms of their production in recent weeks, their classmate Stanford Robinson continues to make a strong case for more minutes. Against Michigan State, Robinson scored 11 points and added four rebounds and two assists in 26 minutes. He was Indiana's most effective player attacking off the dribble and looks to be moving toward a more prominent role, perhaps as a starter, as his confidence builds.
"He's got a personality. He's got a toughness about him," Tom Crean said of Robinson. "And he's building his skill level. You're always working and building your skills but you're developing your mindset. And it comes … your skills get better, well that helps the confidence."
· Ferrell's 17 points overshadowed by turnovers: Yogi Ferrell is off to a fantastic start offensively in his sophomore season, but through two Big Ten games, IU's point guard and floor leader has 11 turnovers. And while his turnover percentage is down from a season ago, his usage is up significantly which makes the mistakes he's making more problematic.
There's no doubt that he is the key cog that makes IU go offensively, but if the Hoosiers are to reverse course on the turnover problem that is a roster wide issue, it has to start with Ferrell cutting down on the careless giveaways.
· Vonleh missing from IU's offense: In 55 minutes of floor time through two conference games, freshman Noah Vonleh has taken just 10 shot attempts and has just four offensive rebounds. Vonleh did take 12 free throws against Illinois, but Michigan State basically neutralized him in the second half on Saturday as Vonleh failed to score and finished with just five points.
Whether this is Indiana not doing a good enough job getting the ball into the post or Vonleh not demanding the ball enough, it's clearly an area where the Hoosiers need to show improvement moving forward.
"He's got to be a demanding presence and become downright a little selfish," Crean said. "And I hate using that term, but I have no better term than to use for him with that, because that's what he's got to be around the paint."
"They were fighting him for his catches, making every catch tough for him," Will Sheehey added. "He's got to find a way to get more touches, easier touches. He's got to work harder to get open. And we've got to work harder to get him open."
· Besides Robinson, IU's bench comes up empty: Indiana had hoped it would be a deeper team this season, but against Michigan State, the Hoosiers didn't get much from bench players not named Stanford Robinson.
Evan Gordon played 14 minutes, only attempted one shot and did not score. Devin Davis had two points and six rebounds in 13 minutes. Hanner Mosquera-Perea logged just seven minutes and was a non-factor. Crean was asked specifically in his postgame press conference about what he needs to see in terms of improvement from Jeremy Hollowell and said improvement needs to come across the board.
"We need to see more out of everybody. I wouldn't distinguish," he said. "When you lose a game, there's not one class that doesn't need to get better. But we've got the spotlight on the sophomores right now, if we're going to break it down to class. They've got to improve."
· Harris was the difference in the game: Indiana fans are very familiar with Gary Harris as he won the state's Mr. Basketball award and was a major recruiting target before choosing Michigan State.
After struggling with his shooting to begin the season, Harris finally broke out on Saturday as he torched Indiana for a career-high 26 points on 8-of-18 shooting which included 5-of-10 from behind the 3-point arc. Indiana had no answer for Harris, who looks to be on course for a run at Big Ten player of the year.
"Gary was an assassin today," Crean said. "Never hunted, always in spacing, always in movement. Very improved as a player."
Filed to: Gary Harris, Michigan State Spartans, Stanford Robinson, Yogi Ferrell