Five takeaways from Indiana's loss at Illinois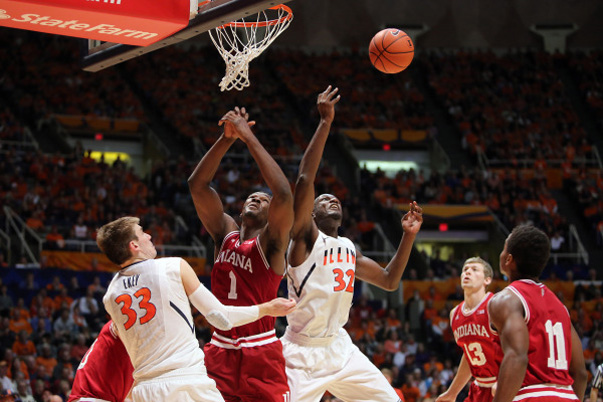 CHAMPAIGN, Ill. — Indiana opened Big Ten play with a narrow 83-80 overtime loss to Illinois on Tuesday afternoon at the State Farm Center.
Here's a look at five takeaways from the fourth loss of the season for the Hoosiers:
· Indiana played well enough to win, despite the turnovers: Not many teams, if any, will win a Big Ten road game this season while committing 20 or more turnovers, but Indiana almost accomplished the feat against Illinois. The Hoosiers actually posted a season-high in turnover percentage (29.0), but had a chance to win the game at the end of regulation. While the poor perimeter shooting from Illinois helped keep Indiana in the game, you can also point to several things the Hoosiers did very well.
Among them: Indiana got to the foul line 30 times against an Illinois team that had been keeping opponents off the line. Indiana performed well on the offensive glass, rebounding 42.4 percent of its misses. And the Hoosiers also hit 3-pointers at efficient clip (10-of-22). Despite the loss, there has to be some encouragement drawn from Indiana nearly beating a fringe top 25 team on the road despite all of the unforced mistakes.
· A little more on the turnover problem: The turnover problem is clearly a team-wide issue as each of IU's starters currently has a turnover rate of 20 percent or more. Yogi Ferrell, Noah Vonleh and Will Sheehey are all right around the 20 percent mark, which is too high, but given their level of production, a bit easier to swallow.
Troy Williams (25.6) and Jeremy Hollowell (25.1), however, desperately need to begin cutting down the errors given their levels of production elsewhere. Williams, for instance, is still taking an average of one 3-pointer a game despite shooting just 14.3 percent. And Hollowell's effective field goal percentage of 38.4 suggests that rebounding and defense must become consistent components of his game to justify keeping him in the lineup.
· Ferrell's rise continues: With each game that goes by, Yogi Ferrell continues to prove that he's made a jump into the upper echelon of point guards in the country. Through 14 games, the sophomore is averaging 17.7 points with an effective field goal percentage of 56.9. His shooting numbers are up across the board and he's no longer passing up opportunities to score like he did as a freshman. In a lot of ways, Indiana has become Ferrell's team and as he goes, the Hoosiers may go in a lot of games. Against Illinois, his career-high 30 points were almost enough to escape with a win.
"I thought he played excellent and I think he is one of the best guards in the country," Tom Crean said of Ferrell. "I have for a long time and I think he's got a lot of growth and I think he will continue to get that growth."
· A little bit more definition in the rotation: Indiana played eleven guys against Illinois, but the rotation was a lot tighter than usual with several key guys getting the majority of the minutes. Ferrell logged 43 minutes, Sheehey played 33, Vonleh 30 and Evan Gordon 29.
On the other side of the spectrum was Devin Davis with seven, Austin Etherington with three and Jeff Howard with two. None of the three had any significant impact on the game, so the Hoosiers essentially went with eight guys. As the season progresses, expect to see similar patterns in playing time with the Hoosiers going with a consistent eight or nine guys. Ideally, Indiana would probably like to see Vonleh over 30 minutes every game if he can avoid foul trouble and fatigue and both Ferrell and Sheehey in the 33 to 35 range. The additional spots for heavy minutes appear up for grabs on a game-to-game basis with Gordon, Hollowell, Williams, Stanford Robinson and Hanner Mosquera-Perea all in the mix.
· Vonleh's Big Ten debut a success: Indiana's star freshman had a few fouls and a few miscues with the ball he'd love to have back, but all in all, Noah Vonleh's first conference game was a major success.
He got to the line 12 times and hit 10 of those attempts and also pulled down a team-high nine rebounds to go along with his 16 points. What was most interesting was that Vonleh stepped out on the floor and knocked down a couple of 3-pointers and he mentioned specifically that Nnanna Egwu unwillingness to play him out on the floor as the reason for that. If that's a shot Vonleh can knock down with any consistency, it should open some driving lanes for his teammates with defenders unable to sag off of him.
(Photo credit: Ben Woloszyn-USA TODAY Sports)
Filed to: Illinois Fighting Illini, Noah Vonleh, Tom Crean, Yogi Ferrell