Tom Crean talks class of 2014 signee Max Hoetzel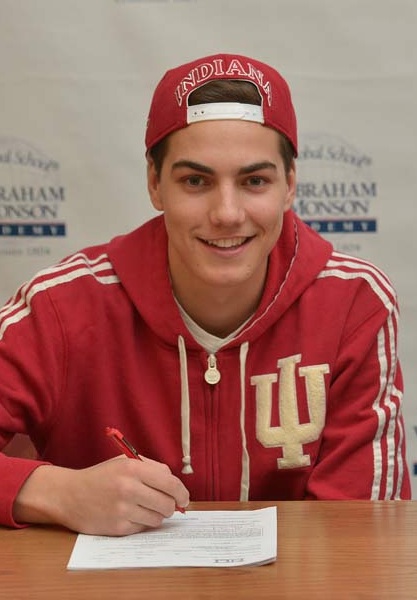 Nearly two weeks ago, Indiana's coaching staff addressed the 2014 recruiting class but had to leave one name out — 6-foot-7 Max Hoetzel — due to the fact that the Hoosiers had not yet received his National Letter of Intent.
Well, on Monday afternoon during his press conference previewing the Hoosiers' game with Evansville, Indiana coach Tom Crean was able to address the third signee of the class.
Crean confirmed that Indiana has received Hoetzel's LOI and he officially joins guards James Blackmon Jr. and Robert Johnson as future Hoosiers.
"Anytime you can get a guy that you can see a little of Steve Novak and Will Sheehey in and a guy that absolutely wants to be here, is a gym rat and you know is only going to get better, it's a very good get," Crean said. "There was no doubt that we wanted to improve our ability to shoot the ball from the outside. And when that became an opportunity to get someone at that position with that skill set and future skill set, it was a no-brainer for us."
Hoetzel, a three-star recruit from Wilbraham and Monson (Mass.) Academy, wasn't even on Indiana's radar until September, when Crean and assistant Kenny Johnson came to Massachusetts on a recruiting trip originally intended for his teammate, Goodluck Okonoboh.
But WMA coach Chris Sparks convinced both to watch Hoetzel, his newest addition over the summer from Calabasas (Calif.) High School. After watching that one workout, Hoetzel had piqued Crean's curiosity.
"Max is somebody that, the first time we saw him, was extremely intriguing watching him work out and work out with his coach, just shooting," Crean said. "And then we came home and watched film and it became a lot more than intriguing. It became this guy fits exactly what we do."
What Indiana liked about Hoetzel ranged from his shooting — perhaps his biggest strength — to his footwork, passing ability and defensive awareness. And though Crean thought he might be behind in defensive technique, fundamentals and strength heading into college, he decided to offer Hoetzel a scholarship on Oct. 22. Five days later, Hoetzel was on an official visit to Bloomington and committed on Oct. 27 before returning to Wilbraham and Monson.
Though he might not have the recruiting ranking prestige that Indiana's two other recruits have, Crean said he's excited to have Hoetzel on board.
"He's going to be able to impact the game not only on the offensive end, but I think he's also going to be able to impact it on the defensive end," Crean said. "I think he's going to have the ability to be a good help defender. He's going to get way better on the ball."
(Photo credit: Wilbraham and Monson Academy)
Filed to: Max Hoetzel, Tom Crean