Five takeaways from Indiana's loss to UConn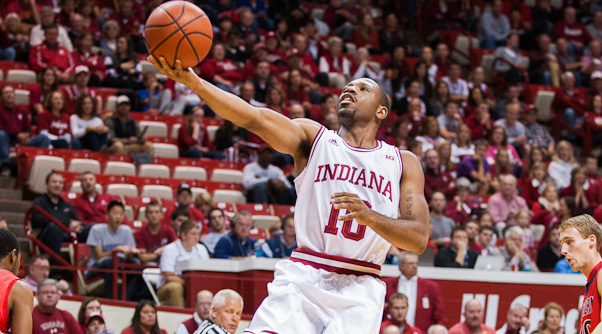 Indiana suffered its first loss of the season on Friday night, 59-58, to UConn in the 2K Sports Classic championship at Madison Square Garden.
Here's a look at five takeaways from the narrow loss to the Huskies:
· Turnovers prove costly: Connecticut dictated the pace of the game, which was played at 68 possessions and turned Indiana over on 28 percent of those possessions. In a couple of IU's early games, we noted that the turnovers were a bit on the high side, but added that a lot of it had to do with the pace that the Hoosiers were playing. When forcing the tempo, some mistakes are inevitable.
But Friday's game was played at a pace that Indiana will see often in the Big Ten and the Hoosiers had 19 turnovers. Piece together the fact that Indiana's other close game this season (LIU Brooklyn) was played at a slower tempo than any other game besides UConn and it's not hard to see that teams are going to try to force Indiana into playing in the half court.
· Evan Gordon finding his niche: After playing a significant offensive role in two seasons at Liberty and one at Arizona State, it's been an adjustment in roles for Gordon as he begins his final collegiate season. But his performance on Friday suggests that he's becoming more comfortable as a reliable contributor off of IU's bench.
In 19 minutes, Gordon was 3-of-3 from the field with two rebounds, two turnovers and an assist. All six of his points came in the game's final 12 minutes and his layup with 5:15 remaining gave Indiana a five-point cushion at 51-46. He also assisted a Jeremy Hollowell jump shot that gave Indiana a one-point lead with 3:50 to go and scored the final IU basket of the night with 1:34 remaining.
· Freshmen will be freshmen: Noah Vonleh and Troy Williams combined for 40 points in Thursday's win over Washington and backed that effort up with a total of two points in the loss to UConn. Both players will have far more highlights than lowlights this season, but the Hoosiers can't count on them to carry a heavy load in every game.
Vonleh's night was cut short because of foul trouble and Williams didn't play much in the second half as Tom Crean opted to go with the more experienced Gordon. Despite getting virtually nothing from either guy, Indiana was still in the game until the final possession, which speaks to the contributions from guys like Gordon and Devin Davis off the bench.
· Hoosiers need another 3-point shooter: In two games at Madison Square Garden, Yogi Ferrell was 5-of-13 from behind the 3-point arc. The rest of the IU roster? 1-of-12.
Indiana doesn't need to become a great 3-point shooting team. But the Hoosiers do need to find someone else besides Ferrell who can knock down perimeter shots on occasion. Sheehey and Gordon seem like the most logical candidates to fill the current void as both players are in the mid 30 percent range from 3-point range over their careers. Jeremy Hollowell, who is 3-of-9 this season, could also emerge as a perimeter threat.
· Offensive rebounding is essential until perimeter shooting improves: Crean said recently that he expects Indiana to improve its shooting as the season progresses. Given the inexperience of the IU roster, that's a fair expectation to an extent.
But until it happens, offensive rebounding is pivotal to Indiana's success offensively. And against UConn, Indiana has its worst offensive rebounding game of the season. The Hoosiers were only able to corral 32.4 of their missed shots and had just six second chance points compared to nine for UConn. When you combine a poor shooting night with an inability to effectively work the offensive glass, you get a night where IU struggled to find points.
Filed to: Connecticut Huskies, Evan Gordon, Noah Vonleh, Troy Williams