Noah Vonleh quietly emerging onto the national scene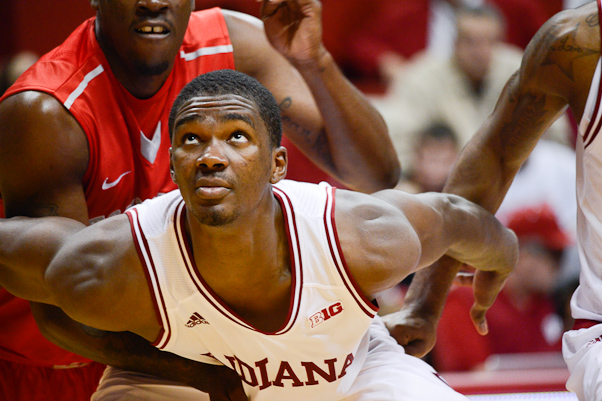 Noah Vonleh has flown under the radar. The 6-foot-10 freshman has quietly dominated the court in his first four games of his college career while staying humble off the floor.
In games, he demands the ball not with his voice, but with his body. When speaking to the media, Vonleh has kept his sentences brief and simple, sometimes even deflecting his achievements to his teammates and coaches. But things might change very soon for the 18-year-old.
Sunday afternoon, Vonleh recorded his fourth double-double in as many games to start his college career, posting 18 points and 15 rebounds in a 90-74 Indiana win over Stony Brook. He's the first freshman to do just that since Michael Beasley did it in 12 straight games for Kansas State back in 2007-2008.
So how long is Vonleh's streak going to continue and how long will he continue to stay under the radar as his game continues to take off?
"When you start putting humility into a talented person, now you have a chance for incredible upside," Indiana coach Tom Crean said following the game. "So I can't give you an answer on where it's going to be. I don't think anybody could, but he's going to continue to expand. He's going to continue to get better. He's going to continue to get more comfortable.
"He's going to continue to certainly get more attention."
As Vonleh has deflected the attention that has come this way, national college basketball reporters have avoided mentioning his name alongside Duke's Jabari Parker, Kansas' Andrew Wiggins and Kentucky's Julius Randle as the nation's best freshmen. But Vonleh, who is averaging 14.8 points and 12.5 rebounds per game, has done what neither Parker or Wiggins could in producing four consecutive double doubles. Randle accomplished the feat later Sunday evening.
"(Vonleh) really wants to be great," Crean said. "He's got a tremendous humility. I wouldn't trade him for anybody in that class and there's a lot of great players and all that kind of stuff. But I'm talking about upside of what he is capable of, what he's willing to do to get there and how much he knows he doesn't know at this point."
When Vonleh spoke to the media after his fourth straight double double on Sunday night, he once again kept his statements brief. "Hopefully it will keep coming," he said, in terms of whether he can produce more double doubles.
Perhaps he does not yet realize how much of an impact he has made. When sophomore Yogi Ferrell was asked how good Vonleh has been, he replied, "Once he gets the ball, it's pretty much over." But Vonleh, as he does, will continue to deflect attention as the hype around him grows and potentially brings him into the category of the nation's elite freshmen.
"I'm just going to keep playing to the best of my abilities and just keep rebounding and scoring," Vonleh said, raising his right hand as if he wasn't too concerned about the matter. "And hopefully I'll get into that category."
Stony Brook stifled by foul trouble in loss
After his team lost its first game of the season to Indiana on Sunday afternoon, Stony Brook coach Steve Pikiell took one glance at the stat sheet. He whistled in disbelief and looked away.
For the first time in his nine-season tenure with the Seawolves, his team fouled 32 times and gave Indiana 49 free-throw attempts en route to a 90-74 loss. It was the key to the game, Pikiell said, and his team simply didn't execute.
"We didn't defend without fouling," he said. "32 is the most — I've been nine years at Stony Brook — we've never had 32 fouls. We averaged 14 a game last year. We just obviously fouled too much."
The look of frustration could not evade Pikiell's face. He had two players foul out, two of his three leading scorers from the night. Three others ended the game with four fouls.
Pikiell said he built his program around the theory of defending without fouling. Suddenly, whether it be the way Indiana played or the way the game was called due to the new NCAA rules, the Hoosiers have forced Stony Brook back to the drawing board.
"They've got a lot of drivers and their forwards can drive the ball and get it into the lane," Pikiell said. "We didn't have any foul trouble in our first three games.
"They're a tough team to guard with these new rules. It's going to be foul shooting contests for the rest of the year if this stays the same."
Other notes
· Ferrell once again had a big game on Sunday, scoring 24 points and assisting on seven shots, in addition to only turning the ball over twice. On the weekend, Ferrell scored 50 total points and asserted himself as IU's leading scorer, as he is now averaging 19.5 points per game this season.
"After four shots I was just saying I don't have anything to prove with my outside shooting," he said. "Just go out there and play my game and shoot open jumpers."
· Freshman Collin Hartman was one of the first players off the bench on Sunday and has played in the sixth-man role for the past two games. Hartman played in 12 minutes of action and grabbed three rebounds without scoring a point.
Both Ferrell and Crean credited Hartman, though, with boosting Indiana's energy level and giving the Hoosiers the juice it needed to move past Stony Brook. "He's constantly pointing things out to his teammates," Crean said. "That's what we have to have."
· Sunday's win against Stony Brook was Indiana's sixth win off one day of preparation since the start of the 2011-2012 season. The Hoosiers are undefeated in that span, with their other wins coming against Chattanooga, Michigan State, VCU, North Carolina and Temple.
· In that same span, Stony Brook has only allowed 90 points to an opponent twice. Those two occasions have both come against Indiana, first in a 96-66 loss on Nov. 11, 2011, and then on Sunday afternoon in its 90-74 defeat.
Filed to: Noah Vonleh, Stony Brook Seawolves, Tom Crean, Yogi Ferrell