The Inside the Hall Mailbag: October 17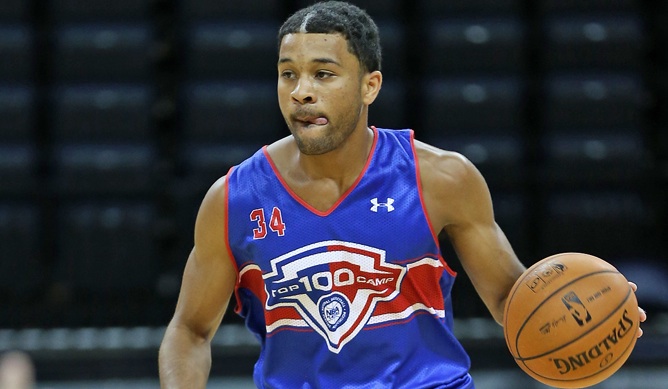 The Inside the Hall Mailbag is a collection of questions tweeted to us via Twitter (@insidethehall) and sent to us via our Facebook page. Submit your questions and we'll answer as many as we can.
@daviddoss8315 on Twitter writes: Tom Crean was in to see James Blackmon Jr. recently. What is his status?
Not surprisingly, Blackmon Jr. remains a topic of conversation for Indiana fans as the Hoosiers have still been recruiting him hard. And the recent news that he is no longer planning a decision on Oct. 22, immediately after his Kentucky visit, provided some optimism.
As for his status, I traded texts with Blackmon Jr. this week and it does sound as if Indiana will get another visit before his final decision is made. Publicly, he's working from a list of five finalists: Indiana, Kansas, Kentucky, Michigan, Michigan State, but Kansas and Michigan State aren't considered serious contenders.
Blackmon Jr. has already taken an official visit to Michigan and the trip to Lexington takes place this weekend. Assuming current plans don't change, Indiana figures to get the last crack at a visit and a decision should follow shortly after that. A potential domino to watch is Devin Booker, who is a similar player to Blackmon Jr. and is also being recruited by Kentucky and Michigan. — Alex Bozich
Terry Beard on Facebook writes: When is Devin Robinson expected to announce his college choice?
There's been some vague reporting that Robinson "could" announce a decision this week, but it's Thursday and no plans have been firmed up at this point. Oklahoma State and Florida have been in to visit Robinson this week at the Christchurch School (Va.) and Indiana and Notre Dame are expected to follow suit.
I reached out to Robinson's high school coach, Ben Thompson, earlier this week, to get his thoughts on when a decision may come. Here's what he told me: "I don't get any sense of urgency so that's why I don't get why people are jumping the gun that he's going to make a decision right away. I don't know when that's coming. He's going through the process right now without setting any kind of timetable."
Things can always change quickly, but as of this writing, there's no firm plan on a timetable. — Alex Bozich
@BlackMatt515 on Twitter writes: Who do you see as the leading scorers (this season)?
Since you said scorers, you're providing the leeway to give a couple of names, right? In that case, I'll go with Yogi Ferrell as the leading scorer followed closely by Noah Vonleh and Will Sheehey. IU isn't necessarily going to have a go-to scorer on this roster that's going to lead them every night, but those three are the most likely candidates to score regularly.
There's probably some surprise that Sheehey isn't the pick, and I could be totally wrong, but I just don't know if I see him having the attempts to be the leading scorer. Indiana needs him to be efficient and pick his spots and that's what I think he'll do for the most part. It's also probably important to caveat that I could see all three of these players averaging in double figures, but none more than 13 or 14 points. — Alex Bozich
@hoopstrainer on Twitter writes: Recently an NBA scout said Noah Vonleh's body was NBA ready. Is he becoming a one and done candidate given his upside?
Vonleh is a guy that has been on the NBA radar for a while and certainly has the physical characteristics and tools to be an early entry candidate. He's close to 6-foot-10, has a 7-foot-4 wingspin and can handle the ball. But unlike Andrew Wiggins and Julius Randle, two players that are already pegged into the top five of every mock draft for next June, there's no rush to push Vonleh as a certain one and done player just yet. Most people believe he's staying for at least two years.
There was a comment made by assistant coach and recruiting coordinator Kenny Johnson on Vonleh at media day that leads me to believe that the player development piece is crucial to the IU freshman and that he's not going to leave before he's ready.
"I see an individual that is attacking it as the highest possible level that he can attack it," Johnson said. "Noah is very self motivated, but Noah Vonleh chose Indiana because he knew he had a lot of work to do to attain his goals." — Alex Bozich
@mike_idle15 on Twitter writes: At what point do we accept that this will likely be a small, mediocre class because a lot of players are returning next year?
Even if Indiana just signs two top 50 players, which is entirely possible at this point, it will be another solid recruiting haul for the Hoosiers. Coming off two straight top 10 classes nationally and three straight years of signing a McDonald's All-American, maybe expectations have taken a wrong turn and need to be realigned with reality.
Recruiting is very cyclical and given the limited scholarships available and a roster loaded with freshmen and sophomores, Indiana appears to be in great shape moving forward regardless of how the rest of the 2014 class fills out. As promising as things started out, the loss of Trey Lyles was overcome with the addition of Vonleh and Indiana has a very good shooter coming in Robert Johnson.
In year's past, some complained that IU was over-signing and taking too many players. Now, the point of contention is that not enough players are coming for 2014. It'll be interesting to see how things end up shaking out, but mediocre is not a word I would associate in any way with how Indiana has fared on the recruiting trail. — Alex Bozich
Filed to: Twitter Mailbag