The Inside the Hall Mailbag: April 2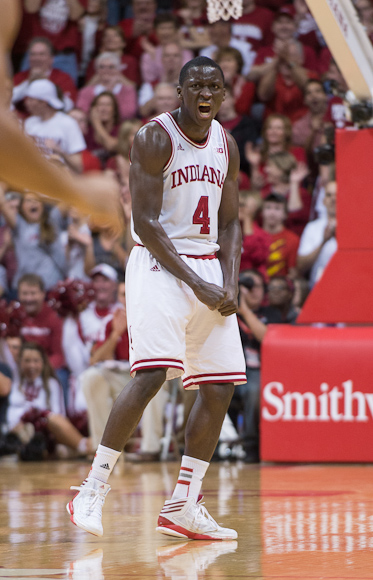 The Inside the Hall Mailbag is a collection of questions tweeted to us via Twitter (@insidethehall) and sent to us via our Facebook page. Submit your questions and we'll answer as many as we can.
@bball_for_life3 writes: Was this season over-hyped, or even a failure?
Failure? No chance. Winning a Big Ten championship outright is extremely difficult to do, as evidenced by the fact that it hadn't been done in Bloomington in 20 years. Expectations were certainly high for this team and for the most part, they were met. The exception, of course, was the NCAA Tournament, where the Hoosiers reached the Sweet 16, but couldn't get past Syracuse.
As I wrote in five takeaways following the loss to the Orange, Indiana didn't meet its goal of winning a national championship. But should that alone define the season? I would argue no. The reality of the tournament is this: If you're not playing your best at the right time, you're going home. Only one team wins it all and everyone else goes home with at least some level of disappointment.
Every year there are early upsets and once a team reaches the second weekend, the opponents become even more difficult. Unfortunately for Indiana, Syracuse was a difficult matchup because of the zone and its length and athleticism. Indiana didn't play well and it got beat. Disappointing? Yes. A failure? No. — Alex Bozich
@prnumber04 writes: What role is Remy [Abell] going to play next year?
That's a good question. Abell's 2012-2013 campaign was up and down. He started off very well, disappeared for a while and then seemed to regain some confidence offensively down the stretch. If Indiana loses four starters like many expect that it will, there's an opportunity for Abell to increase his minutes in a reserve role. He'll still be one of the better on-ball defenders on the roster, but with Yogi Ferrell and Will Sheehey returning and Stanford Robinson and Troy Williams arriving, it's unlikely that we'll see Abell in the starting lineup. Still, as a battle-tested veteran who has played major minutes in key Big Ten and NCAA Tournament games, he'll have a role on next season's team. — Alex Bozich
@PaulAynilian writes: Are you concerned with lack of size next year if Zeller goes? True bigs would be Fischer, Perea, Jurkin + Jeff Howard…
There would obviously be a lack of experience at the five spot if Cody Zeller departs, but I think Luke Fischer is being underestimated by many. He beat out some good players in Wisconsin for Mr. Basketball and is coming off two undefeated, state championship seasons. He's not Zeller, but he's a well-rounded player who will be capable of coming in and playing right away. And with Noah Vonleh, one of the best prep rebounders in the country, Indiana should be very strong at the four position.
The key is getting more out of Hanner Mosquera-Perea, who still has a long way to go to become a regular contributor. By the end of the season, he was able to give IU a couple of minutes here and there, but if he can have a big offseason where significant strides are made, frontcourt depth is much less of a concern. — Alex Bozich
@RickFrazier writes: Who is your "surprise" player for next year's IU team?
I'll go with Stanford Robinson. Vonleh and Williams are getting a lot of the attention in this class, and for good reason, but I think Robinson really helped himself by playing his senior season at Findlay Prep against a national schedule of elite talent. And there are still games to be played as Findlay will look to finish off an undefeated season later this week in the NHSI, which will be televised on ESPNU. That's not to say he wasn't getting that level of competition at Paul VI Catholic, but he just spent an entire season going up against other top 100 players in practice like Nigel Williams-Goss and Allerik Freeman and I think he'll be better for it.
Robinson is a very solid player right now, with an ability to defend and score off the dribble and all the way out to the 3-point line. It's not always the case that recruits arrive on campus with a mindset to play hard on both ends, but that seems to be the case with Robinson. He may not put up gaudy numbers right away, but I feel he'll be a solid contributor who plays a key role next season. — Alex Bozich
@B__Richardson writes: Who is most likely to step into the 3-pt shooting vancancies left by Watford and Hulls for #IUBB next year?
I'm not sure anyone will be able to step-in and shoot it at the clip we saw from Christian Watford and Jordan Hulls. Watford finished at 48.4 percent on threes and Hulls, despite a late slide, finished at 44.4 percent. Both players were elite shooters. Next year's team is going to be different in that it won't have three or four guys on the floor at once who can stretch the defense like this one did. But it could also be more dangerous in terms of being able to drive the ball from the wing positions with Robinson and Williams.
Jeremy Hollowell is clearly a guy who can shoot better from the perimeter and I think Yogi Ferrell will shoot better than he did as a freshman (30.3 percent). But in Hulls, Oladipo and Watford, IU had three players who shot 44 percent or higher from distance and made at least 30 threes. That's unlikely to be replicated next season. — Alex Bozich
Mike Stepp writes: What are the chances that Oladipo will return?
Very slim. He appears to be a lock to be picked in the top ten and graduates in May. Given what he accomplished this past season in being named a first team Associated Press All-American, the Sporting News player of the year and the Big Ten's defensive player of the year, he appears ready to make the leap. And given his rapid rate of improvement since last season, the team who drafts him is likely getting a player with even more room for growth going forward. — Alex Bozich
Filed to: Twitter Mailbag