The Inside the Hall Mailbag: February 28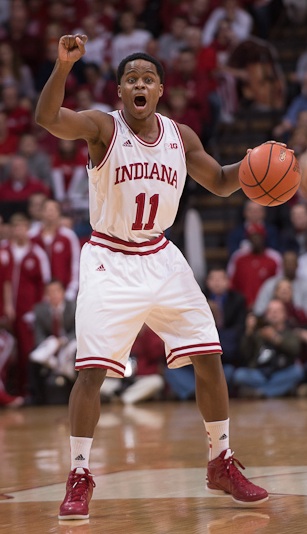 The Inside the Hall Mailbag is a collection of questions tweeted to us via Twitter (@insidethehall) and sent to us via our Facebook page. Submit your questions and we'll answer as many as we can.

@JSutel writes: Yogi has improved all season, what's the next part of his game to come, consistent finishing at the rim or that jump shot?
As you said, I think we've seen Yogi Ferrell improve in just about every area of his game as the season has progressed. But after a glance at the numbers, I think he's been adequate in finishing at the rim and with his jumper this season. In terms of finishing at the rim, he's taking 25 percent of his field goal attempts at the rim and is making 64 percent. For a small guard, that's a good enough percentage.
As far as the jump shot goes, his overall percentages are not great, but he's shooting close to 36 percent on threes in conference play, which is an improvement over the 20 percent mark posted in non-conference play. That tells me he's becoming more comfortable and confident.
I think the next part of his game to come to elevate him into the elite level of point guards in college basketball is to cut down on his turnovers. His turnover percentage (23.8) is the highest among IU starters. Some of that has to do with the pace and style of play the Hoosiers play, but there are also instances where he goes airborne with nowhere to go or tries to make a pass that isn't there. Some of that is just how he plays, but I also feel like some of it is still a matter of making an adjustment to the college game.
Nathan Curtis-Wagoner writes: What are the chances IU will end up in the Midwest region of the NCAA bracket?
Very good right now, but there's still a lot to play out. Michigan losing last night at Penn State certainly helped the Hoosiers because the Wolverines are likely eliminated from contention for a No. 1 seed. The Wolverines probably had an outside shot of making a play for the Midwest No.1 before last night, but losing to the Big Ten's worst team ended that.  A team to keep an eye on is Louisville, which is strong in the computers and has won 7 of 8.
Ultimately, Indiana just needs to win games to play through Indianapolis. I believe an outright Big Ten regular season championship makes the Hoosiers a lock for the Midwest No. 1 and if they share the title, they'll probably have some work to do in Chicago to button things up. I'd characterize the chances as very good at this point, but nothing is guaranteed yet.
@funkmastacrab writes: What's with Remy? He started the season off strong, but he hasn't been the same since…is confidence a factor?
Tom Crean said earlier in the season that Remy Abell doesn't realize how good he is or can be and his play in recent weeks seems to suggest that confidence is factoring in. Late last season, Abell seemed to be playing without fear when he had to step in for Verdell Jones in IU's win at Purdue. He continued to play well in the Big Ten Tournament and NCAA Tournament after Jones went down with a season-ending injury.
His sophomore season started off very well as he was shooting the ball without hesitation from the perimeter and playing solid defense. That type of production has been missing since the start of Big Ten play and the shooting numbers for Abell aren't pretty in league play: His field goal percentage is 35.7 percent and he's just 2-of-8 on 3-pointers. It's been a while since he's spoken to the media, so it's tough to pinpoint exactly what isn't working from his perspective. His minutes have fallen to under ten per game in the Big Ten. Right now, it's hard to imagine him being much of a factor the rest of the way unless things changes quickly.
John Cole writes: If Cody comes back next year, who do you for see being in the front court with him. If he doesn't return, who do you see in the front court?
If he comes back, I'd say you'll see him with Noah Vonleh in the front court. Vonleh said after his commitment that he's been told he could assume the role Christian Watford is vacating and given his immense talent, it's hard to imagine him as anything less than a starter from day one.
If Zeller leaves, the situation isn't quite as clear. Vonleh's role probably wouldn't change and Zeller's minutes would probably be split between Luke Fischer and Hanner Mosquera-Perea, depending on how he progresses in the offseason.
@hoopstrainer writes: Is Cody's lack of touches throughout a game more a Cody issue not being demanding or Cody being on a team with many options?
I haven't charted to see how many touches Cody is getting a game or do I have data that compares the touches he's getting compared to other big men across the country, but I'm not sure he's getting a "lack of touches." I think when IU loses a game, the natural inclination is to rush to look at what exactly went wrong and then assign blame.
IU has the best offense in the nation's toughest conference so I don't think there's any basis to criticize how the offense is being run. If you look specifically at the Minnesota game, it was pretty clear that going inside wasn't working too well. Trevor Mbakwe and Rodney Williams blocked a couple of Zeller's shots early and I think that made him a bit tentative. I do think he could try to post up and call for the ball a little bit more at times like he did in the wins at Michigan State and Ohio State. But when you've got other efficient options like Jordan Hulls, Christian Watford, Victor Oladipo and even Will Sheehey off the bench, the ball has to move around and find the open man rather than being force fed into the post.
Filed to: Twitter Mailbag