Five takeaways from Indiana's win over Michigan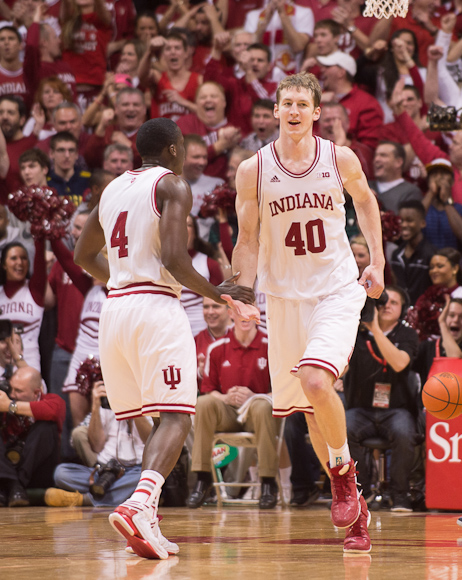 Indiana won its fifth straight game on Saturday night in Assembly Hall with an 81-73 victory over No. 1 Michigan. The Hoosiers, who only trailed once in the game's opening minutes, moved a full game in front of the Wolverines and Michigan State in the Big Ten standings.
Here's a look at five takeaways from the win that should send Indiana back to No. 1 in the polls come Monday afternoon:
· Indiana's defense is legitimate: If there was still skepticism surrounding Indiana's defense following improved numbers through 21 games, last night's performance should erase it. Michigan entered Assembly Hall with the country's most efficient offense and exited with 1.06 points per possession, the second worst performance of the season for the Wolverines. For all that was written in the days leading up to the game regarding Michigan's potential matchup advantages in the backcourt, the Hoosiers held Trey Burke, Tim Hardaway Jr. and Nik Stauskas to a combined 20-of-50 from the field. More importantly, Indiana effectively defended Michigan's ball screens and even though Burke scored a game-high 25 points, he needed 24 shots to get there. Through nine league games, Indiana is surrendering just .95 points per possession.
· Cody Zeller went to work on the offensive glass: Michigan did a solid job of denying Cody Zeller the ball in the post for most of the evening and when IU's player of the year candidate wasn't getting second half touches, he made his presence felt with timely offensive rebounds that led to scores. In total, Zeller had three offensive boards that led to dunks. Two of them came at key points in the second half. After Michigan closed the lead to two at 57-55 with 7:36 remaining, Zeller answered with a rebound and dunk off an Oladipo layup miss. The same combination (Oladipo miss, Zeller putback dunk) would follow for Indiana's next score as well, which stretched the lead to six at 61-55 at the 5:39 mark. And don't forget Zeller chasing down a loose ball at the 1:50 mark near the scorer's table. "When you've got an All-American that hustles, it becomes contagious," ESPN's Dick Vitale said on the broadcast. Indeed.
· Michigan's freshmen played like freshmen: Perhaps it was to be expected given the atmosphere in Assembly Hall, but the Wolverines played three freshmen significant minutes and got little production from two of them. Mitch McGary came to play and finished with 11 points and seven rebounds, but Stauskas was just 3-of-10 and 1-of-5 from distance and Glenn Robinson III played all 40 minutes and didn't score until a late dunk. The performance from Robinson was particularly costly for Michigan as he was outplayed by Christian Watford (14 points and 10 rebounds) and Jeremy Hollowell (four points, four rebounds and three blocks).
· Yogi Ferrell iced the game with free throw shooting: In the latest sign of progress from IU's floor general, Yogi Ferrell was automatic from the foul line down the stretch. The Park Tudor product hit all eight of his free throw attempts in the final 1:42, effectively thwarting Michigan's final attempt at a comeback. Coming into the game, much was written about Michigan keeping teams off the foul line and Indiana getting to the line. Something had to give, right? When the dust settled, the Hoosiers posted a free throw rate (FTA/FGA) of 50 percent, a number just slightly above their season average. Indiana's free throw percentage continues to improve as the Big Ten season rolls along as the Hoosiers are now shooting 71.7 percent in Big Ten play, the second best mark in the league.
· Indiana (again) showed off its incredible offensive balance: We've written about it frequently over the last season and a half, but it bears mentioning again: Indiana is tough to beat when all five of its starters are playing well offensively. Such was the case again Saturday as IU's starters reeled off the following offensive numbers: Zeller with 19 points, Oladipo with 15, Watford with 14, Ferrell with 14 and Jordan Hulls with 11. Of particular importance was Watford, who continues to come up with timely baskets and is now nearing 48 percent from behind the 3-point line this season. For as much attention as Zeller and Oladipo command from opposing defenses, having a reliable third option in Watford elevates Indiana to another level offensively.
Filed to: Michigan Wolverines