Izzo on Oladipo: 'He's the Ray Lewis of basketball'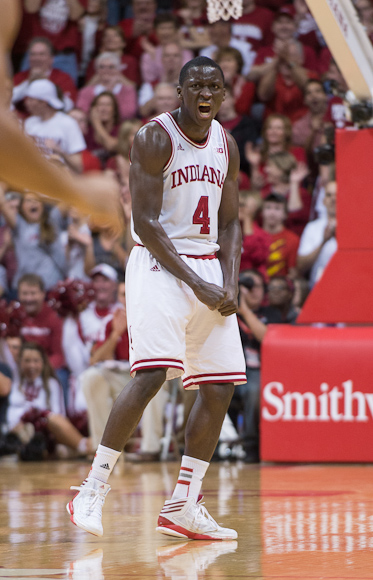 Opposing coaches often talk about centering their game plans on players other than Cody Zeller because they assume he's going to get his.
It might not be long before Victor Oladipo starts getting that treatment for the Hoosiers.
Like he does in nearly every big game in front of a national audience, Oladipo put his imprint on Sunday afternoon's 75-70 win over Michigan State from the very outset. On the game's first play, the Indiana junior stripped Branden Dawson and finished with a slam on the other end.
"That explosiveness they showed in the first five minutes was phenomenal," said Michigan State coach Tom Izzo. "Oladipo, you've got to love the guy. … He just plays so hard. He's the Ray Lewis of basketball."
Oladipo's line: 21 points on 8-of-12 shooting, seven rebounds, six steals and three blocked shots in 30 minutes. He also had 15 deflections in the first half and 22 for the afternoon. When the Hoosiers made numerous uncharacteristic mistakes in the first half, Oladipo was the one who kept them in the game.
"We watch a lot of film as a team, but he always watches that much more," Indiana coach Tom Crean said of Oladipo. "He's getting a knowledge base to go with those instincts and his athleticism. The more he does that, the better he's gonna be. Your instincts can't get better without that knowledge."
Every game, you start to think you've seen just about everything from Oladipo. And we probably have. But when he puts it all together in a single performance, it's hard to imagine coaches not centering their game plans around this guy going forward.
He can shoot, drive, hit pull-ups, defend, rebound, pass, and — perhaps most importantly — lead.
"He was always a personality-driven, very charismatic young man, didn't really want to hurt anybody's feelings," Crean said. "He's not real worried about that anymore as a leader. You can't be a leader without being demanding and hurting somebody's feelings every once in a while."
Notes
· Hoosiers wear down Spartans: After the game, Izzo admitted his team got tired and didn't play defense at quite the same level.
"Down the stretch there, we were really sucking air and that caused us not to jam or switch or give them some shots," he said.
· Zeller was clutch: He was absent for most of the game — he went 63 minutes, 12 seconds without a field goal before his first-half bucket — but Zeller came up big for the Hoosiers late in the game. He scored a late basket on a drive to the rim to put Indiana ahead 74-70, and then took a charge on the other end to seal the win.
"It was winning time and Cody answered the bell. He rang the bell," Crean said.
· Indiana goes zone: There was a lot of reaction to this on Twitter Sunday afternoon, but the Hoosiers stayed in their 2-3 zone for most of the contest. They gave up a number of uncontested 3s in the zone, but they also kept Michigan State off the foul line. The Spartans did not attempt a free throw in the second half and shot only seven for the day. That was a trade Crean was willing to make.
"We played a little risk-reward there," he said. "And they did hit some shots, but the shots that they hit were more in our poor rotations."
· Izzo applauds Hoosiers: "Don't kid yourself, that's a great basketball team," he said.
Filed to: Victor Oladipo