Big Ten Power Rankings: January 22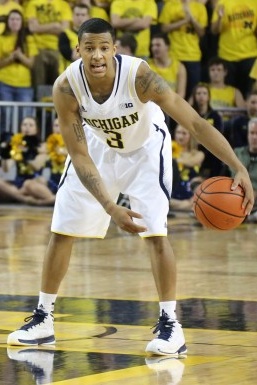 We're a day late this week because of Martin Luther King Jr. Day on Monday, but ITH's Big Ten Power Rankings are back for the third week. These always get harder and harder to come up with as we get deeper into the conference season, but as always, I did my best. Here is this week's edition.
12. Penn State (8-10, 0-6) (LAST WEEK: 12) … You can't help but feel a little bit sorry for the Nittany Lions. They've hung tough of late — they lost to Michigan State by nine points and Nebraska by four points this week — but they haven't been able to secure a Big Ten win without star guard Tim Frazier. And a win's not coming this week either with Indiana and Ohio State next on the schedule.
11. Nebraska (10-9, 1-5) (LAST WEEK: 11) … Nebraska hasn't had a ton of success since joining the Big Ten, but it finally earned a win at Penn State on Saturday. Now, the Cornhuskers have very winnable home games against Illinois and Northwestern.
10. Illinois (14-5, 1-4) (LAST WEEK: 8) … Like usual, the Fighting Illini are falling down these rankings by the week. They looked so good in the non-conference season after winning the Maui Invitational and at Gonzaga, but they have lost some head scratchers, including a 14-point home loss to Northwestern on Thursday.
9. Northwestern (11-8, 2-4) (LAST WEEK: 10) … A small jump for the Wildcats this week after a nice road win at Illinois. They also looked fairly good in the second half against Indiana on Sunday, but the Hoosiers have struggled late in games in several of their recent contests. But Reggie Hearn has proven he's a capable player, and Northwestern should win a few more conference games.
8. Purdue (10-8, 3-2) (LAST WEEK: 7) … The Boilermakers had a good week. They won at Nebraska and throttled West Virginia of the Big 12, but they dropped a spot in the power rankings. Why? Well, it's not so much about what they didn't do as it is about what Iowa did. At this point, I feel the Hawkeyes are a better team.
7. Iowa (13-5, 2-3) (LAST WEEK: 9) … It took them a few games, but it looks like the Hawkeyes are getting comfortable in conference play. After losing three straight games to start the Big Ten season, Iowa has rattled off two straight, including an impressive 70-66 home win against Wisconsin. The Hawkeyes now have to go on the road for two straight against Ohio State and Purdue.
6. Minnesota (15-3, 3-2) (LAST WEEK: 3) … Look, Minnesota is really good, and the Golden Gophers have a chance to be there at the end, especially if Andre Hollins stays out of foul trouble. But look at their Big Ten wins: Michigan State at home, Northwestern at home and at Illinois. The Illinois one doesn't look all that impressive anymore. Minnesota made a good second-half push against Michigan, but it looks like the Golden Gophers are just a step below elite at this point.
5. Ohio State (13-4, 3-2) (LAST WEEK: 4) … Certainly a three-point loss at Michigan State isn't bad, but here are the facts. The Buckeyes are just 1-4 against teams in the top 25 this season and 1-3 away from home. Those numbers are going to have to improve if they are going to compete for a Big Ten title.
4. Wisconsin (13-5, 4-1) (LAST WEEK: 5) … It was probably unfair to expect the Badgers to win both games on the road last week, but I just don't see Wisconsin being at the top of the conference standings at the end. They clearly have Indiana's number, and we saw that last Tuesday night, but I don't believe Wisconsin has the talent to remain in the Big Ten race.
3. Michigan State (16-3, 5-1) (LAST WEEK: 6) … It was a good week for the Spartans, a team that currently sits atop the Big Ten standings. They won at Penn State and pulled out a home victory against Ohio State, and they have now won five consecutive conference games after losing at Minnesota in the Big Ten opener. We should learn a lot about the Spartans this week after they travel to Wisconsin and Indiana.
2. Indiana (16-2, 4-1) (LAST WEEK: 1) … The Hoosiers haven't looked much like the team rated No. 1 in the preseason, especially in the second halves of games. They let Northwestern hang around for far too long on Sunday, and they still couldn't solve Wisconsin earlier in the week. But Indiana remains one of the most talented teams in the country, and home games against Penn State and Michigan State should give the Hoosiers an opportunity to solve some problems.
1. Michigan (17-1, 4-1) (LAST WEEK: 2) … The Wolverines' win at Minnesota was incredibly impressive, especially since it came right after a disappointing loss to Ohio State. When the Wolverines are making outside shots, there is not a team in the country that can beat them.
(Photo credit: Dustin Johnson/UMHoops.com)
Filed to: Big Ten Power Rankings