Five takeaways from Indiana's loss to Wisconsin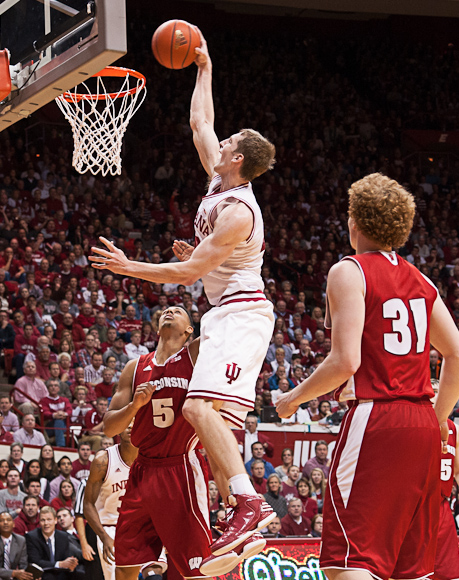 Indiana never truly found its footing on Wednesday night as the Hoosier dropped a 64-59 decision to Wisconsin at Assembly Hall. The win moved the Badgers into outright first place in the race for the Big Ten title and dropped the Hoosiers into a five-way tie for 2nd place.
Here's a look at five takeaways from IU's first conference loss:
· Indiana never established their pace: As I wrote in the what to expect leading into the game, establishing pace was a critical factor for the Hoosiers. For that to happen, Indiana needed to build an early lead and force Wisconsin out of what it likes to do, which is take the air out of the ball and play a half court game. That never happened as IU's largest lead of the game was four points at the 15:18 mark of the first half. And as the evening moved along, it became evident that Wisconsin was dictating the style of play. The Hoosiers ended up with just 61 possessions, nearly 11 below their average in league play entering the game. Those 61 possessions resulted in IU's lowest output of the season in both points (59) and points per possession (0.97).
· Squandered chances late were critical: After a pair of free throws from Christian Watford cut the Wisconsin lead to 54-53 with 3:39 to go, Indiana had the crowd and some momentum on its side. Then Wisconsin took it back, quickly. After Ryan Evans hit a contested shot with 3:06 to go, Cody Zeller committed a turnover. Traevon Jackson followed that with a jumper of his own and then Jordan Hulls missed a jumper, got his rebound and committed a turnover at the 1:51 mark. So while it's true that Indiana missed a ton of shots (34, to be exact), those two empty possessions following Wisconsin makes essentially ended the night.
· Indiana's bench isn't a strength through four Big Ten games: Tom Crean said in the postgame that he wasn't concerned with the lack of scoring from his bench, but was more concerned with the "lack of creating pace of the game with deflections, defense." But on a night where Hulls shot 2-of-8, Yogi Ferrell shot 2-of-8 and Watford finished 3-of-8, Indiana needed positive contributions from the bench. It didn't happen as Will Sheehey, Hanner Mosquera-Perea, Remy Abell and Jeremy Hollowell combined for two points (1-of-8), 10 rebounds and three turnovers in 42 minutes. Through four Big Ten games, Indiana is getting 9.8 points per game from its bench.
· About those missed shots: IU's misses weren't the looks we've grown accustomed to seeing from one of the nation's most efficient offenses. When operating most effectively, Indiana scores frequently in transition off of its defense and off of made baskets as the defense fails to set up quickly enough to react. And even if the shots don't come directly via transition, IU's ball movement early in possessions off the break is typically good enough to produce open looks. This team thrives off of scoring runs as made shots can become contagious at times, like in the first half against Minnesota. That wasn't the case on Tuesday as IU scored just seven points off of turnovers and three fast break points which Bo Ryan was still unhappy about in his postgame remarks. Instead of using the fast break and transition game like it has for the better part of a season and a half, the Hoosiers were forced to operate out of their comfort zone in the half court.
· Cody Zeller played well, despite a slow second half: Wisconsin overplayed the perimeter in the first half which led to 18 points on 8-of-8 shooting for IU's star sophomore. That performance was enough to put Indiana in the lead at the intermission. It was the most aggressive we've seen Zeller this season in terms of catching the entry pass and immediately making a move without hesitation. The fact that his success came against Jared Berggren, one of the league's best interior defenders made it even more impressive. But as the defense tightened up in the post in the second half, the Hoosiers failed to capitalize from the perimeter (1-of-7 on threes), placing even more pressure on Zeller to continue his torrid pace. It didn't happen and IU lost for the first time in 19 games at Assembly Hall.
Filed to: Cody Zeller, Wisconsin Badgers