IU set to host elite guard Dante Exum for official visit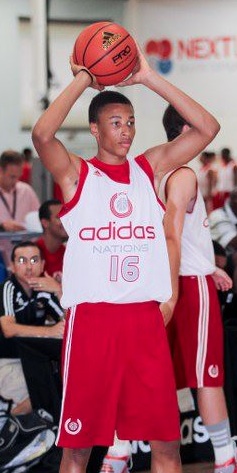 Dante Exum is coming to America.
The 6-foot-4, 170-pound guard, a native of East Melbourne, Australia, will make an official visit to Bloomington this weekend.
Under new rules enacted by the NCAA, 2014 prospects can begin taking official trips on Jan. 1 and Exum didn't wait to take advantage of the opportunity.
Exum's father, Cecil, played on North Carolina's 1982 NCAA Championship team and was drafted in the ninth round of the 1984 NBA Draft by the Denver Nuggets.
But a NBA career didn't pan out, which led him to a stop in Sweden and then to the National Basketball League in Australia, where he played for the North Melbourne Giants. The elder Exum became a citizen of Australia in 1989.
Dante, who turned 17 in July, made his presence known on the international scene with some dominant performances in the FIBA U17 Championships in Kaunas, Lithuania. Exum averaged 17.2 points, 4.1 rebounds and 2.5 assists per game in that event, including a 21-point effort against a United States team featuring No. 1 2014 point guard Tyus Jones.
Exum was also a standout in the 2012 adidas Nations Global Challenge in Long Beach, California last August.
Now he'll look for a college home in the United States with aspirations of one day playing in the NBA. He's had a significant amount of interest, but chose Indiana, which has recruited him diligently, for his first stop.
He's scheduled to arrived in Bloomington on Friday and will attend IU's Big Ten home opener against Minnesota on Saturday.
"Indiana has a very strong reputation around the world," Ian Stacker, Exum's coach at the Australian Institute of Sport, told Inside the Hall via e-mail. "It is synonymous with basketball and is all a player would be looking for."
Exum, who can play either guard position, may slot in best currently at the point guard position.
"Dante is very athletic and very quick," Stacker said. "He is best at getting to the rim and blowing by people in the open court. He is also a very good on and off ball defender."
While the Hoosiers are receiving the first visit from Exum, they're not the only school in pursuit. LSU, Tulsa, SMU and Boise State are all in the mix, as is North Carolina. He's currently rated a 5-star prospect by Rivals.com and a 4-star by Scout.com.
Stacker said Exum has improved his perimeter shooting tremendously over the last year, but added that it's still an area for improvement as his development moves along. Stacker believes Exum will fit in any program, but an uptempo style may suit him best.
"He needs to improve his 3-point shooting and his general strength," Stacker said. "An uptempo system [in college] would suit him best, but he has great basketball IQ so will fit in with most systems."
Filed to: Dante Exum