Hoosiers will learn from Saturday's loss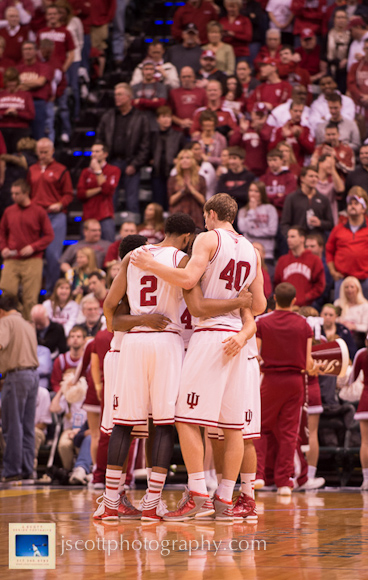 There are many ways to try and explain No. 1 Indiana's upset loss to Butler on Saturday. There are many ways to try and justify it.
But maybe, just maybe, the right answer you're so desperately looking for doesn't have all that much to do with Indiana. Perhaps it has more to do with Butler.
There's no question the Hoosiers didn't play like the nation's best team in Saturday's 88-86 overtime loss. No question at all, they have to play better going forward.
At the end of the day, though, no matter how good and how talented the Hoosiers are, they continue to run into situations they haven't experienced before. On Saturday, it was an overtime game against a smaller but more physical team. They had to adjust inside of the game and, for the most part, they failed to that.
It doesn't happen often, but Tom Crean and Indiana were outcoached on Saturday. And that's no insult to Crean. It's more a compliment to Butler coach Brad Stevens, who continues to prove his value as one of the best in-game coaches in college basketball.
Stevens and Butler have been there before. They've been to two national championship games. They've played against and beaten bigger teams. They've taken on the so-called "best" of college basketball and won.
Saturday's game was nothing new for the Bulldogs. Even as their best players began fouling out — first Roosevelt Jones, then Andrew Smith and Erik Fromm — Butler remained calm.
"It's no surprise to us," Smith said afterward. "People are going to be surprised when an unranked team beats a team like IU, but we have a great team."
And that's just it. These are the kinds of games Indiana needs to learn how to win. The Hoosiers won't always be able to win in run-away fashion. Sometimes, they'll have to grind them out.
But when they were forced to on Saturday, it wasn't always pretty. Unlike the Bulldogs, Indiana sometimes lacked the confidence that it could get it done.
"Our spirit wavered a little bit based on the score," Crean admitted. "We've got to play the game with the same spirit that we made the comeback with in the full-court pressure. We'll learn more about that and learn from it."
The players should learn from this loss what it takes to beat an elite opponent. And despite its two losses and absence from the national rankings, Butler has proven that it's exactly that.
But Crean can also stand to learn a great deal from this defeat, and from Stevens. Crean is tireless in his approach and he always has his guys prepared to play. There's no denying that. But the in-game adjustments were sometimes lacking on Saturday.
For instance, it was clear from the beginning that the Hoosiers' game plan was to take away Butler's outside shooters, Rotnei Clarke and Kellen Dunham, and force other players to beat them. That's great and all, but it was evident throughout the game that Indiana was focusing too much on the perimeter and letting guys drive right to the basket.
"Everybody gets focused on the 3-point shooting that they have now, but it's the layups that get you," Crean said. "Those things hurt us."
He says that, but if he made changes to the original game plan, they weren't noticeable. Because in the end, even though two dagger 3-pointers killed the Hoosiers in OT, it was the uncontested layups that kept Butler in the game all afternoon.
"They got more layups than we did," Crean lamented. "We didn't play well enough to win. We just didn't. There are things that we have to get better at. It's the communication and it's the rebounding. Those are correctable things."
Crean will get them corrected. This is not the end of the world for the Hoosiers, it's simply a blip on the radar, and one they probably needed. This team has some growing up to do, and I'm sure a lot of that growing will come in practice over the next few days.
"Don't use this as an excuse to get down on Indiana," Stevens said. "I still think they're a team to beat through April."
Soon, the Hoosiers won't celebrate hitting a shot to get a game to overtime against an inferior team. Soon, they'll act as if signature wins are business as usual, The Butler Way. Soon, they'll win games like this.
They're close, but they aren't quite there.
Filed to: Brad Stevens, Butler Bulldogs, Tom Crean