Notebook: Resilient Hoosiers excel in overtime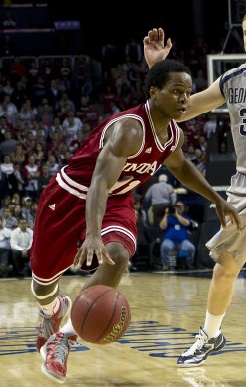 BROOKLYN — When Georgetown's Otto Porter hit a layup to tie the game with seconds remaining in regulation, it seemed momentum would swing in favor of the Hoyas.
But Tom Crean's team was resilient and showed poise from the start of overtime, taking control from the tip.
The Hoosiers scored six of the first eight points in the extra period – four from Jordan Hulls (including an impressive and-one) and a pair of free throws from Yogi Ferrell – to push the lead early. With Georgetown in the double bonus, Indiana capitalized at the free throw line, hitting 13 of 17 shots.
Pressure defensively also increased. The Hoyas didn't make a field goal (0-for-7 from the field) in overtime. The result was an 82-72 win to capture the 2012 Legends Classic championship.
"I think it was great because our attitudes were fantastic," Crean said. "Our heads didn't drop, there wasn't any complaining, and I just kept saying to them 'this is tremendous.' I think what helped the most in overtime was our great maturity."
Backcourt steps up in clutch
Indiana's backcourt struggled early against Georgetown's longer perimeter players, especially on the defensive end, though they saved their best for last. Both Hulls and Ferrell hit key shots and made crucial free throws down the stretch in regulation and into overtime.
Ferrell in particular made four free throws and hit an off-balance 3-pointer with a defender in his face as time expired on the shot clock to push Indiana's lead to 10.
"Yogi has great body language," Crean said. "That is not the first time that he has hit a shot with the clock winding down. We have seen it in scrimmages and practice at different times. He just has something about him."
Added Hulls: "We don't treat him like a freshman. He doesn't play like a freshman. He's doing a tremendous job for us. He's driving and kicking, he's finding me, he's finding people and doing really good."
Balance a key for Hoosiers
Zeller gets more attention than anybody on the team, but Tuesday night was a great example of how balanced Indiana can be offensively.
The Hoosiers had five different players – Zeller, Hulls, Ferrell, Christian Watford, Victor Oladipo – score in double digits. But that offensive efficiency was expected.
For Crean, the balance that mattered against the Hoyas on Wednesday night came on the defensive end.
"I think we're just getting started," Crean said. "We got a lot of guys that are being asked to do things – that maybe they won't be asked to do down the road – when it comes to defensive reasons. That's where we had to make our biggest improvements this season."
Hulls earns MVP honors
Indiana's senior leader from Bloomington was fantastic in Brooklyn, averaging 15.5 points in wins over Georgia and Georgetown.
His effort was rewarded, as he earned Legends Classic Tournament MVP honors. Teammate Cody Zeller was also on the squad along with Hoyas guard Markel Starks, Georgia guard Kentavious Caldwell-Pope and UCLA forward Shabazz Muhammad.
Etc. 
Indiana's win was the 250th of Tom Crean's career. …  Hulls is now 42nd on Indiana's all-time scoring list with 1,031 points. … the Hoosiers now own three straight wins against the Big East (Pittsburgh, 2009, Notre Dame, 2011, Georgetown, 2012). … The win was Indiana's first in overtime since beating Northwestern, 88-80, on Mar. 6, 2010.
(Photo credit: IU Athletics)
Filed to: Jordan Hulls, Tom Crean, Yogi Ferrell