Elston suffers torn meniscus, will have surgery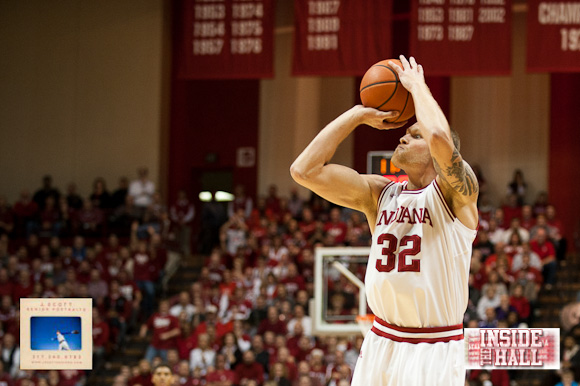 Update: Indiana issued the following statement on Twitter late Wednesday night: "Derek Elston suffered torn meniscus in left knee, re-aggravated old h.s.injury at Hoosier Hysteria, surgery Friday. Will begin rehab immediately and is expected to return. With Coach, Jordan Hulls, Christian Watford, Cody Zeller at Big Ten Media Day."
Indiana senior forward Derek Elston has suffered a torn meniscus that will require surgery and force him to miss several weeks of the regular season.
The news was first reported by Zach Osterman of Inside Indiana and Inside the Hall has confirmed the report.
Elston is expected to have surgery to repair the injury this week.
The 6-foot-8 senior averaged 4.2 points and 2.4 rebounds per game a season ago as the Hoosiers went 27-9 and reached the Sweet 16.
Indiana freshman forward Hanner Mosquera-Perea and junior forward Will Sheehey both missed Hoosier Hysteria on Saturday with foot problems, but neither injury is considered serious.
Elston played with a mask for part of his junior season after suffering a broken nose and had surgery to repair a sports hernia after his sophomore season.
The Tipton native also had surgery to repair a torn meniscus on May 22, 2008, which forced him to miss the final summer of his AAU career.
Filed to: Derek Elston