Crean on GameDay, Zeller's improvement and defense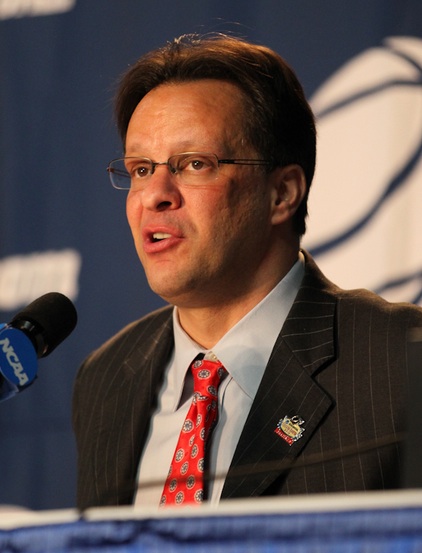 Tom Crean joined Eric Crawford and Rick Bozich earlier this afternoon on ESPN 680 in Louisville to discuss a wide range of topics, including ESPN College GameDay's return to Bloomington, the progression of Cody Zeller, defensive improvement and much more.
We've recapped several of the highlights and notable quotes from Crean below and you can also listen to the complete interview here.
Crean excited about GameDay's return to Bloomington
ESPN announced the complete schedule for College GameDay on Wednesday and along with a marquee ACC-Big Ten Challenge game against North Carolina in November, the Hoosiers will host Michigan for GameDay on Saturday, Feb. 2.
"We're excited about it," Crean said. "When we first got to Indiana, really the first couple of years, one of the biggest things we showed to recruits, the first year especially, was the highlights from the game before when GameDay had been there. There's nothing like it. We had one at Marquette my second-to-last year."
Crean said the fact that GameDay is returning to Assembly Hall for the first time since 2008 is a testament to the work that has been done to turn the program around.
"The thing I like best about GameDay is we earned it. The players earned it," he said. "They (ESPN) don't come in for favors, they don't come in because you know somebody, they come in for ratings. And I think that's exactly what our team is about right now. They're earning everything that's coming their way."
Zeller continues to add strength, diversify game
Many of Indiana's players are currently off campus for a break between the second semester of summer school and the start of the fall semester, but Crean was asked for the latest on Cody Zeller's progression before he left campus.
"When he left, the measurements were as good as they've ever been from him. He was squatting 400, he was benching 305. He did 185 (on the bench) twenty-two times, which is incredible," Crean said. "He came in doing it ten times a year ago, so that's the kind of jump he's had in that time frame. He's grown. He's a legit 7-foot in his shoes. His vertical has gone up almost three inches since he's been at Indiana."
Crean said that Zeller, who was recently cited as the most coveted player in college basketball amongst a poll of coaches by CBS Sports, is also more confident in all aspects of his game.
"I think he's really bought into the fact that we want to make him the hardest cover in college basketball," Crean said. "No matter what you're planning for him when it comes to the double teams or when it comes to how you're going to guard him, that he has an answer in his own game for that."
Crean talks defensive improvement
One of the major story lines heading into the season will focus on Indiana continuing to improve its team defense, which was much better a year ago. Becoming more efficient in stringing together stops will be key, according to Crean.
"Getting our scoring up at a higher level is going to be important, but the only way for that to really happen is on offense to keep getting good shots and on defense, you've gotta create more transition baskets by getting more fast break opportunities, by getting more stops," he said. "So we have got to become a more committed defensive team, not possession-by-possession, but stringing possessions together."
Crean said a stat showing the number of wins the Hoosiers could've had a season ago had they been able to string together more stops in certain games is currently hanging in Cook Hall. Containing dribblers will also be a key factor in Crean's eyes.
"Each guy on the team has to be much better at being able to keep that dribble in front of them without help," Crean said. "The one thing that helped our defense last year is that we didn't have to rotate a lot. And we want to cut down those rotations that much more this year unless we're in an all out switching defense which is something we're going to do a lot more of anyways."
Filed to: Cody Zeller, ESPN College GameDay, Tom Crean