The Inside the Hall Mailbag: April 18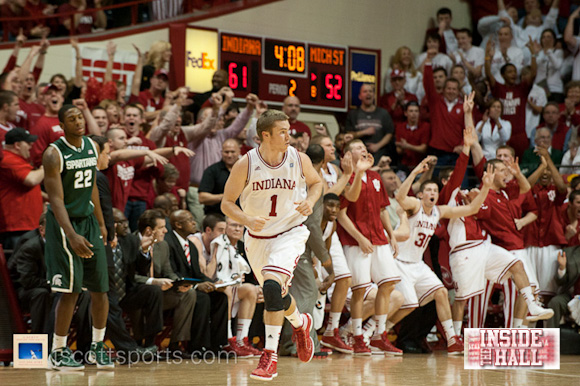 The Inside the Hall Mailbag is a collection of questions tweeted to us via Twitter (@insidethehall ) and sent to us via our Facebook page. Submit your questions and we'll answer as many as we can. Now, onward … (Photo credit: Jamie Owens of J. Scott Sports)
@WrightR10 writes: With Yogi coming in next year, how do you think Jordan Hulls' role will change during games? and @STLhoosier writes: "What will Hulls' role look like in 2012-13 with Yogi on board?"
Ryan Corazza: Good questions, as Hulls' potentially shifting role bears watching with Yogi joining the Hoosiers for the 2012-13 campaign. While Hulls will be a senior leader and is one of the better 3-point shooters in the country, Ferrell has a more complete skill set at the point guard position. And his ability to penetrate and dish, to set the table, might make him the starter at the position from the get-go next season. Still, Tom Crean will have options. Hulls could start at the 2-guard position alongside Ferrell, and act as a floor spacer. With defenses paying attention to both Cody Zeller down low and Ferrell and others on the perimeter, Hulls could feast on open looks from 3-point range. (Think Jon Diebler for Ohio State in 2010-11 with Jared Sullinger down low and a host of strong perimeter players on that team to boot.)
It would be a small backcourt lineup, but depending on matchups, it could make sense. Hulls could also play a role off the bench next season, as Crean could elect to start Victor Oladipo or potentially Will Sheehey at the shooting guard position. There'd be value here, too, as Hulls would provide high-quality depth in a reserve role and not allow for much dropoff from the starters. Whatever Crean decides to do, Hulls should still have an important role on the team next season. Simply put: He's too good of a shooter not to work into the offense.
@Beent12 writes: are any of the '12 signees planing on coming to school in the summer to work together like last year's class?
Alex Bozich: Typically the signees arrive on campus after finishing up high school graduation which usually means they arrive for the second semester of summer school. The only exception to this would be is if a player has yet to satisfy all of their academic requirements and stays home to finish those up. If I recall correctly, this happened with both Bawa Muniru and Maurice Creek in the summer of 2009.
@HoosierNets writes: any official news on the replacement for Coach Seltzer?
Alex Bozich: There's been no official word on the replacement although many have speculated Calbert Cheaney as the logical choice. My understanding is that Cheaney has been out with the staff this month, so he may be acting in the role on an interim basis.
@RealAdamJ asks: How is an athletic 7 footer like Jurkin not a top 150 recruit? Overall comments on his contribution next year?
Ryan Corazza: Part of the reason for Jurkin not being in the rankings had to do with a stress fracture in his right leg, one that kept him out most of his junior season and for all of the AAU circuit last spring and summer. He's still a bit raw on both ends of the court as well. But as this recent video at the Jordan Brand Regional Classic can attest, Jurkin appears to have added some bulk to his frame, which seems to have him playing stronger.
With Zeller and Watford the likely starting frontcourt — and Hanner Perea potentially the first big man off the bench — Jurkin won't be thrown to the wolves immediately and will have time to develop as the team's fourth frontcourt player, depending on where Derek Elston slots into the mix. If he's able to defend, rebound and get some easy putbacks around the rim, that'll be about all that's needed from him as a freshman on a team with this much talent.
@jakethesnake602 writes: what do you think the starting five will be next year?
Alex Bozich: I think it could vary quite a bit based on matchups, but I would go with Yogi Ferrell, Jordan Hulls, Victor Oladipo, Christian Watford and Cody Zeller with Will Sheehey as the first man off the bench. I think that's a role that Sheehey thrived in this past season and could easily transition back into after starting down the stretch following the injury to Verdell Jones.
The wildcards, of course, are Jeremy Hollowell and Maurice Creek. Hollowell because he's an elite talent capable of contributing right away because he can score from anywhere and Creek because at 100% health, he obviously deserves a look.
@HoosierTrav writes: when does the next seasons schedule typically get released?
Alex Bozich: The schedule in its entirety usually comes out in either August or September. You'll see bits and pieces trickle out from now until then like the ACC/Big Ten assignments or non-conference games that get announced by the opposing school.
@markjdowell writes: Is Cody Zeller the best player in the B1G? Trey Burke will challenge him for POY, who else?
Alex Bozich: Yes, Zeller is the premier player in the league, but the Big Ten player of the year race, at least on paper, should be fascinating. Both Burke and Zeller deserved freshman of the year honors and split the award with Burke taking the media vote and Zeller taking the coaches vote. Both players probably deserved to be on the All Big Ten first team as well, but as the voting showed, preference was given to upperclassmen like Purdue's Robbie Hummel and Northwestern's John Shurna.
As far as other competitors, Ohio State's Deshaun Thomas will certainly be in mix and Penn State's Tim Frazier should put up gaudy numbers again.
@AdamPacmanB writes: Have IU fans/media put too much emphasis on the UK game? Basically, would IU still be preseason top 5 if they lost to VCU?
Alex Bozich: To answer your first question, I don't think so. Yes, quite a bit of notoriety was given to the win over UK in Bloomington, but since the Hoosiers were one of two teams to beat the eventual national champion, it's hard to say the win was given too much emphasis. Couple that with the fact that IU gave Kentucky a stiff test in Atlanta and it's fair to say IU was deserving of a final ranking in the top 15.
Obviously the Sweet 16 appearance gave the program some momentum and probably has a lot to do with the rankings being given on some of the early top 25 lists. The Hoosiers have arguably the best group of returning players in the country and are top of mind for a lot of the national folks, so both of those factors weigh-in heavily.
Filed to: Twitter Mailbag