Crean: 'It's a big deal to have this day'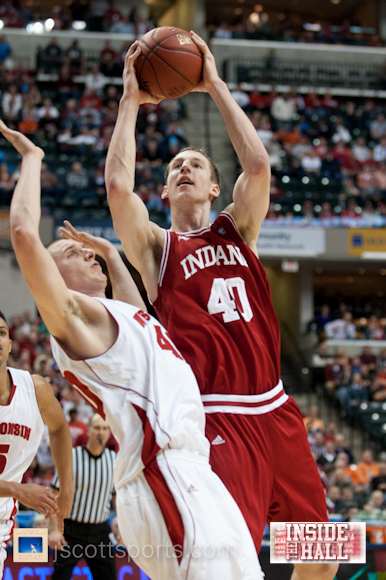 Verdell Jones had waited four years for this moment.
As Indiana was about to be selected to its first NCAA tournament in the Tom Crean era, Jones was all smiles. The senior guard sat in the front row of chairs surrounding the projection screen in the Memorial Stadium's Henke Hall of Champions, celebrating with teammates that are about to experience something he never will.
Jones won't get to play in the Big Dance because of a torn ACL injury he suffered against Penn State in last week's Big Ten Tournament. If he's feeling sorry for himself, though, he sure isn't showing it. Jones knows what this moment means for the program and, even though he won't get to play, he understands the role he's played in getting Indiana back where it belongs.
"It's definitely bittersweet," Jones said. "I'm happy for our team and all we accomplished to get to this point, but at the same time my heart's a little saddened because I won't get to participate in it."
Jones will be with the team when the 4-seeded Hoosiers travel to Portland to play No. 13 seed New Mexico State on Thursday at approximately 9:45 ET. Most prognosticators had the Hoosiers as a 4-seed, so Indiana coach Tom Crean and his players weren't overly surprised by the announcement.
Before the season started, the announcement would have been much more surprising. Few projected the Hoosiers to even make the tournament, much less as a top 4 seed.
After a three-year hiatus, Crean said it's special to get back to the postseason.
"It's a big deal to have this day," he said. "When you coach and when you come into Indiana, this day is a really important day but a day everybody got used to. My family got used to this day. And then this day goes away for different reasons, and you can't ever lose belief that you're gonna get back to it. We never did."
As soon as the Hoosiers' part of the bracket was announced on CBS, analyst Seth Davis predicted Indiana would lose to No. 5 seed Wichita State in the third round. Not even a minute after the Hoosiers had been selected to their first tournament in four years, somebody was already picking them to lose.
"Seth has been giving us ammunition all year," Crean said. "Seth is the gift that keeps on giving right now with his predictions. We look forward to that, and I never have a problem when anybody picks against us."
Added Jones: "He's been doubting us all year. I think we like being underdogs."
The Hoosiers are part of what is probably the toughest region. The No. 1 overall seed, Kentucky, is in the south region, along with Duke (2-seed), Baylor (3-seed), and Connecticut (9-seed) — last year's national champion.
If Indiana and Kentucky each win their first two games, they would play each other in the Sweet 16. It would be a highly anticipated rematch of the Hoosiers' 73-72 upset at Assembly Hall in December.
"That's one thing he (John Calipari) said, 'You know we're gonna end up in the same region,'" Crean said. "So to see that up there like that, it wasn't a shock. … I think that was one of his guesses, more than anything else. But that's him, he's got some conspiracy theories."
Filed to: 2012 NCAA Tournament, Tom Crean