Oladipo's intensity sets tone for Indiana upset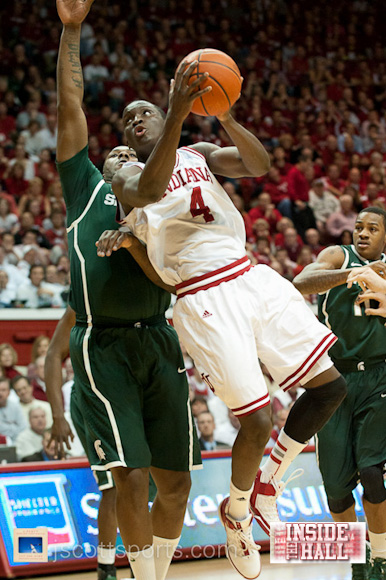 Victor Oladipo laid underneath the basket holding his left ankle, clearly in pain. Indiana's sophomore guard had just taken the ball hard to the basket and finished in front of multiple Michigan State defenders to extend the Hoosiers' lead.
Now, though, Oladipo remained on the ground while the Spartans hurried the ball the other way. But he wouldn't remain there long.
Oladipo got up and hopped toward the action, a noticeable grimace covering his face the whole time. He was hurting, but he refused to make his teammates play 5-on-4. That just wouldn't be fair.
Oladipo began to hop faster. As he approached the elbow, he jumped and attempted to block a shot, then knocked the rebound away from a Michigan State player and out of bounds.
Oladipo's effort on the play kept Michigan State from scoring an easy basket. His effort in the game helped the No. 18 Hoosiers earn their third win over a top-5 ranked opponent this season.
From the opening tip, it was clear the Hyattsville, Mary. native was not going to allow his team to lose. Oladipo welcomed the challenge of guarding star forward Draymond Green, and he pushed the issue on offense until someone forced him to stop.
"When Vic gets his energy going defensively, it helps the team, but it certainly helps him," said Indiana coach Tom Crean. "If you're going to guard Draymond Green, you're going to be locked in right away, and he was."
Oladipo was the quickest player on the floor, and he knew it. Anytime he saw a small opening off a pick-and-roll or a dribble handoff, Oladipo went hard toward the basket. When he didn't finish, he usually got fouled and cashed in on his free throws (he was 7-of-8 at the line).
"I just felt I could go past because a lot of the guards weren't checking me," Oladipo said. "I was just trying to use my athleticism to get past the defenders."
Oladipo's aggressiveness and confidence carried over to the rest of the team. After Oladipo got the Hoosiers started by establishing the intensity level from the beginning, Indiana looked like a team that expected to win. And with this team, attitude is the most important thing. The Hoosiers have proven they are good enough to beat anybody in the country, but they've also lost games to Minnesota, Nebraska and Iowa.
The confident attitude the Hoosiers played with Tuesday night is one they need to have every game — whether they're making shots or not. Oladipo's intensity can go a long way in creating that attitude.
"When we beat top teams like that, we're nasty, we're scrapping, we're fighting," senior guard Verdell Jones said. "We came out expecting to win (against Iowa), and we can never do that. We haven't accomplished anything, we haven't won anything in the postseason.
"We've got to have that nasty attitude every time we play."
Precisely.
The problem for the Hoosiers is they sometimes fail to take that attitude on the road, and they sometimes forget to bring it against inferior opponents. It's easy to get up for a game against No. 5 Michigan State, but what about Penn State in the first round of the Big Ten tournament? What about a lower seed in the Big Dance?
There's no way to know how Indiana will respond to each new situation. But if Oladipo continues to lead by example like he did against the Spartans, there's a good chance his teammates will continue to follow.
Filed to: Victor Oladipo