What to Expect: Michigan State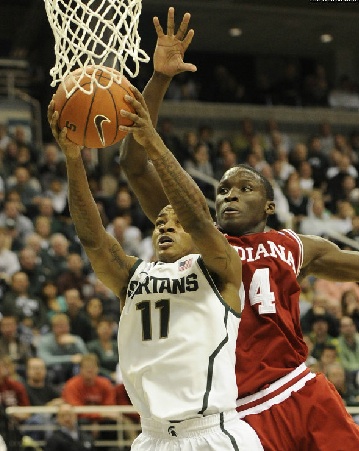 Indiana faces one of its quickest turnarounds of the season as the Hoosiers welcome Michigan State to Assembly Hall on Tuesday night. The Spartans can clinch an outright Big Ten regular season title with a win. Indiana is looking to avenge a 80-65 loss in East Lansing on Dec. 28. 
The game will be shown on ESPN (Mike Tirico, Dan Dakich and Jay Bilas) and broadcast on the IU radio network (Sirius 91/XM 91):
If there's a pair of games with a chance to duplicate the atmosphere that filled Assembly Hall when Kentucky and Ohio State came to town in December, Michigan State and Purdue may fit the bill. The Spartans will be the third top ten team the Hoosiers have hosted this season. Purdue is the finale of the regular season schedule and senior night.
An interesting week awaits.
The Spartans, winners of seven straight, are trending toward a No. 1 seed in the NCAA Tournament thanks to one of the nation's best defenses. Tom Izzo's club is allowing just .90 points per possession in Big Ten play, which leads the conference.
Here's a look at how Michigan State stacks up nationally in some key defensive metrics: Sixteenth in 2-point field goal percentage defense at 42.4 percent; sixth in 3-point field goal percentage defense at 28.2 percent; third in effective field goal percentage defense at 42.3 percent. Opponents are rebounding just 26.6 of their misses on the offensive glass, which is good for sixteenth in the country.
There's something to be said for how brilliantly IU's offense has performed over 29 games. The Hoosiers boast one of the nation's five best offenses according to Ken Pomeroy.
But Michigan State's ability to defend the 3-point line coupled with their frontline of Adreian Payne, Draymond Green and Derrick Nix presents an interesting dilemma for how Indiana attacks the Spartan defense. Michigan State will almost certainly choose to play Cody Zeller straight up. It was a strategy that yielded success in the first meeting between the two team as Zeller finished with four points, three rebounds and four fouls in 23 minutes.
IU's star freshman has been successful against some of the nation's best big men like Kentucky's Anthony Davis and Ohio State's Jared Sullinger, but seemed to struggle against the physicality of Payne and Nix up in East Lansing. If they're successful again in playing Zeller with one defender, open perimeter looks and secondchance points will be scarce.
Given that Michigan State will be able to pose problems with their defense, IU must exploit a few areas where the Spartans have weaknesses with the ball. The Spartans are turning it over on 19.5 percent of their possessions in Big Ten play, which is eighth in the conference. Forcing turnovers hasn't been a strength for IU in Big Ten play, but doing so in this game could turn out to be pivotal.
Indiana must also continue their parade to the free throw line they started up in Minneapolis. In the loss in East Lansing, the Hoosiers attempted just nine free throws. In their nine Big Ten wins, IU is averaging 27.4 free throw attempts. Michigan State's opponent free throw rate (FTA/FGA) in Big Ten play is just 31.6 percent, but another nine free throw game for the Hoosiers is unlikely to yield favorable results.
What it comes down to
Indiana is nearly perfect at home (16-1) and the home court advantage Assembly Hall provides should make for an electric atmosphere. That said, Indiana will need to play its best to derail Michigan State from wrapping up the Big Ten title. Pomeroy likes the Spartans to prevail — 71-68 — but gives the Hoosiers a 39% chance to win. Even with their NCAA Tournament ticket punched, an upset would give IU wins over a trio of top five teams and would likely lock up a top four seed in the big dance.
Filed to: Michigan State Spartans