Hoosiers will try to reintegrate Jones against Northwestern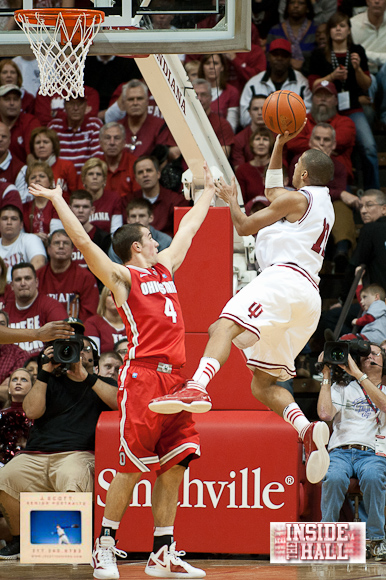 When Verdell Jones went down with an injury at Michigan on Feb.1, Tom Crean and the Hoosiers had to find a way to replace him.
Victor Oladipo, Jordan Hulls and Remy Abell all had the ball in their hands more often during the two games Jones was out. Oladipo and Abell shined in the Purdue game, and Hulls effectively ran the offense from the point-guard position against Illinois.
Now that Jones is returning, Indiana faces a different challenge. The Hoosiers must integrate their senior guard back into the team without missing a beat.
"It's been good," Crean said of mixing Jones back into the lineup. "It helps again to something we've tried to become, which is deeper. He's gonna play. He's done an excellent job and continued to get better."
The obvious question with Jones returning is how will it affect Oladipo's role?
Oladipo handled the ball more against the Boilermakers than he has at any point during his Indiana career. Crean said the Hoosiers were going to have other primary ball handlers against Purdue even if Jones had played. But nobody expected that kind of production from Oladipo.
The sophomore guard scored a career-high 23 points to go along with eight rebounds, four assists, two blocks and only two turnovers. Oladipo followed that up with 18 points, five rebounds and three assists last Thursday against Illinois.
With Jones out, Oladipo has shined. When Jones returns for the No. 18 Hoosiers against Northwestern at 6:30 tonight, Oladipo will likely be the player most affected.
Crean was asked how Oladipo's role would change with Jones healthy.
"Do you think there's any reason to change it?," Crean asked.
"Well, no," the reporter returned.
"Me neither," Crean said. "Vic's doing fine. It comes down to how locked in he is defensively, what his energy is like on that [end]. Is he rebounding the ball well? Is his decision-making good? As those things continue to stride, it's amazing how well he scores when that's happening, it's amazing how well he gets to the rim."
The Hoosiers will certainly need Oladipo to be locked in defensively against the Wildcats, a team with plenty of offensive weapons. Oladipo will likely get either John Shurna or Drew Crawford, both of whom are averaging at least 16.8 points per game and shooting better than 48 percent from the field.
Shurna has become almost synonymous with Northwestern basketball because of his production over the last four years. The 6-9 senior is averaging 19.9 points per game and has scored 24 or more points in three of the Wildcats' last four games.
But Crawford, a 6-5 guard, is equally dangerous. The junior has scored 20 or more points in 11 games this season, including a 34-point outburst at Creighton on Dec. 22. If Crean decides to put a bigger body like Christian Watford on Shurna, Oladipo will likely get Crawford.
"He's a tremendous athlete, and he can end up on a highlight reel real quick," Crean said of Crawford. "You've got to be really locked into him. He can post, he can shoot 3s, he can shoot the pull up, he can get all the way to the basket, and he's a very aggressive defender."
It won't be the first time Oladipo has been matched up with a player that can do those things.
Filed to: Tom Crean, Verdell Jones