Notebook: Zeller gets best of Leonard in Hoosiers' win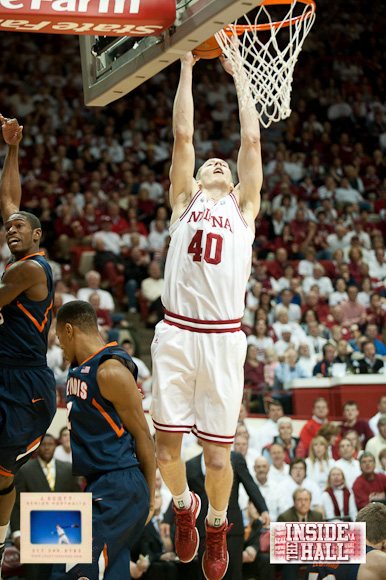 Meyers Leonard punched first.
The Illinois big man dominated the Hoosiers inside early on Thursday night, getting any look at the basket he wanted. He scored 15 points in the first half and held his counterpart Cody Zeller — with the help of regular double teams — to only one first-half field goal.
But Zeller punched last.
He owned Leonard and the Illini in the second half on his way to a game-high 22 points. Leonard scored only two points in the final 20 minutes and fouled out with 3:09 to go.
Indiana coach Tom Crean said Zeller never let Illinois' physical play bother him.
"I think he relishes it. I think it gets him going," Crean said. "He's a tough young man. I think the more you come at him, the better it is. Whatever your game plan is, if you want to be physical with him, he's gonna respond.
"He never speeds up. The emotion of the game, all the things that are going on around him, I've never seen him be rattled by those types of things. That's why the more physical it is, I don't think that bothers him one bit."
On one particular play, Zeller finished an and-one against Leonard and appeared to inadvertently hit him in the face with an elbow. Leonard leveled over in pain, walked back to the bench holding his face, and was never the same player.
"He lost his poise a little bit and got bopped a little bit," said Illinois coach Bruce Weber. "It's just part of growing up, part of being a big man in the Big Ten."
Hoosiers get to the line early and often
Indiana got to the free-throw line 42 times against the Illini, and made 35 of its attempts. Zeller and Victor Oladipo combined to make 22-of-26 free throws. To compare, Illinois was just 12-of-15 as a team.
"It's huge, especially in the Big Ten," said Indiana guard Jordan Hulls. "We're a pretty good free-throw shooting team. Those are points that we need and can get."
Crean said he constantly stresses the importance of getting fouled to his players. The Hoosiers are 10-1 this season when they attempt 25 or more free throws.
Against Illinois, the Hoosiers pushed the issue inside instead of settling for 3-pointers like they sometimes have this season. Indiana attempted only 12 shots from beyond the arc.
"We have to get fouled," Crean said. "It's crucial. When we're physical, when we're aggressive, when we're attacking, we're gonna get to the foul line. This is not a team that can just sit outside and play on the perimeter."
Hulls returns to point-guard role
For much of Indiana's game at Purdue last Saturday, Oladipo and Remy Abell were running the show for the Hoosiers. Crean tried to make Hulls handle the ball as little as possible to limit the impact of Lewis Jackson's defense.
Hulls returned to his point-guard role against Illinois, and shined. With Verdell Jones still out due to a shoulder injury, Hulls found his open teammates and dished out seven assists to only two turnovers.
He also hit several big shots to end Illinois spurts, finishing with 15 points.
"Hulls is just so smart and crafty," Weber said, "your stereotypical Indiana kid that you watch grow up, knows how to play, does all the right things, gets angles on people. Every time we adjusted something he seemed to find a way to get by and create some different actions for them. Either he's getting a shot or he's getting an assist."
Filed to: Cody Zeller, Jordan Hulls, Meyers Leonard