The Inside the Hall Mailbag: January 20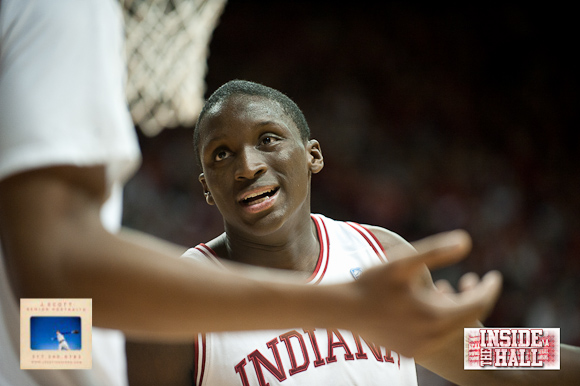 The Inside the Hall Mailbag is a collection of questions tweeted to us via Twitter (@insidethehall) and sent to us via our Facebook page. Submit your questions and we'll answer as many as we can. Now, onward … (Photo credit: Jamie Owens of J. Scott Sports)
Tim Skibbe via Facebook writes: Do you think all these close games in the Big Ten season are because of the parity in the league, or is it more because Indiana is playing up to the good competition and down to the level of the teams with lesser talent?
Alex Bozich: I think it's a little of both. As we saw last night with Illinois going to Penn State and losing, it's tough to win a road game in the Big Ten. Michigan, who currently sits atop the league standings, is 5-0 at home and 0-2 on the road. The Wolverines have yet to win a true road game this season. In the losses to Minnesota and Nebraska, which are by far the most scrutinized, both teams played with more poise down the stretch than Indiana. Minnesota controlled things throughout the second half and held off a furious rally by IU and in Lincoln, the Hoosiers had control and let things slip away. There's no such thing as a good loss, but this group should be able to go back and look at both of those situations and extract valuable lessons.
Hoopstrainer via Twitter writes: With the addition of Luke Fischer to the 2013 class, is there another potential 2013 guy or is IU done with that class?
Alex Bozich: I'd be shocked if the 2013 class is complete. Even if the recruit that ultimately ends up in Bloomington isn't on the radar at this point, there's still plenty of time this spring and summer to get involved. Of the kids currently being mentioned, Bo Zeigler out of Detroit or BeeJay Anya out of DeMatha seem to be top targets. Zeigler has spoken highly to us about Indiana and Anya, who has a long list of schools to choose from, has done the same.
rick_park via Twitter writes:  Is there a root cause to the three-game losing streak or did we lose each game for different reasons?
Alex Bozich: Some of you probably feel like I've beaten this point into the ground, but I always go back to the points per possession the Hoosiers are allowing in Big Ten play. 1.11. Last in the conference. Indiana's offense hasn't been as elite in Big Ten play as it was in non-conference play, but Indiana must get back on track defensively. The perimeter defense especially is troublesome because it's allowing opponents to get into the lane with little resistance. That's leading to easy points in the paint and when the Hoosiers are able to react and collapse on penetration, the opposition is kicking the ball back out for open looks.
asokes via Twitter writes: when are we going to see more of remy abell? he always seems to be a spark off the bench.
Alex Bozich: Good question. It's been a bit surprising that Remy hasn't played more (just 16.7 percent of available minutes), but given the experience of the players in front of him, maybe it shouldn't be. After every loss there's second guessing as to why a particular decision was made or why a certain player isn't playing more, but since we don't see practice or what goes on behind the scenes, it's tough to say. In limited minutes, Abell has been effective. His turnover rate (14.6) is low, he gets to the line at a healthy clip and his defense does provide a spark. Whether or not he gets a look these next few games will be interesting to watch.
CallMeG_Unit via Twitter writes: seems like all the talk about Jordan hulls being the leader has regressed to this point. Who needs to step up as well and lead
Alex Bozich: I'm not sure that's a fair statement with regards to the regression part. I think Hulls has done a stellar job to-date leading this team. The results over the past three games have not been good, but the chemistry of this group is the best I've seen in the Crean era and I believe Hulls is a big part of that. But it's not all on him. Verdell Jones is a senior that's been through battles in this league. Victor Oladipo can lead defensively. Cody Zeller can lead by example. And Christian Watford has shown more grit and determination at times this year than we've ever seen before out of him. All of these things were clicking when IU started 15-1. Some of them have been missing at times throughout the past three games.
eric_c_cooper via Twitter writes: which of the McDs All American Nominations has the best chance of making the team? Yogi?
Alex Bozich: Yogi seems like the best possibility because he's one of the top three point guards in the country, he's got a state championship under his belt and the national analysts, who typically have a vote in determining the rosters, hold him in the highest regard of the group. I'd be shocked if he wasn't selected.
JHub336 via Twitter writes: what do you think about people saying we could slide and miss the tourney?
Alex Bozich: It's impossible to predict what's going to happen the rest of the way. No one had Indiana at 15-4 at this point on record that I know of besides Dan Dakich. Right now Indiana is solidly in the tournament. If they beat North Carolina Central, they'll own a perfect 13-0 non-conference mark that includes wins over Butler, N.C. State, Notre Dame and Kentucky. Obviously they can't afford to keep stumbling in the Big Ten and expect to still get in, but they've got six more conference games at home and opportunities to try and win on the road as well.
Filed to: Twitter Mailbag