Roth's defense helps earn him minutes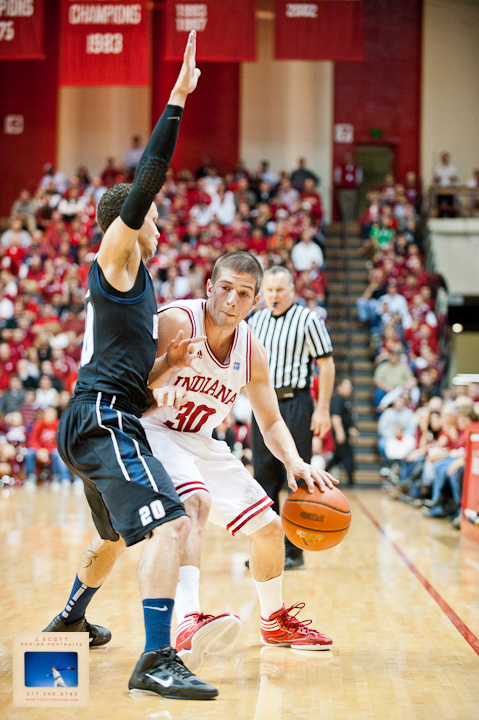 When sixth man Will Sheehey went down with an ankle injury, Indiana needed another bench player to step up. The "next man up" philosophy that coach Tom Crean and the players often reference was suddenly a reality.
Derek Elston, Tom Pritchard and Remy Abell figured to take the majority of Sheehey's minutes. But it has been senior Matt Roth — a guy that's been at Indiana through all the turmoil — who has filled Sheehey's shoes as well as anyone.
Roth can shoot the ball as well as anybody on the Hoosiers' roster — and probably the country — but he has been used only sparingly as a 3-point specialist during his time at Indiana.
In previous seasons, Roth battled injuries and had been a defensive liability. The latter didn't allow Crean the luxury of keeping him on the floor for more than a few minutes.
But with the opportunity created by Sheehey's absence, Roth has displayed a new focus and effort on the defensive end. Without his work on defense, Roth would likely still be a sparingly-used 3-point specialist — with or without Sheehey.
"It's helped him stay on the court. That's the biggest area," Crean said. "There are teams that they, it happens, they have things that they go to when he's in the game. … He takes that personal and he's really trying to build on that. His improvement level is high. He's getting better, he can get better, and he's worked extremely hard."
What changed? Crean said Roth is playing with more toughness than he did in the past.
"He's showing some really good moxy in the 50-50 game," Crean said. "When it's a loose ball, he's diving on the floor to get that ball or he's trying to rip it away from somebody. If I had to say one thing, he's more aware defensively."
Roth's defense has helped him find a rhythm on the offensive end, where he's really helped the Hoosiers in recent weeks. Roth made 5-of-6 shots from beyond the arc and all seven of his free throws Sunday at Penn State, scoring 22 points in 26 minutes of action. In the five games Sheehey has missed, Roth has averaged nearly 10 points per game.
"His shooting, it energizes the team. There's no doubt about that," Crean said. "I think sometimes his range catches people by surprise. When they adjust to his range now, he'll just back it up a little more."
Filed to: Matt Roth