Notebook: Watford, Zeller combine for big night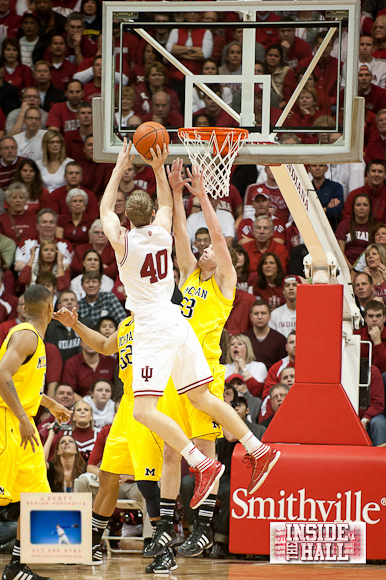 During Tom Crean's first three years at Indiana, when certain players weren't scoring, the Hoosiers had no chance to win.
Boy, how things have changed.
Jordan Hulls and Victor Oladipo combined to score 32 points in the Hoosiers' upset of then-No. 2 Ohio State last Saturday. The two scored just eight combined points against No. 16 Michigan on Thursday night, making only 3-of-14 shots from the field.
But as Hulls and Oladipo struggled to find their offensive games, big men Christian Watford and Cody Zeller picked up the load and carried No. 12 Indiana to a 73-71 win.
Watford (25 points, seven rebounds) and Zeller (18 points, four rebounds) combined to score 43 points on 16-of-21 shooting. Whenever the Hoosiers needed a big basket, they went to one of them.
"It's definitely important every game to get it inside, whether it's to me or Christian," Zeller said. "It opens so much up for the 3-point shooters and gets our offense flowing a little bit."
Watford was on fire all night. He hit 3-of-4 from beyond the arc, he took Michigan's bigs in the post, and he hit jump shots off the dribble. After a while, it became clear the Wolverines had no answer for him.
"Watford had a series of baskets right there that you can't stop some of that stuff," said Michigan coach John Beilein. "We put little guys on him, we put big guys on him. He shot right over Blake McLimans, who is a big, long dude. He just shot over him like it was Trey Burke guarding him.
"So he's a really talented player. You can see that he's really becoming a premier talent in this league."
UP AND DOWN NIGHT FOR JONES
For much of the night, Verdell Jones played like a true point guard for Indiana. He passed the ball well, finding Zeller for several easy baskets inside. Jones finished with a team-high six assists.
But Jones had several key turnovers during a stretch in the second half that helped keep Michigan in the game. He also missed two free throws on the front end of 1-and-1s.
"I'll probably go shoot free throws now after this," Jones said after the game. "At least my dad will make me – one of the two. That can't happen. Thankfully we won, but in big games, you never know what's going to happen so you've got to hit the free ones."
When it counted the most, though, the senior came up huge for the Hoosiers.
With the shot clock winding down and the Hoosiers ahead just 70-68 late, Jones hit a pull up jumper over Tim Hardaway Jr. to help the Hoosiers secure the win.
"It was basically broken at that point," Crean said. "It was 'make a play.' … It worked out great. He made a senior shot."
NO 'O' BUT PLENTY OF 'D'
Oladipo may have scored only five points on 2-of-10 shooting, but he was his normal pestering self on the defensive end.
The sophomore guard drew the Hardaway Jr. assignment, and he made him uncomfortable for much of the night. Oladipo blocked Hardaway Jr.'s first shot attempt, and gave him few uncontested looks.
Hardaway Jr. finished with a team-high 19 points, but he shot just 7-of-19 from the field and 0-of-7 from 3-point range.
"He didn't get confidence from shooting the ball, but continued to build his confidence throughout the game defensively," Crean said of Oladipo. "He never hung his head. … Let's move on to the next play. Vic's in the process of his maturity and figuring out how to move right on."
Filed to: Christian Watford, Cody Zeller, Michigan Wolverines, Verdell Jones, Victor Oladipo